How do you train a zebra? With patience, trust, and respect.
BY Wendy Perkins
Photography by Ken Bohn
Videography by Victor Schwanke
Curious but calm, Zari the zebra steps into the "crib"—a sort of patio behind her main yard. Her nostrils work to gather the scent of a stranger accompanying her familiar trainer, but her eyes and ears are focused on Charmaine Davis, supervisor of the Animals in Action experience (formerly called Backstage Pass) and one of Zari's favorite people.
Zari, a seven-year-old Grant's zebra, is part of the San Diego Zoo's popular Animals in Action program. She also meets and greets children and adults during special events and special tours. Her big, dark eyes, long eyelashes, and beautiful coat pattern quickly capture guests' attention. But it is her delightful personality that charms everyone—a surprising trait compared to the species' reputation.
"Zebras are notorious for being an aggressive and flighty prey species," said Charmaine. "Working with them, you experience their 'sassy' side." Yet, through positive reinforcement, patience, and a deep bond of trust and respect, zebras can be trained. In addition to the lifelong impression visitors gain from meeting a zebra up close, Zari's training benefits her health in the long run. One example is the way her teeth are cared for.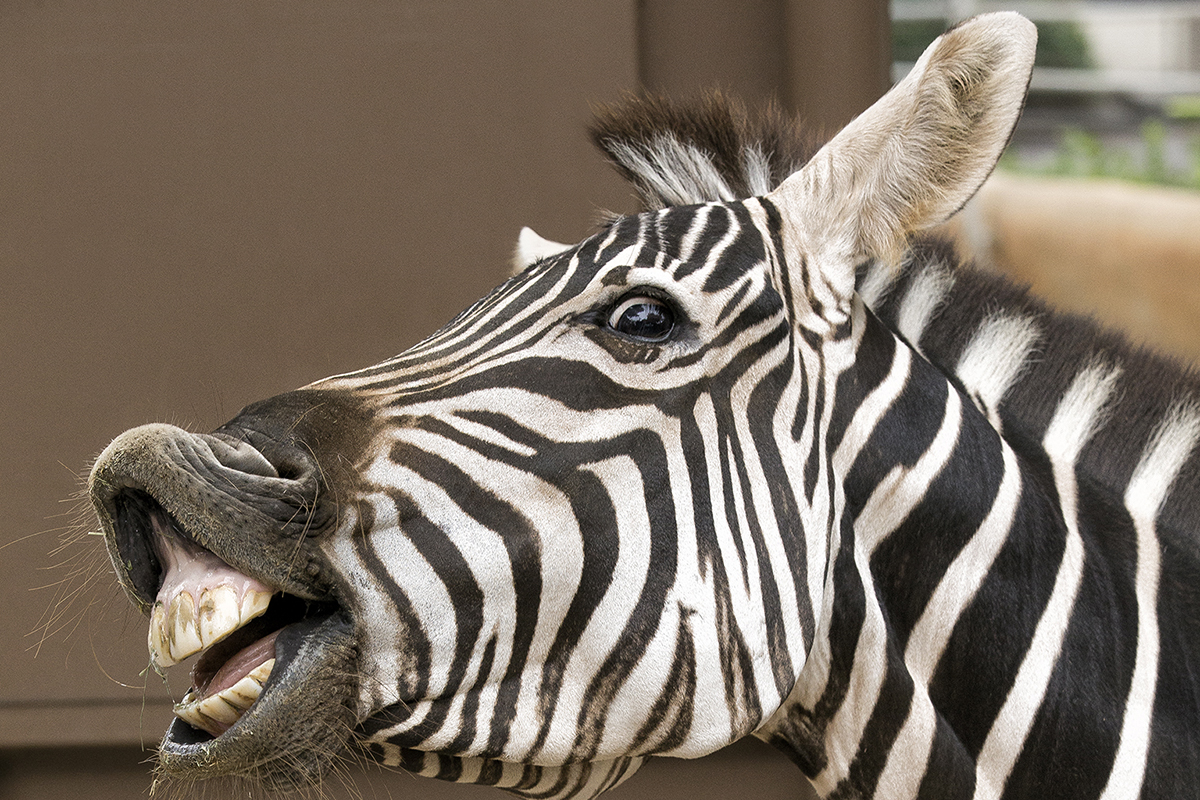 The "Tooth" of the Matter
In horse species, the molars grow continuously. The amount and kinds of grasses wild equines like zebras eat tend to keep the teeth worn down. If the cusps on the molar grow too long, they can puncture the gums, leading to infection. Domestic horses face the same challenge, but to prevent problems, their molars are regularly filed down in a process called floating.
Charmaine, who has three horses of her own at home, explains that most horses' teeth are floated every couple of years under standing sedation. Yet, a different approach is being used with Zari—her teeth have been kept in top shape with weekly rasp training. "Floating can be a very trust-invasive procedure," said Charmaine. "To keep Zari's teeth in optimum health in the future in the least invasive way, we 'practice' file her teeth (a training process) weekly." And it's done with no sedation—Zari willingly allows the procedure. The key was careful and patient training.
Trust Is a Must
Zari was just over a year old when she first came to the Zoo. She had been raised by her mother, which Charmaine points out is an unusual scenario for a potential animal ambassador. "Usually, we would hand raise a foal to set it up better for working closely with people." Tom Sica, a lead hospital keeper at the Zoo, who is a skilled farrier, was the first to work with the skittish new arrival. He gained her trust in order to tend to her hooves, and, along with Kathy Marmack, an animal training supervisor, began halter training her.
When Zari joined the Animals in Action team, Charmaine and the other trainers began adding to her behavior repertoire. At the Zoo and the Park, the path to any behavior-on-cue is one of successive approximations, or tiny steps. First, Zari learned to open her mouth. Each time she did, she got a reward. Soon, she opened her mouth when Charmaine said "open." Next, she was rewarded for holding her mouth open; first for a brief moment, and then for progressively longer periods. Then it was time to begin introducing the tool.
Having a metal object unexpectedly touch your teeth can be startling—think of how you react at the dentist's office when the little mirror bumps your teeth. The first step for Zari was to get used to having a metal tool in her mouth. Charmaine used a spoon to desensitize the zebra to metal, gently placing it in her mouth and rewarding her for accepting it. "But I went a bit too fast one day," said Charmaine, "and the spoon tapped against her tooth. She took off and wouldn't come near me for about four weeks." In every training situation, Zari has a choice of whether to participate or not.
Once Zari began to work with Charmaine again, they made good progress. "This time, instead of touching the tool to her tooth, I started with just touching my finger to the tooth." This led to giving Zari herbivore biscuits on the spoon: "Although there was a bit of a clack of the spoon, there were also cookies!" This spoonful of treats approach worked well, and Charmaine was soon able to introduce the actual rasp, step by step. Over time, they slowly moved the rasp from the front of her mouth to the rear molars, which are the ones that need to be managed. From the second starting point, it took about eight weeks of three-times-weekly sessions to reach the final behavior.
Allowing her teeth to be filed is an astonishing act of trust on Zari's part. But it's not the only time her bond with her trainers is apparent—she participates in other important husbandry health behaviors, too. "If I say, 'give me your ear,' she drops her head and leans her ear onto the cloth I'm holding so we can clean inside," said Charmaine. "And she's good about lifting her hooves for cleaning and trimming when we say 'foot'." But the trainer can only ask—Zari decides what's going to happen.
"If Zari decides to walk off instead of participating or in the middle of an interaction, nothing happens," explains Charmaine. "If and when she decides to return, the trainer will ask her to offer a specific behavior, give her a reward, and then carry on with whatever they were doing when Zari left. Sometimes I might not even try that one behavior again—she clearly told me she doesn't want to do that right now." Charmaine points out that by giving Zari the choice, she is a more confident animal. "If she does leave, it's because something may have startled her. She realizes 'I can go,' but also 'I can go back and get a reinforcement'."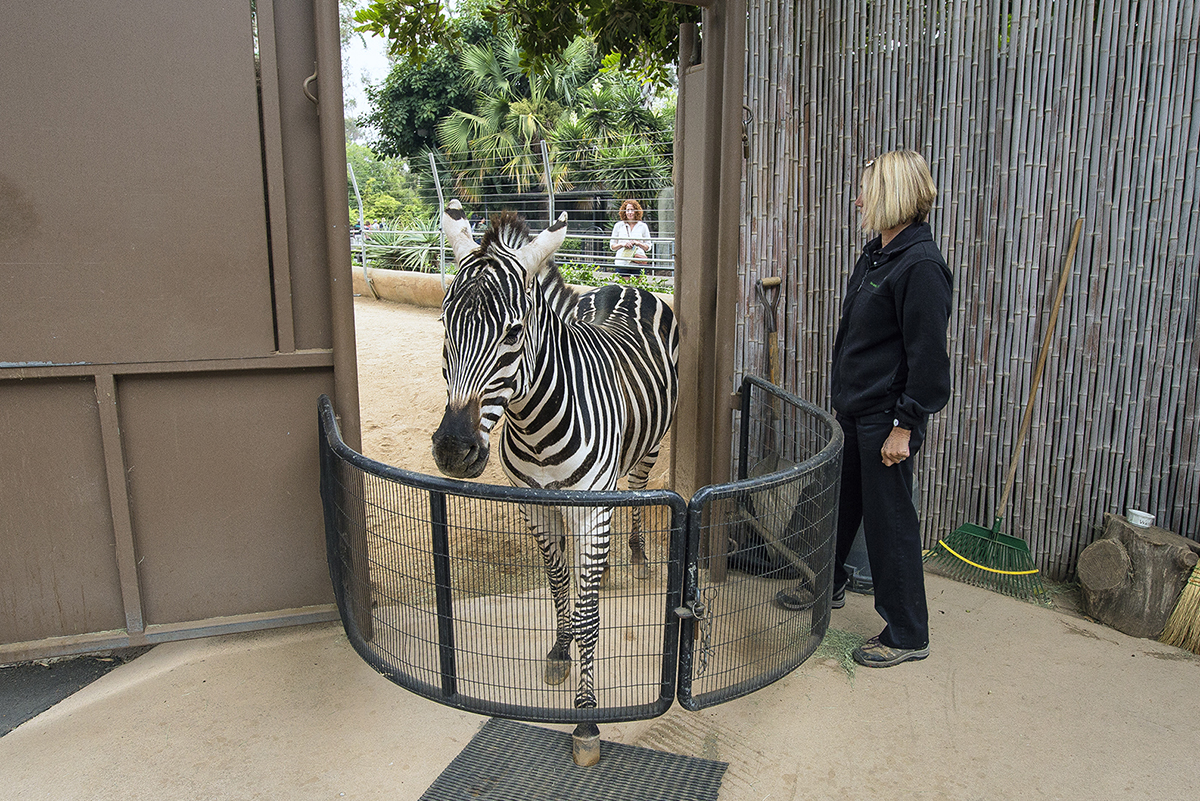 Earning Her Stripes
Zari's training allows her caregivers to perform many husbandry tasks, and it also sets up a good foundation for other situations. "When we have to get her up to the hospital once a year for her annual physical, we can't really use food reinforcements," explained Charmaine. "But because our relationship is so strong, we've trained her to simply walk into a trailer—no halter or lead needed!"
For Charmaine and Zari's other trainers, the young zebra's willingness to participate is reinforcement for their efforts. "We want to provide each animal with a long life of optimal care," said Charmaine. "At the end of a session, she's still eager to work—clearly demonstrating to us that we're following the right path."