Best-selling author Chelsea Clinton visited the San Diego Zoo earlier today (May 23, 2019) to talk about her new children's book, Don't Let Them Disappear: 12 Endangered Species Across the Globe. Clinton joined San Diego Zoo Global ambassador Rick Schwartz at the Zoo's Wegeforth Bowl for an informal talk about her passion for wildlife, and why she felt it was important to write a book for children about endangered species.
Thanks so much to @ChelseaClinton for joining us yesterday. Her work to cultivate the next generation of conservationists is inspiring. We also can't thank our attendees enough for being part of this special event and advocating for wildlife. #EndExtinction #DontLetThemDisappear pic.twitter.com/k8vEk4WqPH

— San Diego Zoo (@sandiegozoo) May 24, 2019
"I wrote my book Don't Let Them Disappear because I kept hearing from kids that one of the issues they care most about are animals—and when I was a kid, that was an issue I really cared about—and not just animals, but specifically endangered species," said Clinton. "I hope the book helps teach kids fun facts for the 12 species in the book, but even more, helps empower them to help save these species and whatever animals they are passionate about."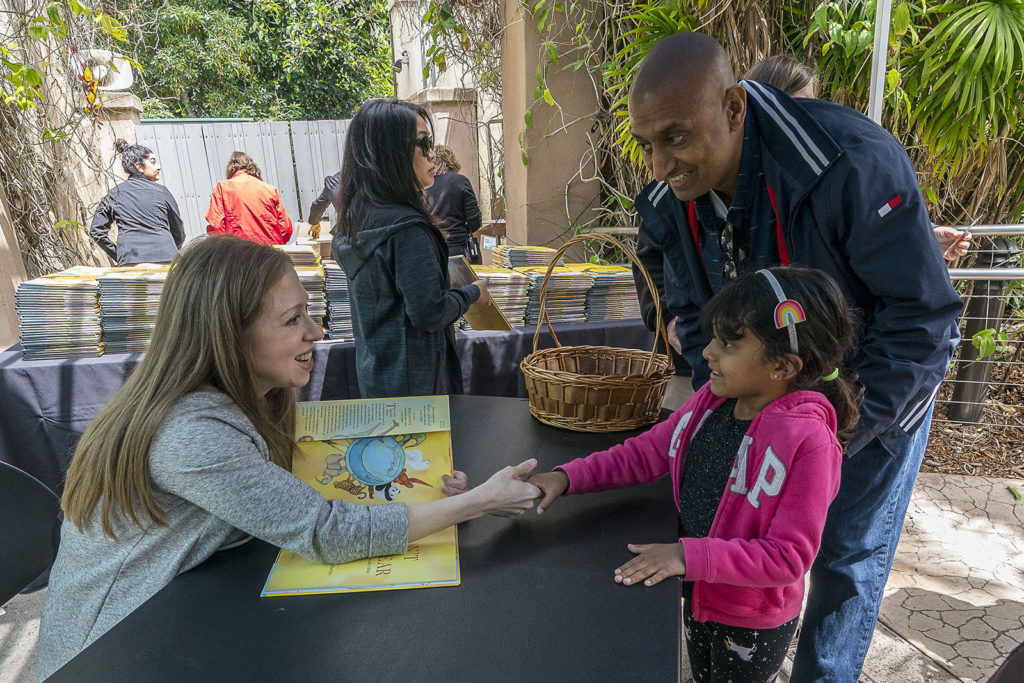 Clinton then participated in a question-and-answer session with children in the audience. The event finished with Clinton signing her book for the guests in attendance.
"The San Diego Zoo and really good zoos and aquariums play such a crucial role in conservation of endangered species," added Clinton. "As a parent, I see that wonder on my kids' faces when we visit our local zoo or aquarium. I'm so grateful for that sense of awe and amazement, but also the connection we are lucky enough to instill in our kids—and zoos and aquariums help us do that."
Thank you @sandiegozoo for having me yesterday to share #DontLetThemDisappear with your wonderful community & to wrap up my book tour! Especially loved hearing from so many kids about their favorite animals and what they're doing to protect them pic.twitter.com/vPGaASmgEo

— Chelsea Clinton (@ChelseaClinton) May 24, 2019
"We were thrilled to have Chelsea Clinton visit the San Diego Zoo today and share her passion for wildlife with our guests," said Rick Schwartz, ambassador, San Diego Zoo Global. "Chelsea's book about endangered species aligns perfectly with San Diego Zoo Global's mission of bringing awareness to the plight of animals and plants—and the role we all can play in saving endangered species."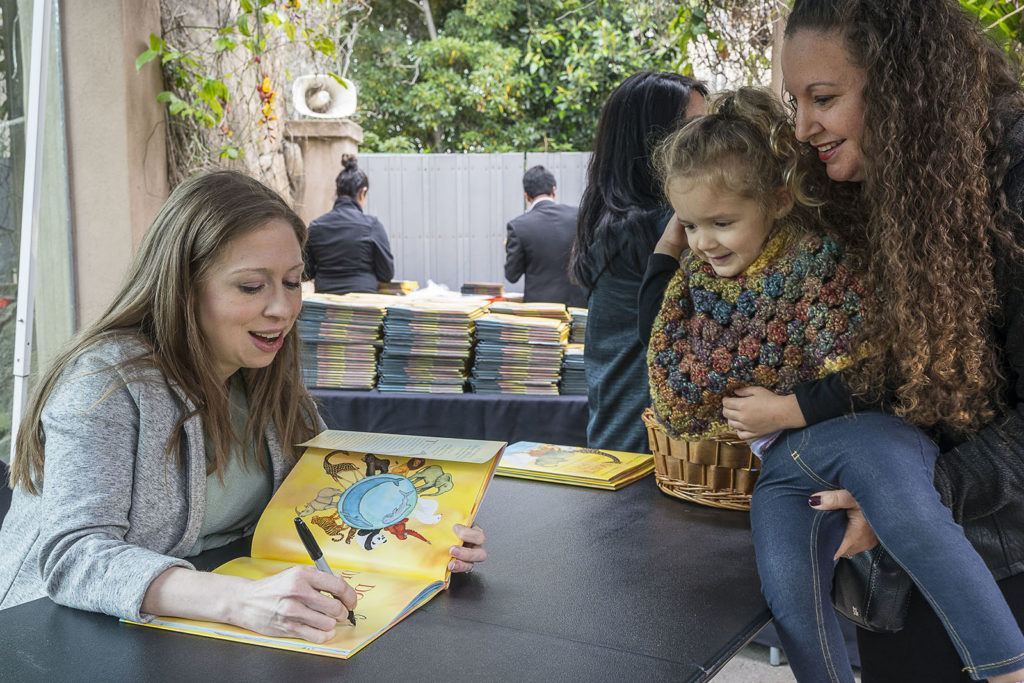 Clinton partnered with illustrator Gianna Marino on this new book about animals that share the planet, and what people can do to help them survive. Don't Let Them Disappear introduces young readers to some endangered animals and shares what makes them special—and also what threatens them. Taking readers through the course of a day, the book talks about rhinos, tigers, whales, pandas and other endangered animals, and it provides helpful tips on what everyone can do to help prevent these animals from disappearing from the world entirely. Copies of the book Don't Let Them Disappear signed by Clinton are available in the San Diego Zoo's gift shops and on shopzoo.com, while supplies last.
About the Author
Chelsea Clinton is the author of the #1 New York Times best-selling picture book She Persisted: 13 American Women Who Changed the World, which was praised in a starred review by Publishers Weekly as a "lovely, moving work of children's literature [and a] polished introduction to a diverse and accomplished group of women." She is also the author of the New York Times best-sellers Start Now! You Can Make a Difference, She Persisted Around the World: 13 Women Who Changed History, It's Your World: Get Informed, Get Inspired & Get Going! and, with Devi Sridhar, Governing Global Health: Who Runs the World and Why? Chelsea Clinton is the vice chair of the Clinton Foundation, where she works on many initiatives including those that help to empower the next generation of leaders. She lives in New York City with her husband, Marc, their daughter, Charlotte, their son, Aidan, and their dog, Soren. You can follow her on Twitter or on Facebook.
San Diego Zoo
The San Diego Zoo is globally recognized and a San Diego icon, hosting more than 4 million guests each year. At the San Diego Zoo, visitors can watch penguins and sharks swim, observe the behavior of century-old Galápagos tortoises, enjoy the beauty of exotic orchids, marvel at the koalas, explore walk-through aviaries filled with the songs and colors of rare birds, and appreciate the power of leopards and jaguars. The San Diego Zoo is also accredited by the American Association of Museums as a Botanical Garden. As visitors discover the rare and endangered species at the San Diego Zoo, they are directly contributing, through admission and on-grounds sales, to the efforts of San Diego Zoo Global, an international nonprofit conservation organization that works to fight extinction through recovery efforts for plants and animals worldwide. To learn more, visit sandiegozoo.org, or connect with us on Facebook, Twitter, Instagram or YouTube.