BY Peggy Scott
Photography by Ken Bohn
Offering protection, shade, food, denning sites, and vantage points to watch for predators, a kopje (pronounced ko-pee) is much more than a stack of boulders surrounded by seemingly sparse vegetation. For the animals that call them home, these rocky outcroppings are something akin to an African oasis. At the San Diego Zoo, we have welcomed some new residents to our kopje, one exhibit that will be part of Conrad Prebys Africa Rocks, a multispecies tribute to African wildlife, set to open next year. The kopje is currently home to klipspringers, a type of dwarf antelope; as well as rock hyraxes and dwarf mongoose. The pitter-patter of new little feet includes two baby rock hyraxes and a trio of dwarf mongoose pups. These tiny additions serve as a big reminder of what San Diego Zoo Global—and Africa Rocks—promote: the conservation of animals and habitats. And not only are these wee ones representatives for their wild brethren, they're mighty cute in their own right!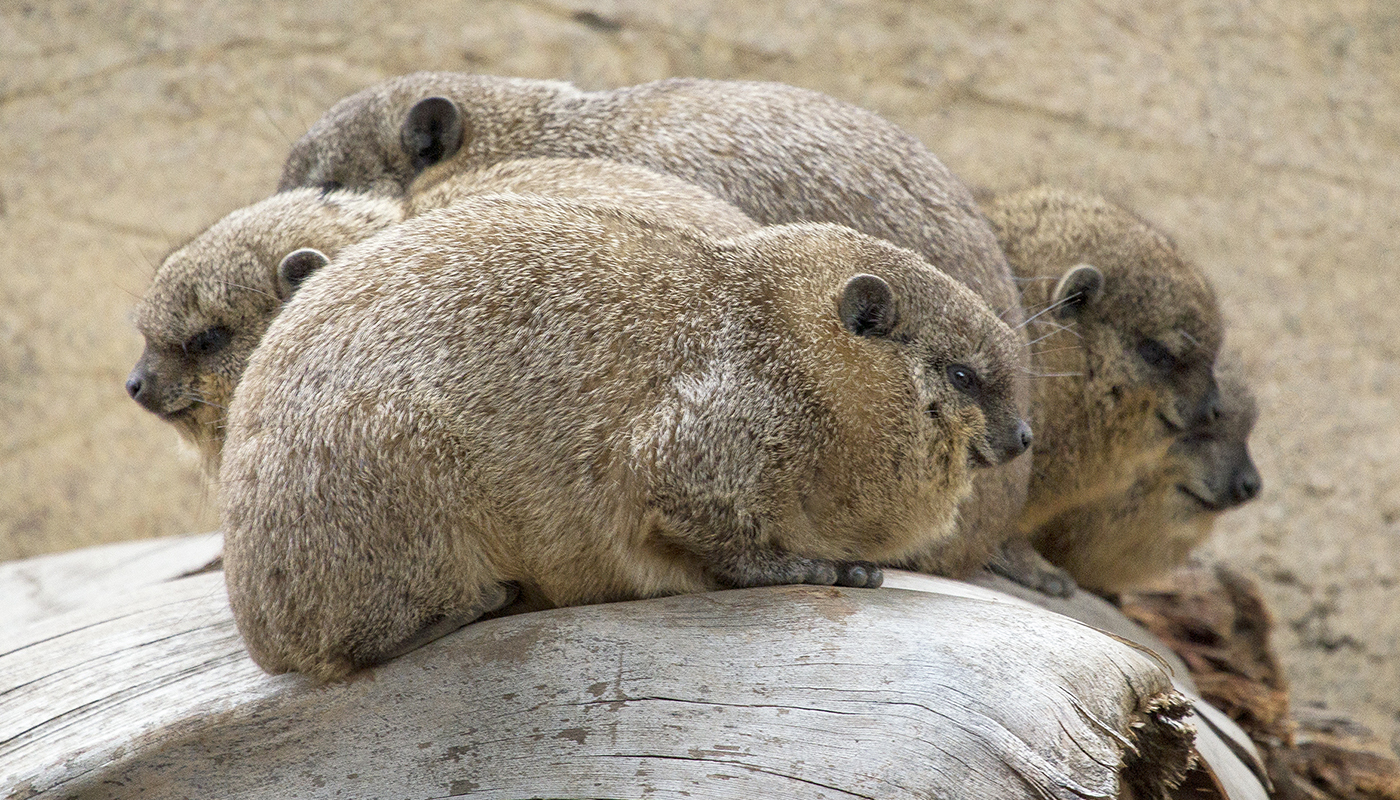 A rock hyrax by any other name…
What this diminutive mammal lacks in size (it tops out at around 10 pounds), the rock hyrax Procavia capensis more than makes up for it in number of names. Also referred to as the rock rabbit, dassie, pimbi, stone badger, cape hyrax, coney, and klipdassie, this squat, furry animal lives in rocky scrubland, savanna, and desert in East Africa and the Middle East. They live in colonies of up to 50 members, making their homes in rock formations and cliffside nooks. While it may resemble an overgrown guinea pig, the hyrax is not a rodent, and some of its relatives—the elephant and manatee—are pretty big deals. Size difference aside, the hyrax does share some characteristics with its mammoth family members—tusks, albeit tiny ones. And there's another similarity afoot—their feet! Hyraxes, like elephants, have flattened, hoof-like nails on the tips of their of their toes, rather than the curved claws found on some other mammals. Little rubbery pads on the bottom of its feet help the hyrax stay perfectly in step when getting from place to place on the kopje's rocks.
The way to another of the hyrax's adaptations is through (actually in) its stomach. Specialized, multichambered stomachs contain symbiotic bacteria that help break down the plants they eat. Baby hyraxes are not born with the bacteria they will need to digest plant matter, so to obtain it they eat the poop of adult hyraxes. In other ways, however, hyraxes are born ready to roll. "The two babies, like all baby hyraxes, are very precocious," says Jennifer Moll, a lead keeper at the Zoo, noting that the two males arrived on August 6. "I saw them only 20 minutes after they were born and they were already running around and trying to jump up on the rocks."
At four months of age, the hyraxes are getting to know their exhibit—and their exhibit-mates, notes senior keeper Victoria Girdler. "We'll find the klipspringer baby lying in the sun with the baby hyraxes," she says. "And they love to lie on their parents, like 'Hop on Pop,' except it's more often 'Hop on Mom'."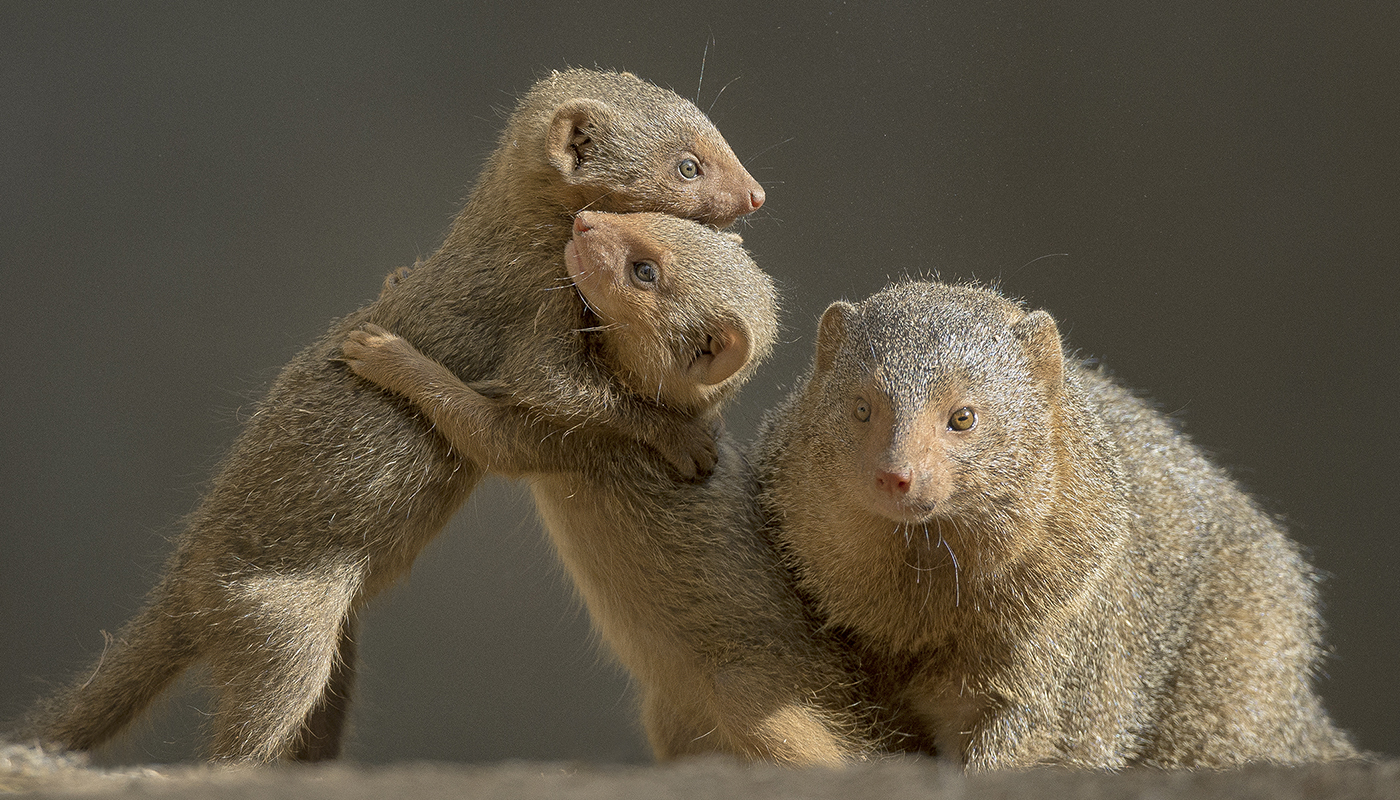 Social Studies
While the dwarf mongoose Helogale parvula group in the kopje has a genial relationship with the other species in the exhibit, in the wild, the species' social structure follows a strict hierarchy among same-sexed animals within a group, with a dominant pair at the helm, and group members sharing pup care duties. Unlike hyraxes, however, dwarf mongoose babies aren't as precocious. In fact, their very arrival can be tricky to spot. This tiny trio was born on August 10—the first dwarf mongoose birth at the Zoo in a decade. "We heard 'chirping' sounds from a nest box, peeked under the lid and sure enough, there were two babies!" Jennifer says, "Then, a third was born to our first-time mom."
Victoria adds that the trio has also figured out where food comes from. "Now that they're eating solids, we give them crickets and mealworms," she says. "And they know that when they hear our keys jingling, it means worms!"
Now that the mini mongoose babies are getting around on their own and starting to spend a little more time away from the adults, Jennifer adds, keepers will get a chance to check genders. That's if the busy little bundles will hold still. "They are so busy all the time," Jennifer says. "They're running around, wrestling with each other… there's so much to do!" Such is life on the kopje—keep up if you can!