Snoozing takes on many forms among animals
BY Karyl Carmignani
Photography by Ken Bohn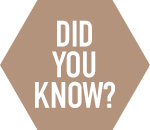 Animals that sleep less than four hours are large herbivore land mammals like elephants, cows, and giraffes.
Nothing beats a good night's sleep—just ask anyone who suffers from insomnia. A solid seven to nine hours (for adult humans) of uninterrupted sleep provides a restful break for the body to repair, rejuvenate, and restore physical and mental capacities. We may be zonked out to the world, but our brains are a whirring hive of activity. The first three stages of sleep ease us into relaxation, lowering body temperature and blood pressure. As brain waves slow, muscles and tissues are repaired and the body secretes crucial hormones. This is also called slow-wave sleep (SWS). The fourth stage is a deep, dead-to-the-world state where eyelids flicker (rapid eye movement or REM) and dreams unfurl. Here, memories are solidified and consolidated, while less important scraps of information that could impair cognitive function are cleared out. In humans, it takes 90 to 110 minutes to complete the four stages of sleep, which means we get about five full slumber cycles per night.
But what about other animals? How much do they sleep? Do they dream? Is hibernating the same as sleeping? Researchers studying sleep, called somnologists, have been delving into the secrets of snoozing and have uncovered fascinating information about varying patterns, habits, and postures across the Animal Kingdom. Sleep of some sort can be observed in all mammals and birds, as well as most reptiles, amphibians, fish, and even insects. Whether nocturnal, diurnal, or something in between, there is always a trade-off between being vulnerable to predators and needing some serious shut-eye.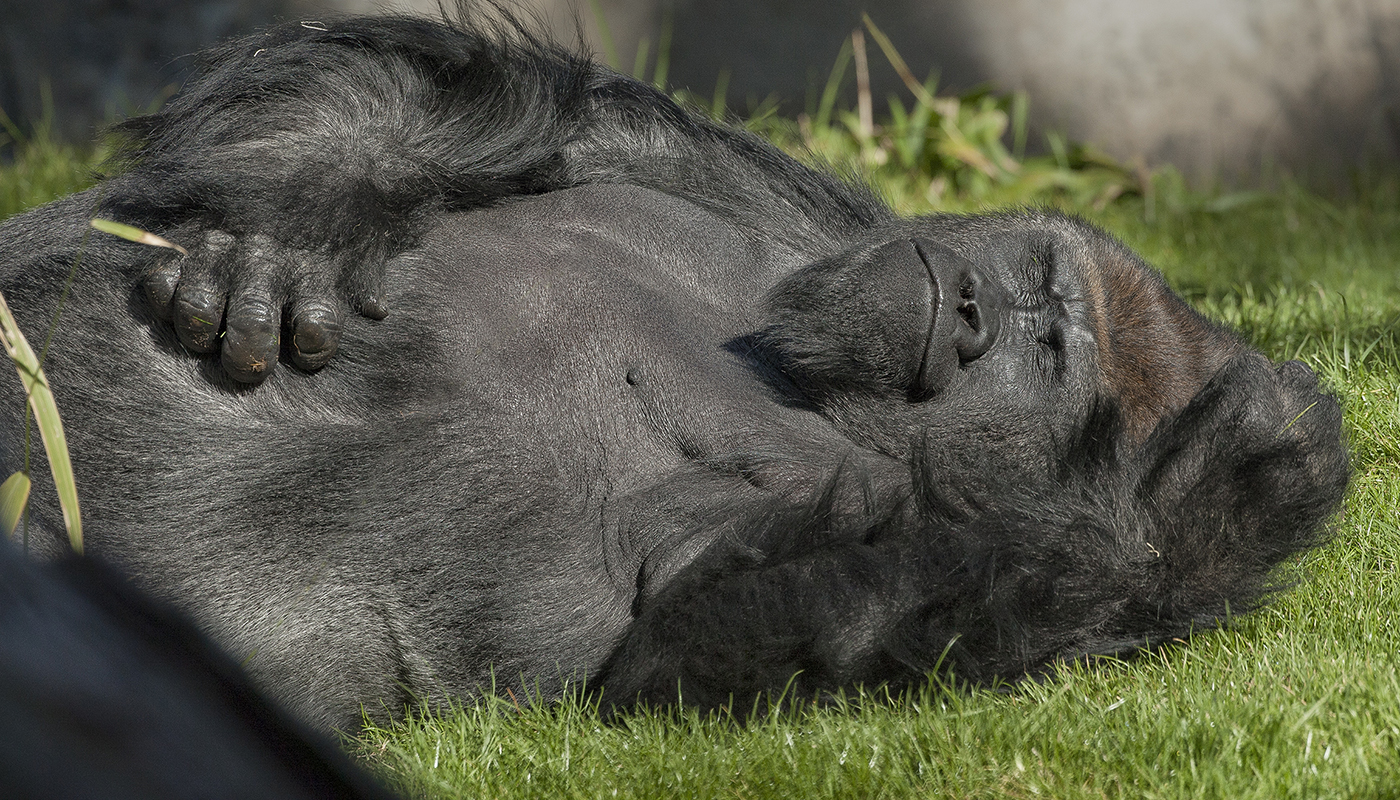 Big Brains, Better Beds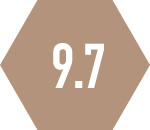 the number of hours a chimpanzee
sleeps in a
24-hour period.
The great apes—gorillas, chimpanzees, bonobos, orangutans, and humans—all enjoy comfy beds to saw some logs. The furry great apes fashion night nests out of branches and leaves forming sleeping platforms, usually in trees. The "naked apes" (a term for humans coined by zoologist Desmond Morris) use beds, blankets, and pillows, usually on the ground, for their protected sleeping sites. Other primates don't build such nests (with the exception of some lemur and loris species), often sleeping upright on a branch or cliff edge, leaving them less secure and less comfortable, and thus sleeping lighter.
So how do humans stack up compared to other primates? A new study suggests that humans have evolved to sleep less, but also to sleep very deeply. Shifting from the trees to the ground allowed early humans to sleep more intensely, a big benefit to a rapidly growing brain. While humans sleep a few hours less than other great apes, we spend about 25 percent of that time in the rich REM state, as compared to other primates that get only 5 to 10 percent REM sleep. While many mysteries still shroud the far-reaching benefits of REM sleep, it's clear that great apes know how to make the most of the night.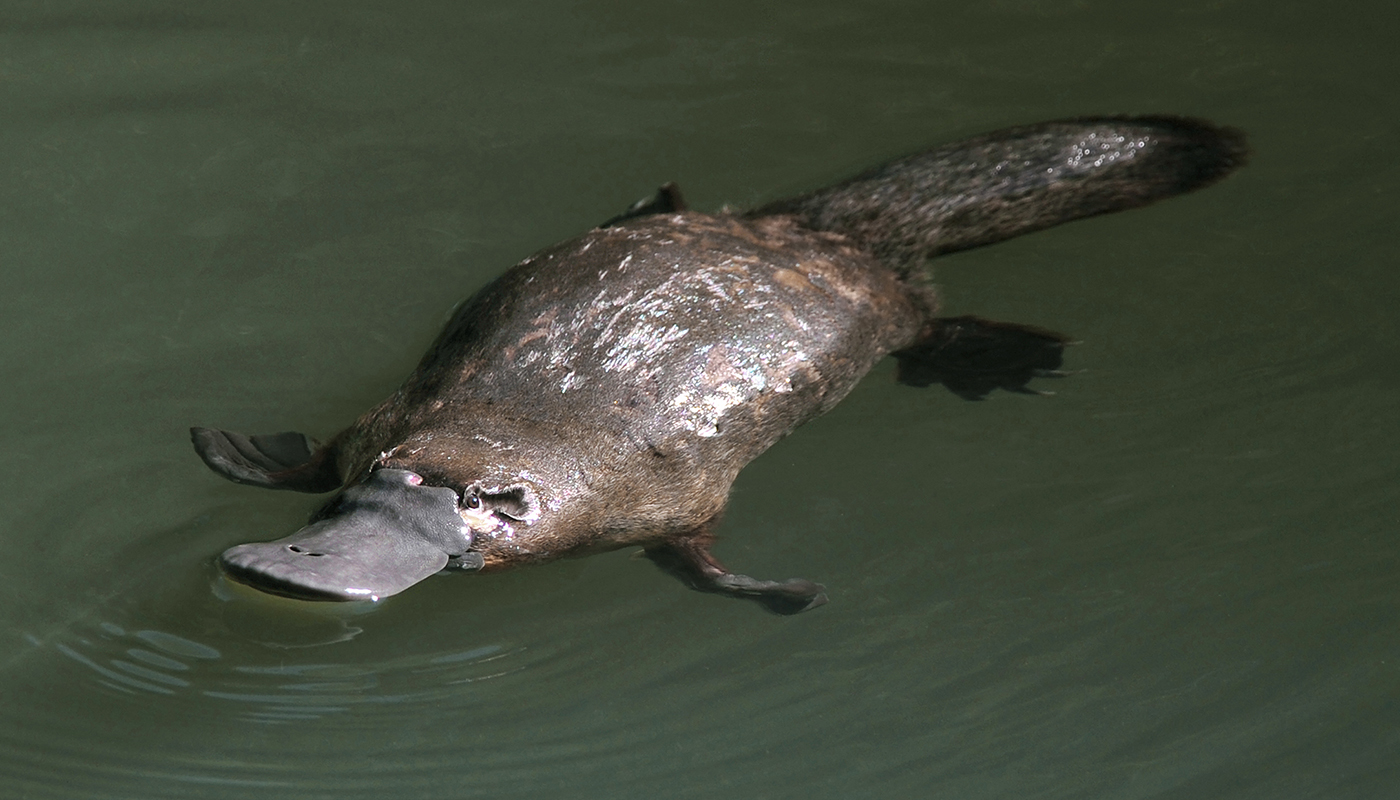 Platypus Dreams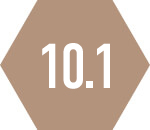 the number of hours a dog sleeps in a
24-hour period.
Nearly all animals exhibit some type of sleep regulation according to their circadian rhythms. Not surprisingly, the proportion of REM sleep varies widely between species. What is surprising is that one of the five egg-laying mammals (called monotremes), the duck-billed platypus from Australia, spends nearly 60 percent of its daily 14-hour "power nap" in REM sleep. Increased brain activity during REM sleep is when dogs bark and twitch their legs, humans talk, and the platypus "makes movements imitating the process where they kill crustacean prey before eating it," according to scientists. While probably not dreaming per se, it remains a mystery as to why the semiaquatic, cat-sized platypus would need such lengthy REM sleep.
number of hours a cat sleeps in a
24-hour period.
Warm-blooded creatures (mammals and birds) experience cycles of non-REM and REM sleep, but for birds, REM slumber may only last for about 10 seconds. Some species, like the ostrich, can sleep deeply with their eyes open. Birds tend not to go limp during sleep as mammals do, which allows them the bedtime "luxury" of sleeping upright, perched on a branch. They function quite well on many "microsleeps" and can forgo slumber during migration with no ill effects. Animals that hole up in dens or other shelters tend to sleep longer, while herbivores, who have to spend a great deal of time foraging, tend to sleep less. But top-of-the-food-chain species like lions and tigers, who binge eat huge amounts of food in one sitting and have little fear of predators, can "catnap" up to 15 hours per day. Though classified as a carnivore, the giant panda, which eats almost exclusively low-calorie bamboo, snoozes about 10 hours per day, 2 to 4 hours at a stretch. These siestas provide them time to digest the 20 to 40 pounds of bamboo they eat each day while wasting little energy.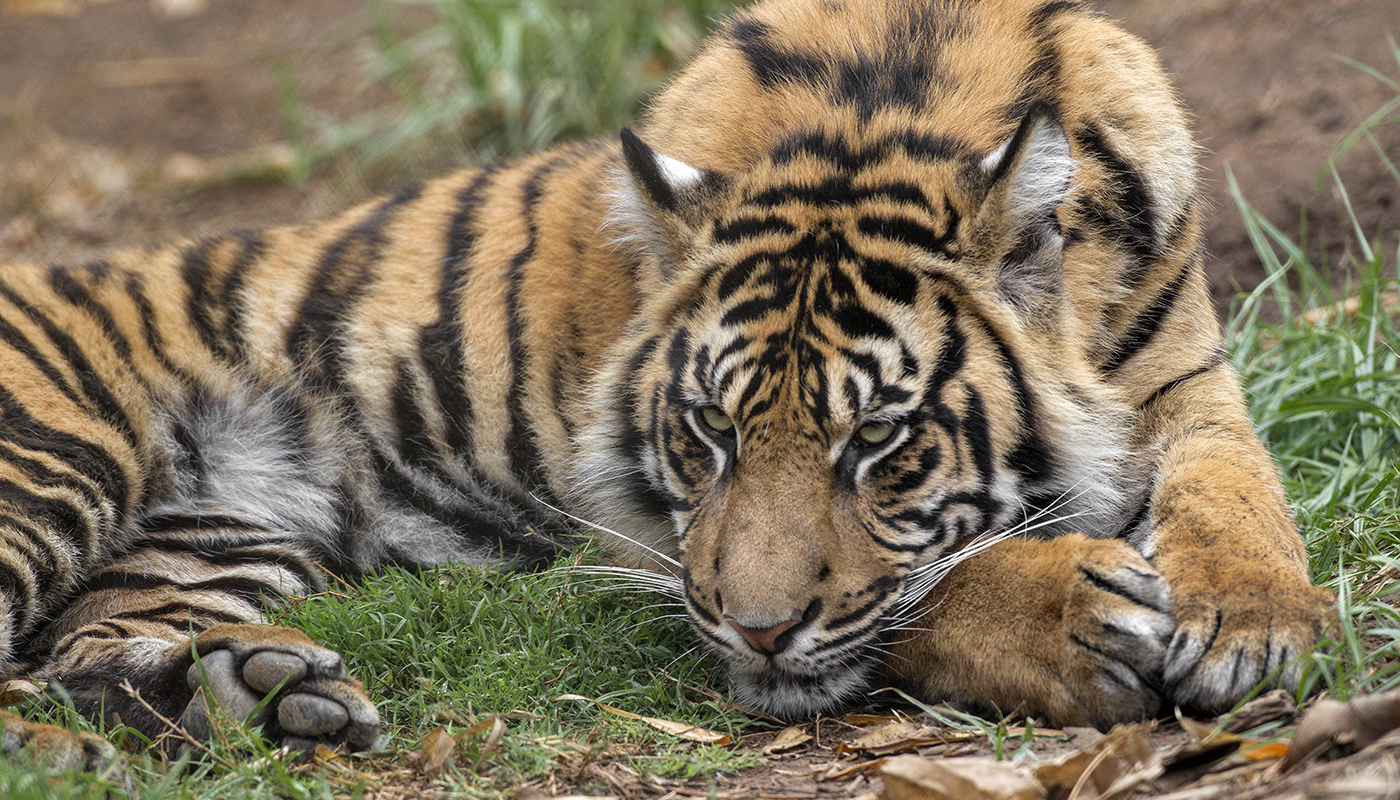 Slumber Number
Animals employ a wide variety of postures for slumber: from the curled-up pose of cats, foxes, red pandas, and many others; to the leisure straddling of a branch by leopards; to the flank-to-flank, tails intertwined lineup of some monkeys; to the bat's toe hang; to the flamingo's one-leg balancing act. There are dozens of ways to doze!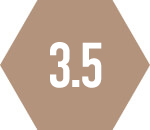 the number of hours an elephant
sleeps in a
24-hour period.
Many species are diurnal, taking care of business during the day and sleeping by night, while others flip their circadian schedule and are nocturnal. Some prefer the twilight hours at dawn and dusk and are crepuscular. But there are other options. Cats, rabbits, and mice sleep partly during the day and partly at night, earning the title metaturnal. For some species, like lions and some primates, sleep is punctuated by random, sporadic bursts of activity. Marine mammals like dolphins, as well as birds, can sleep with one side of their brain "turned off" at a time (to prevent drowning, falling, or being eaten), which is called unihemispheral sleeping. For over three-quarters of mammals, multiple sleeps within a 24-hour period (polyphasic) work best; the rest, humans included, take one long, glorious sleep (monophasic) period.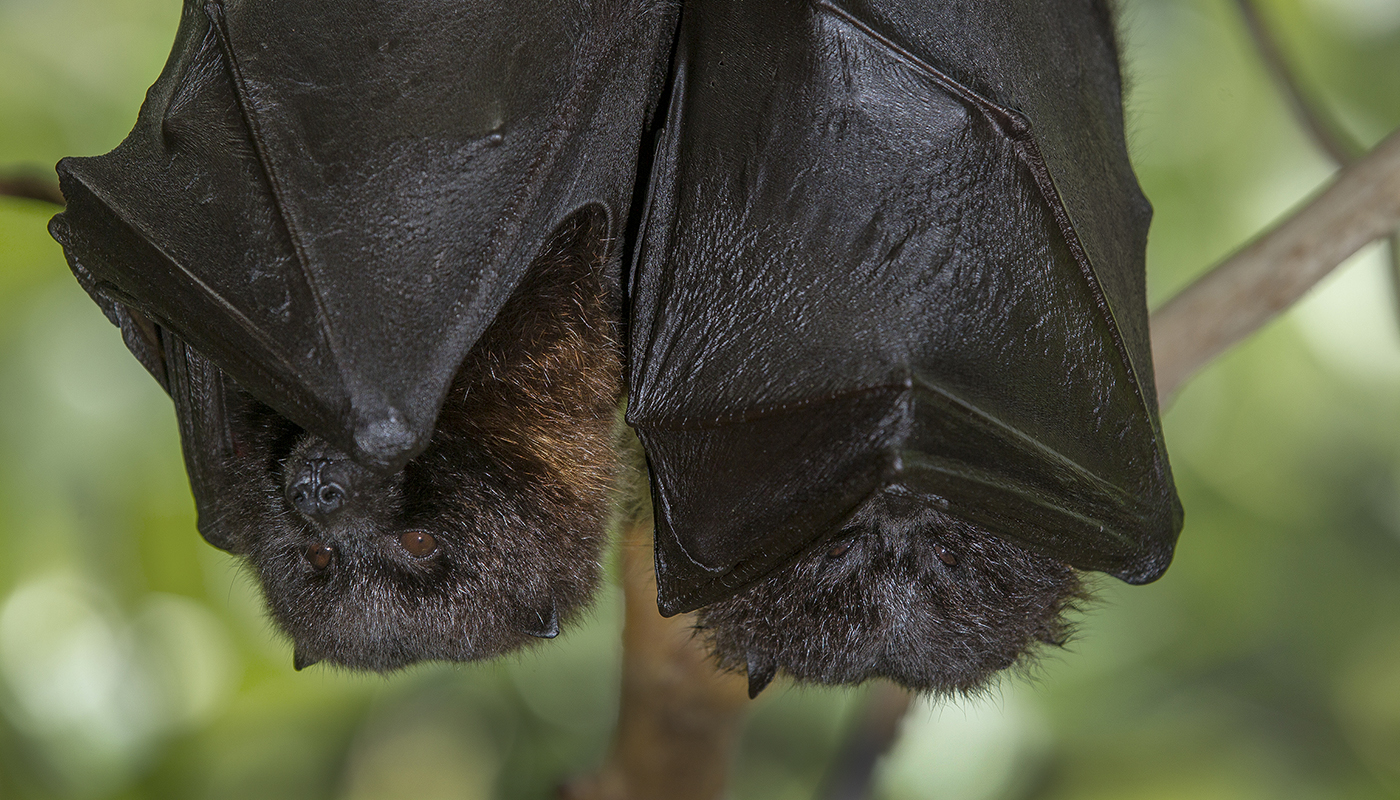 Hibernation Nation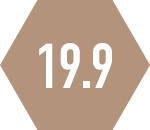 the number of hours a little brown bat sleeps in a
24-hour period.
To cope with temperature extremes and less available food, some species migrate, some eat less, and some—like bears, bats, groundhogs, skunks, and chipmunks—hunker down in hibernation. This is a long-term state of inactivity; metabolism slows, body temperature drops significantly, and "brown fat" stores are slowly tapped for energy. Weeks or months can go by without the animal rousing to drink or relieve itself. Hibernation is fundamentally different from short-term, 24-hour sleep cycles. According to scientists, the hibernating animal's brain waves closely resemble their wakeful state, unlike that of brain waves in sleep. Despite its superficial resemblance to a snooze fest, hibernation does not replace sleep, and sometimes animals must wake from hibernation to get some real sleep!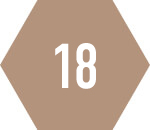 the number of hours a python sleeps in a
24-hour period.
Heat can be just as deadly as cold. Animals that "go dark" during searing temperatures are said to estivate (also aestivate). It is usually done underground or in a shady, cool place. As in hibernation, the animal's metabolism, heart rate, and breathing slow way down to conserve energy and retain water in the body. Earthworms, hedgehogs, snakes, crocodiles, snails, lungfish, and desert tortoises are all eager estivators. An abbreviated version of hibernation (and estivation) is called daily torpor, where the animal is dormant for less than 24 hours. Hummingbirds use this strategy to conserve energy.
It's clear that not all sleep is created equal. If you dream of getting more of it, just relax and close your eyes…your brain will thank you for it.