Imagine: You need to feed one lion, two elephants, three sloths, four iguanas, five hummingbirds, AND an anteater. Do you go to your local pet store? Grocer? Use a delivery app on your phone? How and what do you feed so many different kinds of animals? Zoo nutritionists ask and answer this question on a daily basis.
At the San Diego Zoo and San Diego Zoo Safari Park, the Nutritional Services Department is a team of nutritionists, researchers, and Forage Warehouse staff that work together to meet the nutritional needs of our animal population. Nutritionists and scientists work collaboratively to streamline diets, taking into account each species' natural history—what and how they would eat in the wild.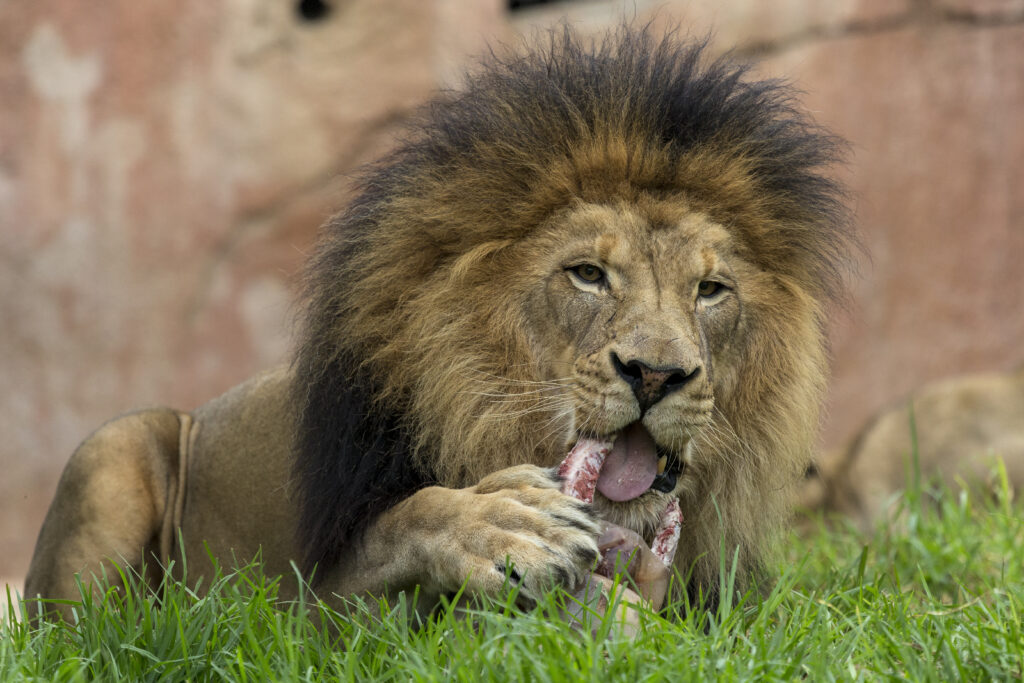 From providing a baseline or "maintenance" diet, to creating prescription diets for medical cases, to designing milk formulas for hand-reared infant animals, Nutritional Services encompasses breadth of challenges. Animal care starts and ends with nutrition. How the "meals" are sent out is a bit different between the Safari Park and Zoo.
At the Safari Park, the Forage Warehouse functions as a central commissary, where each individual animal's diet is prepared. Starting at 6 a.m. daily, several different stations prepare the bulk ingredients (including fresh produce, live insects, grains and hay, ground and thawed meat products, manufactured feeds, etc.) that go into each specific diet. The Animal Care Specialists pick up the meals and deliver them to the animals.
On the other hand, the Zoo's Forage Warehouse functions as more of a "decentralized commissary"—a  bulk preparation and delivery center. The Zoo Forage Team's day starts at 4:30 a.m. They deliver the previous day's orders and bulk-prepped food to the different habitat kitchens. Zoo wildlife care specialists break down the whole ingredients into individual diets. Back at the Warehouse kitchen, the next couple of days' whole ingredients are sorted into delivery bins. Zoo animals need food safety just as much as humans—that's why the kitchen rotates between produce and meat days, prepping ingredients for the following two days (gotta stay on top of all that food for all those animals!). After prepping delivery bins, Forage staff address any phone-in orders care specialists have requested for the next day. Cleaning and sanitizing the kitchen is the last step before Forage team wraps up for the day.
Both Forage Warehouse teams are responsible for quality control checks. Staff verifies food deliveries are stored and transported at the appropriate temperature to maintain food safety, and reject any incoming orders that do not meet these standards. They check each incoming shipment of items to ensure our animals are receiving quality and safe food.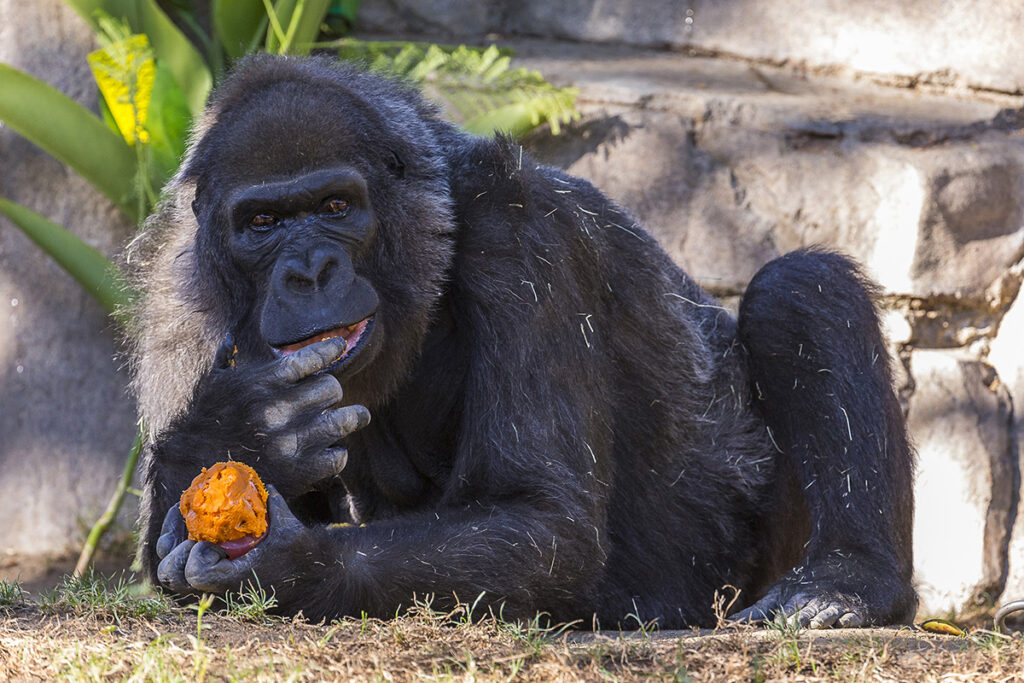 So, how and what DO you feed one lion, two elephants, three sloths, four iguanas, five hummingbirds, AND an anteater? You'd think it would simply be meat, hay, fruit, veggies, nectar, and insects (respectively). But, just like we need a balanced diet, so too do these animals. That's why we work together to determine, find, and feed the best possible diets to our animal population. It takes a little bit of everything—and a little bit from everyone—to deliver a balanced diet to keep these animals happy, healthy, vibrant, and thriving!
Mieko Temple and Jordyn Ellorin wrote this story while Research Fellows in the San Diego Zoo Nutritional Services Department.