State-of-the-art Facility Is Dedicated to Conservation of White Rhinos
Generous donors who helped to build a state-of-the-art animal facility at the San Diego Zoo Safari Park attended a reception in their honor May 18, as the Nikita Kahn Rhino Rescue Center was officially opened. A ceremonial ribbon-cutting took place, with San Diego Zoo Global President and CEO Douglas G. Myers inviting the center's namesake, benefactor and longtime animal advocate Nikita Kahn, to cut the ribbon. The new 3.5-acre facility is dedicated to the conservation of white rhinos, with a focus on assisted reproductive techniques.
"This is a very exciting day for us, to have the Nikita Kahn Rhino Rescue Center opened," stated Stacey Johnson, director of collections, San Diego Zoo Global. "The Nikita Kahn Rhino Rescue Center gives us the capability and power to accelerate our understanding of the reproductive physiology of the white rhino. Working with the animals in this facility, our researchers can learn the biology of the rhinos and continue to develop reproductive techniques to save the northern white rhino, and other rhino species, from extinction."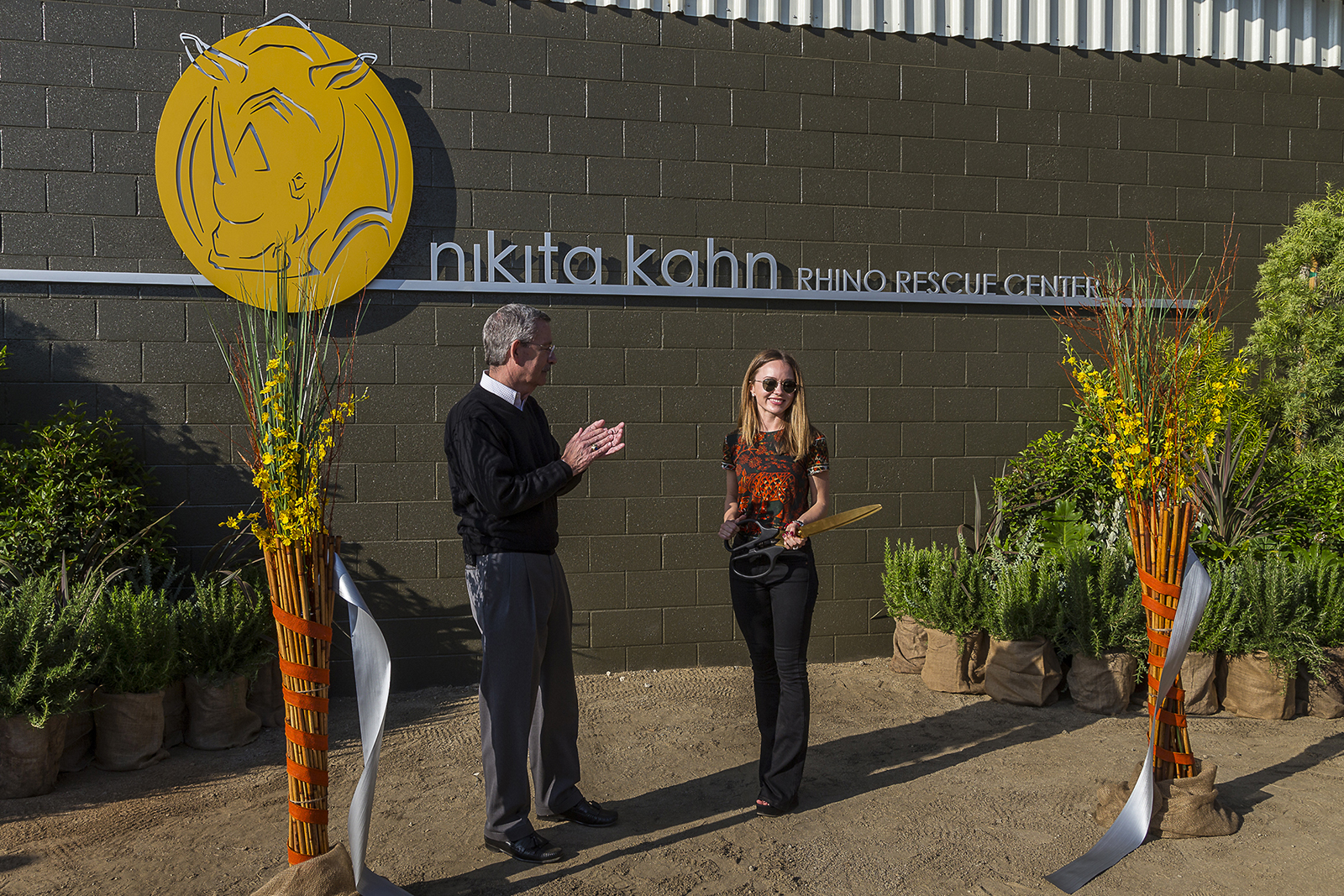 Led by San Diego Zoo Global and Dvur Kralove Zoo in the Czech Republic, researchers at the San Diego Zoo Institute for Conservation Research Frozen Zoo®—in cooperation with the Leibniz Institute for Zoo and Wildlife Research (IZW) in Berlin, The Scripps Research Institute (TSRI), and many other scientific institutions and zoos, as well as partners in Africa—are working to develop and perfect assisted reproductive technologies to save the critically endangered northern white rhino. Only three of these animals remain in the world.
The Nikita Kahn Rhino Rescue Center was built to house the rhinos that are part of this critical work. In November 2015, six female southern white rhinos, ranging from 4 to 7 years of age, were relocated to the new center from private reserves in South Africa. These animals could potentially serve as surrogate mothers for a baby northern white rhino.
To reach the ultimate goal of successfully producing a northern white rhino, multiple steps must be accomplished. One of the first steps involves sequencing the genomes of the northern white rhino to clarify the extent of genetic divergence from its closest relative, the southern white rhino.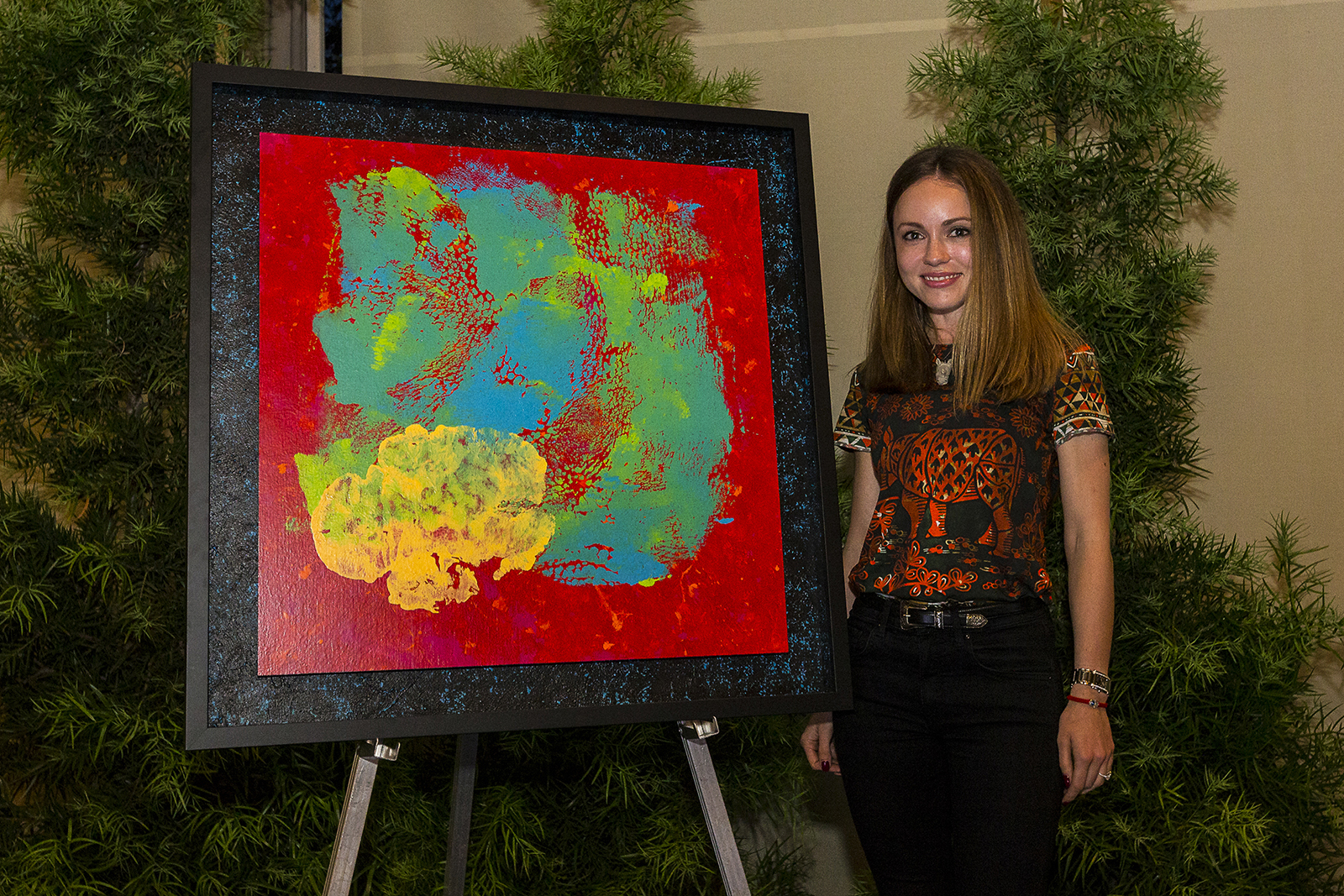 With a grant from the Seaver Institute, Oliver Ryder, Ph.D, director of genetics at San Diego Zoo Institute for Conservation Research, and his team of researchers have completed a whole genome sequencing of northern and southern white rhinos, in an effort to characterize genetic diversity. DNA samples from the six southern white rhino females that reside at the Rescue Center have been obtained and will be added to the study.
"Sequencing the genomes of the northern and southern white rhinos gives us information we could not obtain any other way," stated Ryder. "We want to know about the genetic diversity of the rhino, which is important for their longtime survival. We want to use this information as part of our effort to rescue the species, which will involve our understanding the activity of genes involved in reproduction."
"Our initial findings show the genetic diversity of northern white rhino samples in the Frozen Zoo® appear to be comparable to, and perhaps greater than, that of the southern white rhino samples," stated Tate Tunstall, Ph.D., a postdoctoral scientist working on the project.
The next step in successfully producing a northern white rhino requires conversion of cells preserved from 12 individual northern white rhinos in the Frozen Zoo® to stem cells that could develop into sperm and eggs—a process successfully begun in the laboratory of Jeanne Loring, Ph.D., of The Scripps Research Institute, with details of the process published in 2011.
Reproductive options might include artificial insemination, in vitro fertilization or embryo transfer, with the southern white rhinos serving as surrogates. There are many challenges ahead, but researchers are optimistic that a northern white rhino calf could be born from these processes within 10 to 15 years. This work also may be applied to other rhino species, including critically endangered Sumatran and Javan rhinos.
The Nikita Kahn Rhino Rescue Center is located on the former site of the Park's 2-acre black rhino exhibit, visible from the Africa Tram Safari. The facility includes three large outdoor yards, two outdoor interior yards, one outdoor maternity yard, a temperature-controlled maternity barn, a training chute with a recessed scale to monitor individual weights, a training chute to facilitate reproductive efforts, bedroom stalls and a research center with necessary scientific tools. While the Nikita Kahn Rhino Rescue Center barn's emphasis is on neonatal care, it also can be used to help geriatric animals and keep them comfortable in their advanced years.
Three keepers are dedicated to the care of the animals at the Nikita Kahn Rhino Rescue Center. For the past six months, the keepers have been working with the rhinos, building rapport and ensuring that they are comfortable in their environment. The animals are being trained, through positive reinforcement, to receive any needed medical procedures.
San Diego Zoo Global has been working for decades, along with other accredited zoos, to keep a sustainable population of rhinos safe under human care while working to protect them in sanctuaries in the wild. The Nikita Kahn Rhino Rescue Center furthers this commitment and helps in establishing the Safari Park as a sanctuary to protect rhinos—at a time when an average of three rhinos are killed each day in the wild by poachers.
Poaching of all rhino species has reached critically high numbers in recent years. Rhinos are poached for their horns, which are made of keratin, the same material as human fingernails. At the current rate of poaching, rhinos could become extinct in 15 years. The northern white rhino is the most critically endangered. With the Nov. 22, 2015 death of Nola, a beloved 41-year-old female northern white rhino that resided at the San Diego Safari Park for 26 years, only three northern white rhinos remain. These three rhinos—one male and two females, all with reproductive issues—reside in the Ol Pejeta Conservancy in Kenya.
On any given day, visitors to the Safari Park may be able to see one or more of the southern white rhinos from the Africa Tram Safari, as their keepers continue training sessions and rotate them from the back area to the front Rhino Rescue Center exhibit yard.
For more information on San Diego Zoo Global's rhino conservation efforts, visit sandiegozoo.org/rhinos.