San Diego Zoo Safari Park Animal Care Team Makes Cast and Boot for 4,500-pound Maoto
A team of nearly 40 San Diego Zoo Global veterinarians and animal care specialists gathered, Dec. 19, 2019, at the Nikita Kahn Rhino Rescue Center to put a new cast on the foot of a 4,500-pound southern white rhino named Maoto, to help mend a broken toe.   
Last month during a routine morning check, animal care specialists noticed Maoto was not putting weight on his front left foot. They moved him into a flat yard to restrict his activity and called Safari Park veterinarians, who conducted an examination. Radiographs (X-rays) were taken, and veterinarians discovered he had a broken toe—and he needed a cast on it, to help it heal.
The procedure performed this week was the third casting procedure the team has performed on Maoto. The animal care team worked quickly to anesthetize him, make him comfortable during the procedure, remove his current cast, obtain new radiographs of the fractured toe and perform an overall health assessment. They determined that Maoto's toe showed evidence of proper healing, but it still needed a new cast.
Since Maoto is such a large animal, the cast had to be fortified so it would not break under his great weight. Working together, the Safari Park's veterinary, construction and maintenance departments created a special protective "boot," made of car tire tread, which was incorporated into the bottom of the cast. Because of the amount of time that animal care specialists at the Rhino Rescue Center spend each day building relationships, and training the rhinos in their care using positive reinforcement, they were able encourage Maoto to stand in a specialized corridor that helped him to remain motionless for several cast adjustments without the need for anesthesia.         
"During the past six weeks, Maoto has been able to move around easily and still maintain a positive demeanor through the entire process," said Jonnie Capiro, lead  keeper.  "He's been an outstanding patient along the way!"
"The key to life is to surround yourself with good people, and good things will happen—and that's what happened here today," said Dr. Jeff Zuba, senior veterinarian at the San Diego Zoo Safari Park. "For a big animal like this, it will take four to five months for the fracture to heal, but his prognosis is good."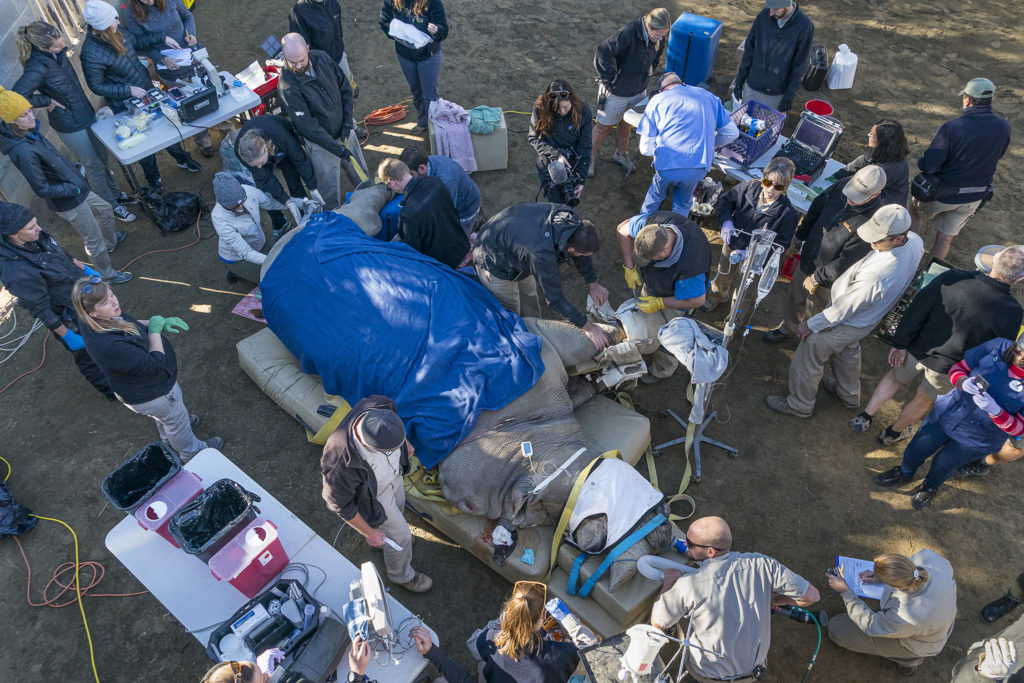 Maoto resides at the Nikita Kahn Rhino Rescue Center, where he is an important contributor to San Diego Zoo Global's efforts to help save endangered rhino species from extinction. Maoto is the father of Edward, a southern white rhino calf born July 28, 2019, whose birth was the first successful artificial insemination birth of a southern white rhino in North America. Edward's birth represented a critical step in the organization's ongoing work to develop the scientific knowledge required to genetically recover the northern white rhino, a distant subspecies of the southern white rhino. Only two northern white rhinos currently remain on Earth and, unfortunately, both are female.
There are an estimated 18,000 southern white rhinos remaining in the wild. The southern white rhino is classified as Near Threatened on the International Union for Conservation of Nature Red List of Threatened Species, due to poaching threats and illegal trafficking of rhino horn. Currently, a rhino dies every eight hours in South Africa as a result of poaching.
On any given day, visitors to the Safari Park may be able to see one or more of the southern white rhinos living at the Nikita Kahn Rhino Rescue Center from the Africa Tram. The public can help support San Diego Zoo Global's rhino conservation efforts through the San Diego Zoo Global Wildlife Conservancy at EndExtinction.org/Future.
As an international nonprofit organization, San Diego Zoo Global works to fight extinction through conservation efforts for plants and animals worldwide. With a history of leadership in species recovery and animal care, San Diego Zoo Global works with partners in science-based field programs on six continents, and maintains sanctuaries and public education facilities in many places. Inspiring a passion for nature is critical to saving species, and San Diego Zoo Global's outreach efforts share the wonder of wildlife with millions of people every year. Current major conservation initiatives include fighting wildlife trafficking and the impacts of climate change on wildlife species; broad-spectrum species and habitat protection efforts in Kenya, in Peru and on islands worldwide; preventing extinction in our own backyard; and expanding efforts to bank critical genetic resources and apply them to the conservation of critically endangered species. To learn more, visit SanDiegoZooGlobal.org or connect with us on Facebook.