Small but Mighty
Omeo the koala has shown remarkable resilience, despite what seemed like insurmountable odds against his survival.
BY Karen Worley
Photography by Tammy Spratt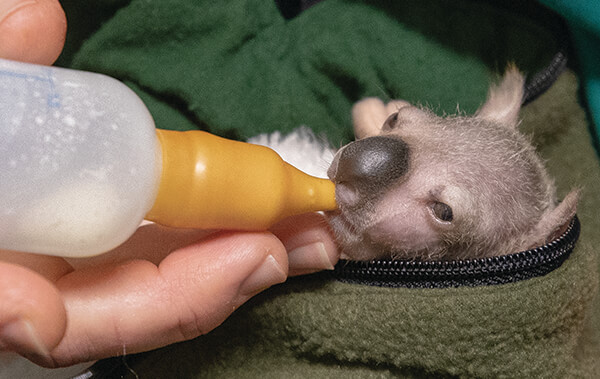 Discovering that one of the Zoo's koalas has a new joey in her pouch is always good news, and the koala team was happy to find out that was the case for female koala Beejay in July 2019. The situation took a concerning turn, however, when Beejay was diagnosed with lymphoma. Hoping not to lose them both, the veterinarians and animal care team wanted to give Beejay's joey every chance, and provided Beejay with expert palliative care to give the joey time to develop.
In the end, however, the little male joey was only five and a half months old when he lost his mother. "We had never raised a koala this young," said Becky Kier, lead neonate care expert. "In those first few weeks, we almost lost him twice. But during intensive care, he showed us he was a fighter."
Defying the Odds
At first, the little joey only weighed 5.46 ounces, and he needed round-the-clock care, including feeding every few hours from a bottle with a specially designed nipple to fit his small mouth. The koala team consulted with experts in Australia on techniques to care for a joey this young and implemented their suggestions; but even their Australian colleagues were skeptical about the joey's chances.
Nonetheless, under the dedicated care of the wildlife care specialists and veterinarian Cora Singleton, DVM, the little koala rallied. He stayed in a warm and humid incubator, containing a suspended faux pouch that he could nestle into, and continued to gain strength. The team was pleased to see that he was growing, and each new encouraging weight and developmental milestone they recorded buoyed their spirits.
Despite the odds, this little fellow was going to make it. In honor of his uphill battle, he was named Omeo, an Australian Aboriginal word meaning "mountains" or "hills," which also pays tribute to the koalas of Australia's Blue Mountains that survived the bushfires of 2019-2020 (see end of article).
Stepping Out
At seven months old, Omeo reached the stage in which a koala joey would ordinarily start venturing out of the pouch to explore. To simulate this experience, the team began taking the faux pouch out of the incubator, and placing it next to a plush koala toy sitting in a custom-designed eucalyptus "tree." When Omeo woke from a nap, he crawled out of the pouch and up onto the back of the toy.
"It is important we mimic as many natural situations for Omeo as he would receive with his mother," said Kim Weibel, senior neonate care expert. "We groomed him, held him snug in his faux pouch, encouraged him to grasp onto his plush 'stand-in mom,' and provided him with eucalyptus, so he could further develop his hand-eye coordination and learn to feed himself."
By March 2020, at eight months of age, Omeo's strength, grasping and climbing abilities, and balance were all developing. "Omeo had come a long way," said Kim. "In the beginning, he was so compromised and so underdeveloped. However, his endurance increased, he started mouthing eucalyptus, and he finally developed nice, thick fur. A next big step will be meeting other koalas, and learning how to socialize—doing all the great things koalas do."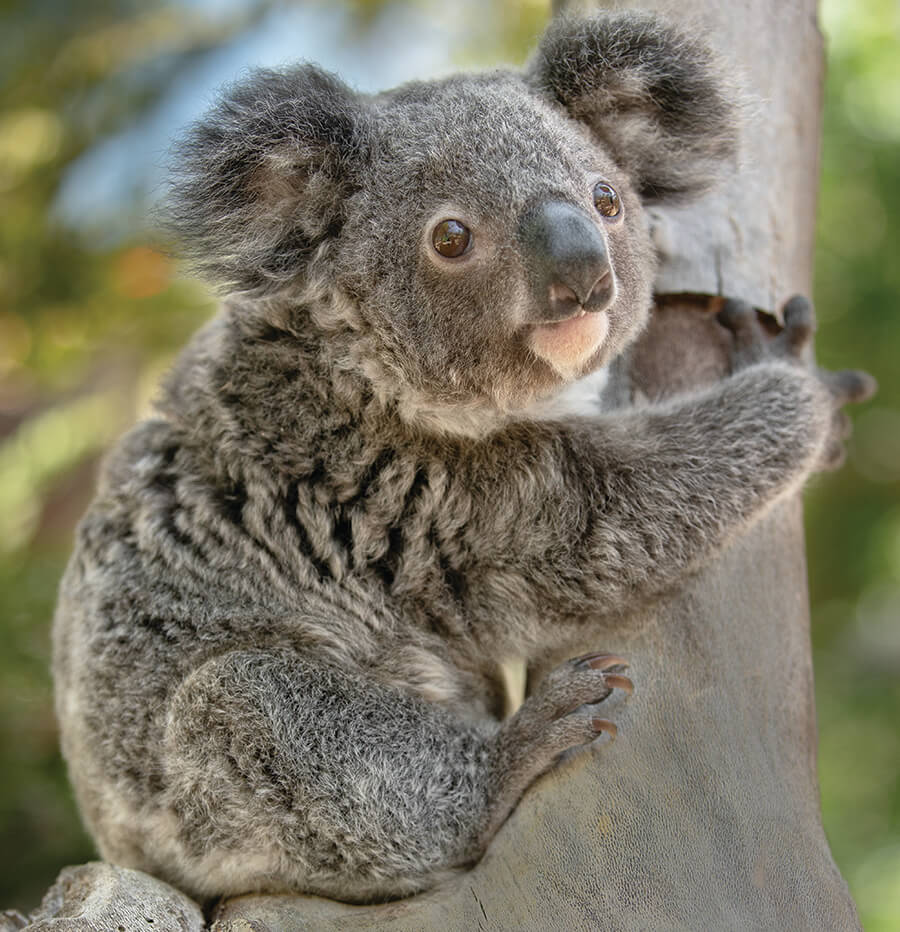 A Bigger World Awaits
After the snug environment of the incubator, going outside might have seemed a bit daunting. But not for intrepid Omeo—he was up to the challenge. The care team started taking him out for "walks," bundling him in a carrying wrap, then giving him opportunities to crawl out, climb some branches, get some sun—which is important for vitamin D production to support bone growth in koalas—and even see and smell the adult koalas nearby.
His explorations were somewhat wobbly at first, but that didn't stop Omeo from trying every new thing that came his way. Additionally, his hand-eye coordination was improving. "He was grabbing leaves and teething on the stems," said Becky. "His brain was ready for eucalyptus, but his teeth were not, just yet—he was still behind in physical development."
Passing the Test
Because his mother was ill when he was born, and may not have been able to provide him with the complete nutrition he required, it's likely that Omeo will always be smaller than other koalas. His veterinary checkup in May, at nine months of age, was promising for his overall health, though.
The veterinarians took radiograph images to examine his lungs, heart, and other organs, which showed no signs of abnormalities. They took a blood sample, and the results showed that his levels were within normal parameters. A body condition examination and checks of his eyes, ears, and nose did not reveal concerns. And his teeth were coming along nicely, as well. All indications pointed to a healthy—if small-statured—koala.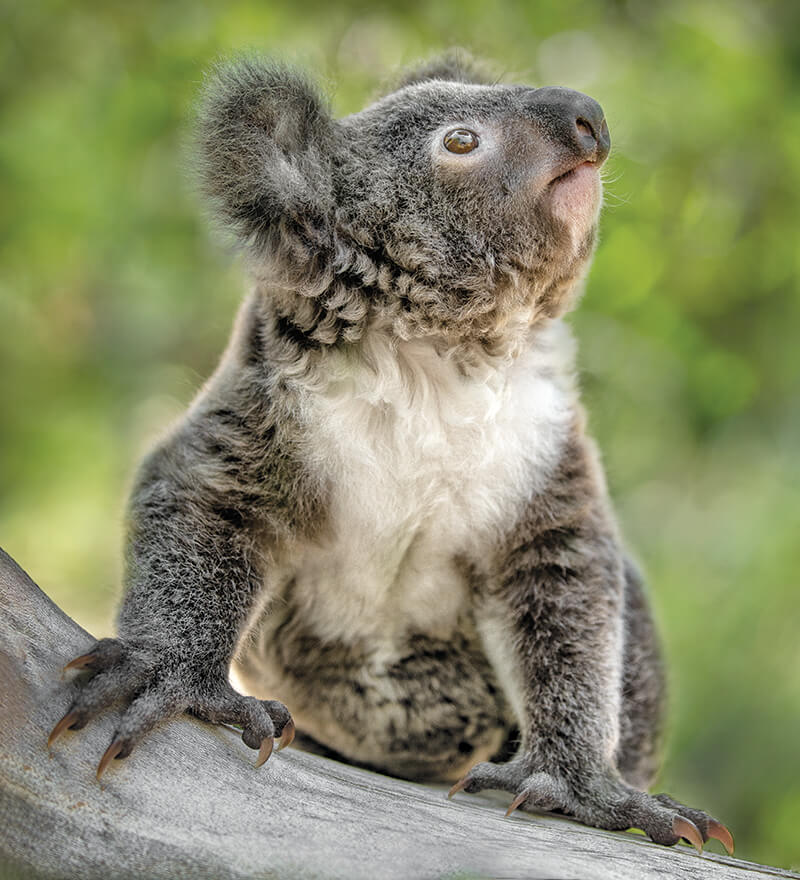 Joining the Colony
Omeo's next milestone will be to meet other koalas. The animal care team will gradually introduce him to the adult females, which all share one large habitat. "We hope that eventually one of the females might 'adopt' him," said Becky. "The goal is that he'll have a family to hang with so he can learn all about being a koala." Because the males are territorial, they each have their own space—as Omeo will too, someday. For now, he spends most of his time in the back area, since he still has growing to do. Omeo has overcome so much. Seeing him at home among the eucalyptus branches will be a triumph for everyone who worked with such care and dedication to save his life.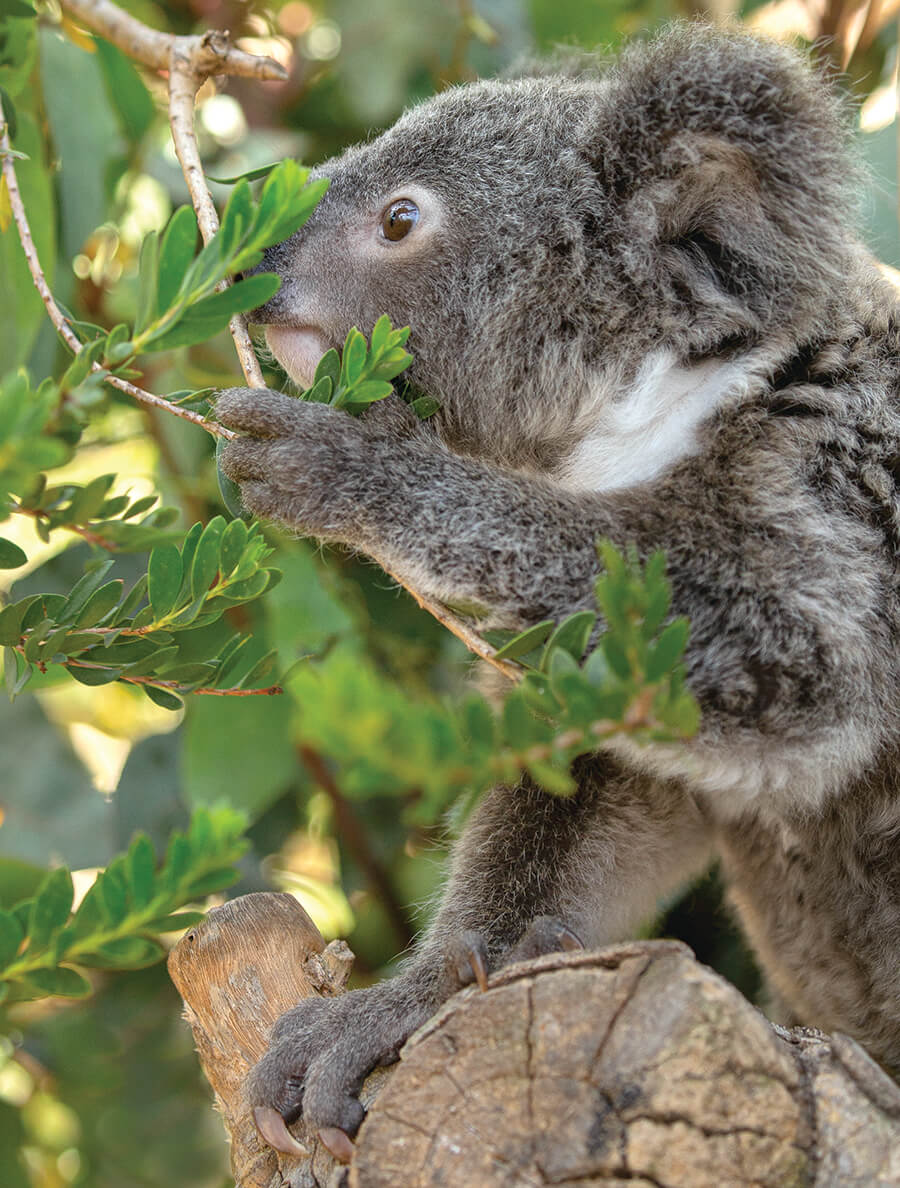 Saving Koalas in Australia
In late 2019 and early 2020, the world watched in dismay as mega-fires raged in Australia, burning more than 2.5 million acres of habitat, and devastating wildlife. One area that was heavily damaged was the Blue Mountains World Heritage Region in New South Wales, which is home to the most genetically diverse population of koalas in the world. "During the massive fires, as 80 percent of the World Heritage area burned, we were at risk of losing the entire koala population at this site," said Kellie Leigh, Ph.D., executive director of Science for Wildlife. San Diego Zoo Global has partnered with Science for Wildlife in the Blue Mountains Koala Project since 2015, supporting conservation studies of the koala populations in the area.
In the face of such devastating loss, Kellie and her team were able to locate and rescue a number of koalas, which were then cared for at the Taronga Zoo in Sydney until they were able to return to the Blue Mountains in April. "While they coped well in care, we were delighted to finally send our koalas home," said Kellie. "We assessed the burned area that we rescued them from, to establish when the conditions improved enough that the trees could support them again. We continue to radio-track them and keep a close eye on them."
To help during the crisis, San Diego Zoo Global raised more than a million dollars from generous donors, members, and supporters, funds that were used to support the rescue and relocation of animals, and provide water stations that gave animals critical access to water in burned areas. The reintroduction of the rescued koalas is just the next stage in what conservationists know will be a long-term effort to recover koala populations in the area. "There is still a lot of work to be done, to assess what is left of koalas in this region and plan for population recovery," said Jen Tobey, Population Sustainability researcher, San Diego Zoo Global. "We are dedicated to continuing to support this critical work to conserve a significant koala population."