BY Wendy Perkins
Photography by Tammy Spratt
Slender fingers of sun reach through the branches of a tree, dappling a lush tangle of pendulous foliage. A thick mass of plants holds court on either side of a beckoning trail. Accepting the invitation, you follow the path leisurely, letting your senses feast on the sights, sounds, and scents. There's an innovative new spot at the Safari Park; one that's a delight anytime of year, and offers a bonus kaleidoscope of color in spring.
Welcome to the Epiphyllum Trail.
Many members have enjoyed visiting the Epiphyllum House each May to marvel at the stunning blossoms. Now, the Park's horticulture team has created a more expansive experience. "The idea was to showcase our collection in an amazing spot that simulates how they inhabit their natural environment," says John Horne, curator of horticulture at the Safari Park.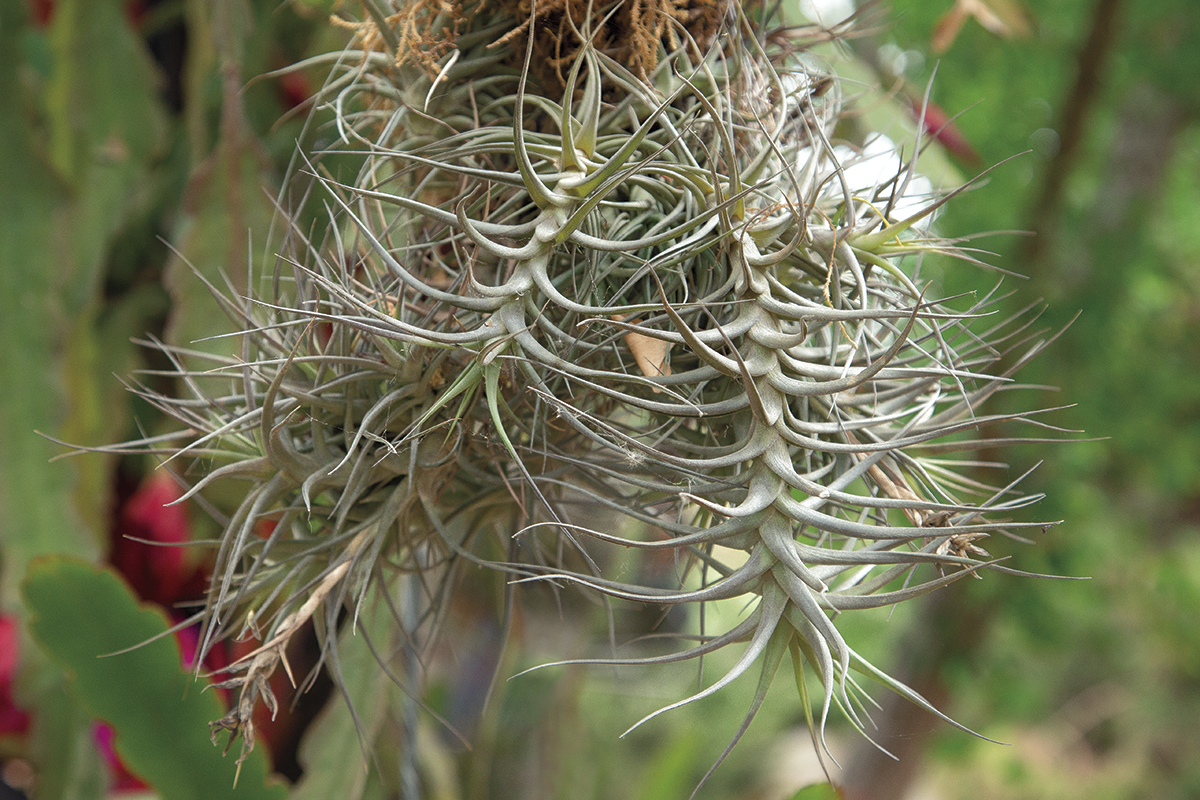 Epiphyllums are also called jungle cactus. Cactus in a jungle? "Epis" (as they are nicknamed) are indeed cactus. The long, flat growth that most people would call a leaf is actually the stem; this plant has no leaves!
This design has fooled people for thousands of years. Even the early scientists that named the plant; "epiphyllum" comes from the Greek epi, meaning "upon" and phyllo, meaning "leaf." It refers to the fact that a flower seems to spring directly from a leaf, which we now understand is not a leaf. Whew!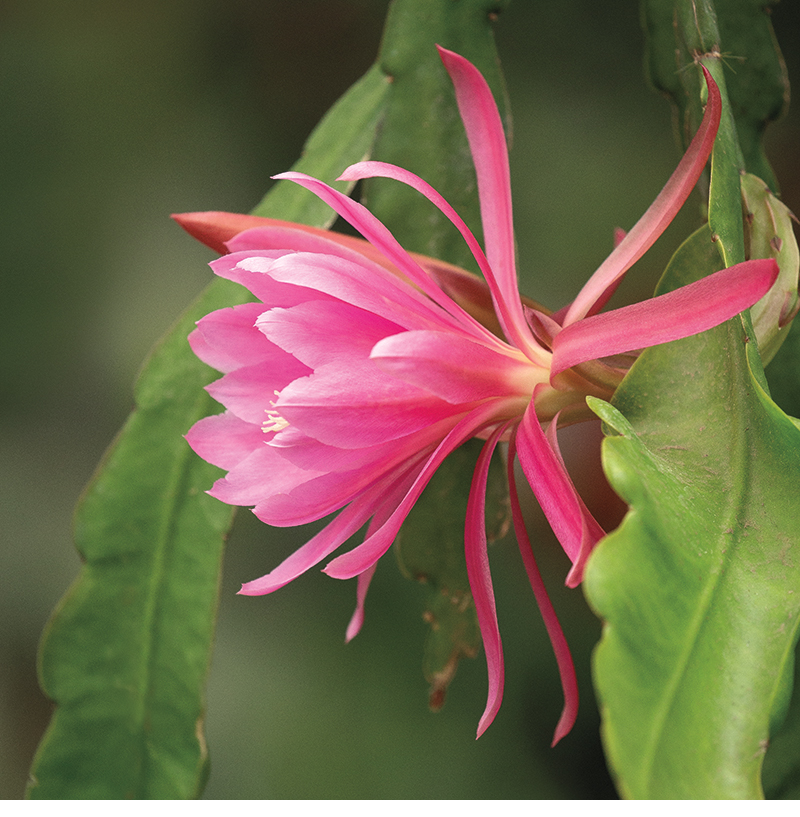 When it comes to habitat, epis again challenge preconceived notions. Cactus implies desert, in the minds of many. Well, here's an exception to the rule. Native to rain forests in many parts of Mexico, Central and South America, and the Caribbean, epiphyllums take root, not on the ground, but in tree forks and rock crevices, where they thrive on semi-shade and moist air. When the idea sprouted to give guests a new way to view the Park's epiphyllum collection, the species' nature led the way.
Located between Walkabout Australia and Condor Ridge, the Epiphyllum Trail offers great air flow, as well as naturally filtered sun from the large trees that were already growing in the space. More than 600 epiphyllum plants were moved from the former location to one of the Park's greenhouses, then moved to their new home last winter. "The epis would be getting a different amount of sunlight in their new location," John explains. "We began moving them to the new spot in January, so they could acclimate as the days grew longer naturally."
Outside of their native habitat, most epiphyllums are cultivated in suspended pots filled with a special medium. Being held aloft gives their stems room to grow, branch, and arch beautifully. On the Epiphyllum Trail, sturdy, multi-armed poles fitted with hooks let guests admire the plants in their natural form. And in the spring, the plant's eye-catching blossoms are center stage.
Epiphyllum enthusiasts have, over hundreds of years, crossbred epis to produce an astonishing array of jewel-toned flowers measuring more than 12 inches across. While it's often the springtime flowers that attract attention, people who collect and raise epis appreciate them year round. In fact, the Park's epiphyllum collection would be nothing without the time, energy, and care of the San Diego Epiphyllum Society volunteers who help care for the plants.
Joining the epis in this new habitat are plants that share the "high life." Epiphyllums are one type of epiphyte—a plant that grows upon another, without harming its host. Tilandsias ("air plants") and staghorn ferns are some of the other epiphytes to look for as you stroll the short, easy trail. Benches give you a chance to sit and savor the surroundings and appreciate the horticulture team's vision.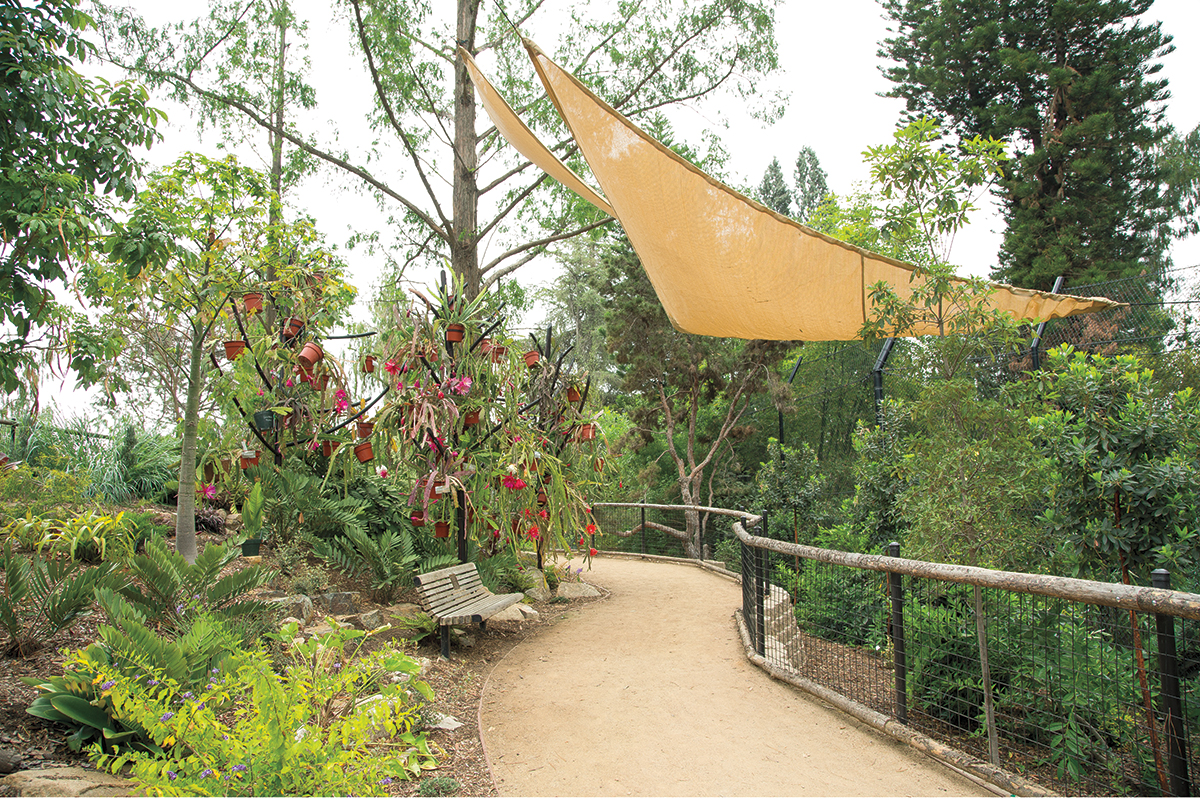 It's a place you'll want to come back to—for the burst of blooms next spring, of course, but also to see how this garden grows. New types of epiphytes and unique ground-dwelling South American flora are seeds of dreams for filling this space with plants to catch the eye and spark the imagination of members and guests.
"We're constantly evaluating and fine-tuning how we manage the plants," said Robert Thurston, lead horticulturist. He's among the first to acknowledge challenges in creating an amazing spot that simulates how these plants thrive in their native habitat. "We're developing something that hasn't been done before," said Robert. "If it wasn't difficult, everyone would be doing it."
Add the Epiphyllum Trail to your next journey through the Safari Park, and make it a regular stop. It's totally epic.