We're Here Together Campaign Brings Platypuses to Your Home—Virtually
While the San Diego Zoo Safari Park is temporarily closed to on-grounds visitors due to COVID-19 restrictions, online guests can now visit the platypuses at the Safari Park's Walkabout Australia on their smartphone or computer. The all-new Platypus Cam presented by the Animal Crossing™: New Horizons game provides livestreaming video of the Safari Park's platypus pair as they swim and frolic in their world-class habitat—including three pools, naturalistic river banks, extensive tunnels and nesting areas. The Animal Crossing: New Horizons game is available on the Nintendo Switch system and invites players of all ages to create their own island paradise while making friends with charming animal residents in the process.
"San Diego Zoo Global is grateful for Nintendo's support of Platypus Cam, adding to the many ways our guests engage with wildlife during these trying times," said Ted Molter, chief marketing officer of San Diego Zoo Global. "Platypus Cam is the newest addition to San Diego Zoo Global's We're Here Together Campaign, which invites guests from around the world to stay connected to their favorite animals and species through a wealth of free online content, entertainment and educational tools."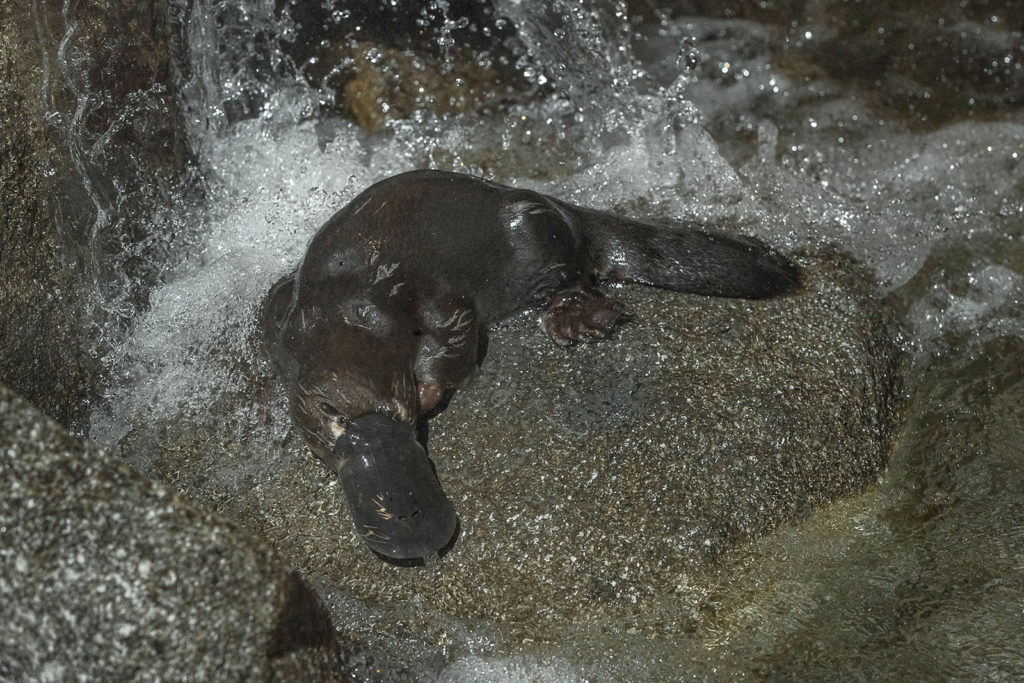 Guests at home can view livestreaming video from the platypus habitat at sdzsafaripark.org/platypus-cam.
The two platypuses featured on the cam—an 8-year-old male named Birrarung and a 15-year-old female named Eve—serve as ambassadors for the species outside of their native Australia. The San Diego Zoo Safari Park is currently the only zoo outside of Australia to house platypuses.
Platypuses can be difficult to see, both in the wild and in a zoological setting, so being able to get a glimpse of these elusive, busy animals is a rare and special experience.
The platypus is a semiaquatic, egg-laying mammal found along the eastern coast of Australia, within the states of Queensland, New South Wales, Victoria and Tasmania. They live in freshwater streams, creeks and rivers. The two platypuses at the Safari Park communicate the importance of fresh water for both humans and wildlife. Freshwater resources and habitats are being affected by pollution and climate change. People are encouraged to be part of the solution and protect wildlife through water conservation measures and practices that help slow climate change.
To understand what is occurring with platypuses in Australia—and to better understand the conditions they live in, and those affecting other river species—San Diego Zoo Global has pledged an ongoing commitment of funds to field conservation of platypuses. San Diego Zoo Global, the University of Melbourne and the environmental research and conservation group cesar have teamed up on a unique project designed to learn more about the elusive platypus and the threats to its survival. The project uses innovative technology, in which samples of water are tested for traces of environmental DNA (eDNA) to learn about the species present in freshwater ecosystems.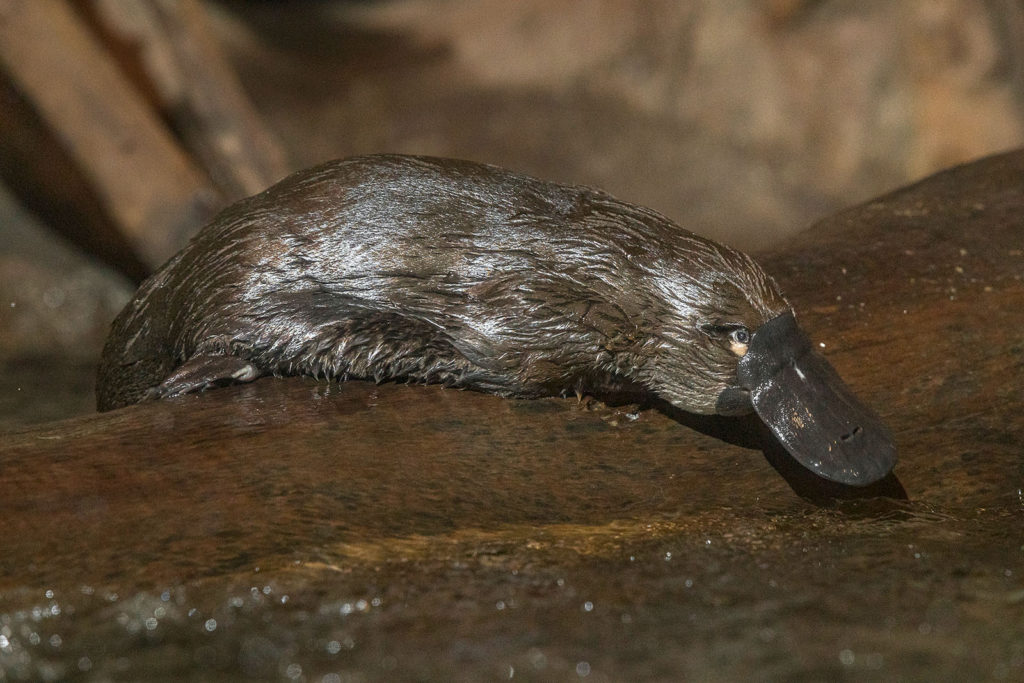 Platypus populations were considered to be at risk before the 2019 wildfires that burned through Australia. The species' status was recently uplisted by the International Union for Conservation of Nature, to Near Threatened. Unfortunately, the region that burned was considered to be a stronghold for the platypus, with some of the healthiest populations in the country. With funding raised by San Diego Zoo Global's Australian Wildfire Relief Campaign, researchers are now also going to assess the status of the platypus population in the wake of the fires, with the hope of guiding future recovery for the species.
In addition to the Platypus Cam presented by the Animal Crossing: New Horizons game, San Diego Zoo Global offers 12 other live wildlife cams where online visitors can check in on their favorite animals and enjoy daily updates. Recently, the San Diego Zoo and San Diego Zoo Safari Park have seen a 1,000% increase on average in online webcam viewership. The live wildlife cams are reaching audiences around the world—from the United States to the United Kingdom, Canada, Australia, Brazil, Mexico, India, Romania, Saudi Arabia, Ireland, Germany and China, #WereHereTogether provides a wide array of supplemental curriculum on wildlife, plants and animals, and habitats, with engaging content for students in grades K–12, animal care professionals, educators, parents and fans alike, including:
K–5 Students: Youngsters can jump right into the world of wildlife with San Diego Zoo Kids video stories, hands-on activities and games, with links to live wildlife cams and information about how to be a superhero to help save species. Kids can also tune into the San Diego Zoo Kids YouTube Channel any time of day for dedicated wildlife content that is provided at children's hospitals and Ronald McDonald Houses around the world, or visit the San Diego Zoo and Safari Park YouTube channels. ZOONOOZ Online also includes fascinating stories about wildlife and ongoing conservation projects around the world, with new features posted each week.
Middle School and High School Students: Dig into science on the San Diego Zoo Institute for Conservation Research Science Blog, with posts that cover everything from what happens inside a pathology lab to information on interning with the alala education program in Hawaii. Or, become a "citizen scientist" and contribute valuable data to conservation researchers by counting, identifying and tracking burrowing owls, giraffes and other wildlife online, at San Diego Zoo Global's Wildwatch Burrowing Owl and Wildwatch Kenya. Participants can help researchers by viewing and classifying wildlife images from remote trail cameras. In addition, San Diego Zoo Global Academy offers middle and high school teachers and students access to 22 free, self-paced online courses covering a variety of taxonomic groups and individual animal species, including monotremes. These fun, fast-paced, interactive courses are designed to be completed by students in as little as one to two hours. They include video, images and quizzes to teach students about mammals, birds, primates, bears, reptiles, monotremes, marsupials and more.
Anyone with a smartphone or computer can bring wildlife into their homes today, and engage using the hashtag #WereHereTogether. And for anyone who engages in online meetings via Zoom, San Diego Zoo Global has created new downloadable backgrounds featuring some of the most beloved animals. With just a click, you can add platypuses, hippos, rhinos and more to your meetings! Visit SDZSafariPark.org for more information, and to see the latest offerings in the We're Here Together campaign. #WereHereTogether