It was a double celebration this World Elephant Day (Aug. 12, 2019) at the San Diego Zoo Safari Park as animal care staff and volunteers celebrated the first birthday of baby elephant Umzula-zuli, better known as "Zuli," while at the same time raising awareness about the plight of elephants worldwide. Safari Park staff prepared a colorful party for the pachyderm herd this morning—filling their exhibit with paper boxes of hay, frozen cakes made of fruits and vegetables, paper streamers and a clay bog that will allow the elephants to cool off when the day gets warm.
The crowd watched as the birthday boy, now weighing more than 1,000 pounds, rushed into the habitat along with his mother Ndulamitsi and the other members of his herd, and immediately started eating hay and the other treats laid out for him. Animal care staff said they are so thrilled to watch him reach age 1—a significant number, considering elephant population numbers worldwide continue to fall.
"It's exciting to see every calf reach that [one year] milestone," said Mindy Albright, lead keeper, San Diego Zoo Safari Park. "Elephant numbers are still declining, so every life is precious. It's fun for the keepers to get to watch him just grow and thrive.
The Safari Park is now home to nine elephants—three adults and six calves and sub-adults of varying ages. The adults were rescued in 2003 from the Kingdom of Swaziland (now eSwatini), where they faced being culled. A lack of space and long periods of drought had created unsuitable habitat for a large elephant population in the small southern African country. African elephants are currently listed as Vulnerable on the International Union for Conservation of Nature (IUCN) Red List for Threatened Species and face many threats in their native habitats, including habitat loss and fragmentation, conflicts between humans and elephants, and poaching for their tusks, hide and bushmeat.
San Diego Zoo Global scientists have been working to gain a better understanding of the species by studying their nutrition, daily walking distance, growth and development, and bioacoustic communication. Since 2004, the organization has contributed $30,000 yearly to eSwatini's Big Game Parks to fund programs that include anti-poaching patrols, infrastructure improvements and purchases of additional acreage for the Big Game Parks.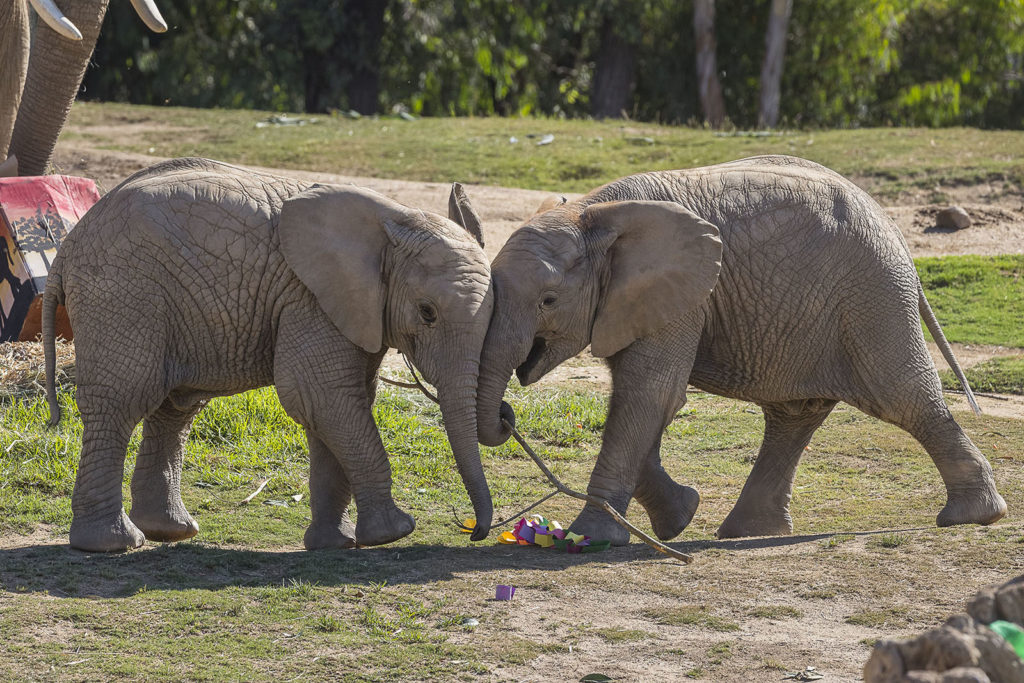 This past spring, three bull elephants were released to Sera Wildlife Conservancy after being successfully rehabilitated at Reteti Elephant Sanctuary. Conservationists created a release and post-release monitoring protocol to increase the success of their reintegration into their native ranges, including fitting the three calves with GPS/GSM satellite tracking collars. Scientists from the San Diego Zoo Institute for Conservation Research are now working to integrate behavioral data collected through video surveillance to generate a detailed look at the orphans' reintegration into the wild.
Guests can visit Zuli, his mother Ndula, and the rest of the herd at their home in Elephant Valley at the San Diego Zoo Safari Park, or watch them on Elephant Cam by visiting sdzsafaripark.org/elephant-cam.
At the San Diego Zoo Safari Park, more than 1 million guests each year see animals in herds of mixed species, in expansive habitats. Safari tours offer savanna views of African and Asian animals, trails take visitors on treks to experience Australian and North American habitats—plus, there are opportunities for up-close encounters and unique behind-the-scenes perspectives. Known for its leadership in rhino conservation, the Safari Park is home to the Nikita Kahn Rhino Rescue Center, which is devoted to groundbreaking work to bring back the northern white rhino. As visitors discover the rare and endangered species at the Safari Park, they are directly contributing, through admission and on-grounds sales, to the efforts of San Diego Zoo Global, an international nonprofit conservation organization that works to fight extinction through recovery efforts for plants and animals worldwide. To learn more, visit sdzsafaripark.org, or connect with us on Facebook, Twitter, Instagram or YouTube.