Two 6-week-old cheetah cubs pounced, chased, wrestled and cuddled together at the Ione and Paul Harter Animal Care Center at the San Diego Zoo Safari Park earlier this morning (Friday, Jan. 11, 2019.)
The cheetah cub siblings—one female and one male—along with two other males, were born Nov. 29, 2018, to Malana, a cheetah at the Safari Park's Cheetah Breeding Center. As Malana was unsuccessful in raising her previous litter, the Association of Zoos and Aquariums (AZA) Species Survival Plan (SSP) made the recommendation to have this litter of cubs raised as ambassadors for their species. Two of the cubs were to remain at the Safari Park and two would be sent to Wildlife Safari in Winston, Oregon, an AZA facility and a member of the cheetah Breeding Center Coalition (BCC).

Once at the Animal Care Center, the four cubs were found to have varying health issues. Veterinarians provided specialized care for each individual cub. While three cubs overcame their medical issues, despite excellent care, one of the male cubs did not survive. Of the remaining three cubs, one male was recently sent to Wildlife Safari as initially planned, and one male and female cub remain at the Safari Park.
"It's a privilege for us to care for these cheetah cubs," said Eileen Neff, senior keeper, San Diego Zoo Safari Park. "They are at the stage in life when everything is still "new" to them so they are extremely curious and playful. If you're visiting the Safari Park, you'll definitely want to stop by the nursery to catch a glimpse of these cheetah siblings."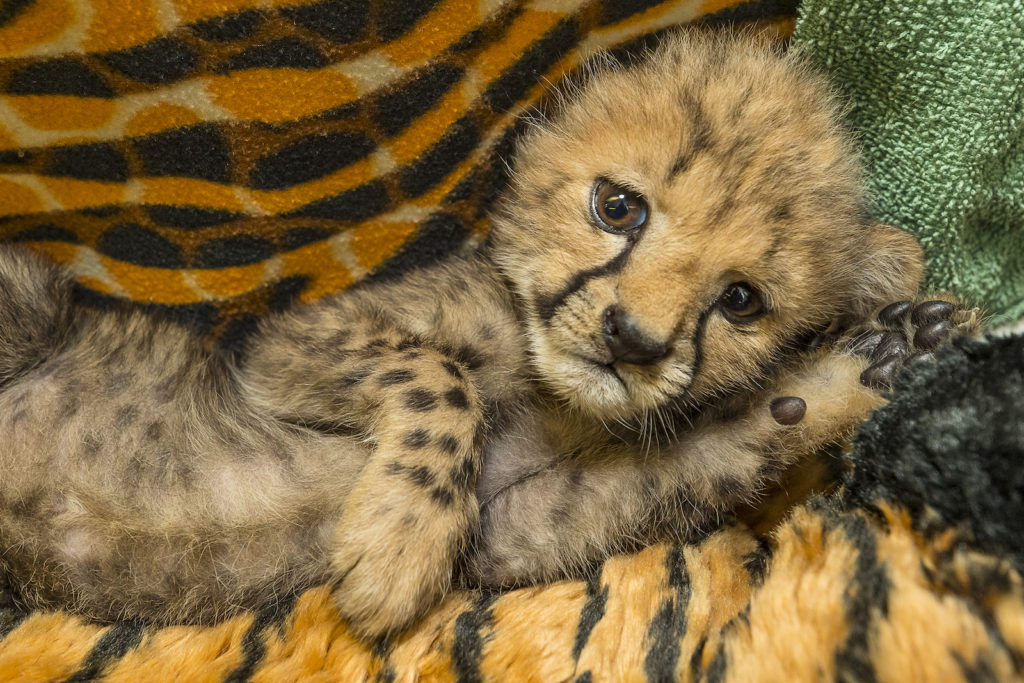 The little felines do not have names yet, but staff call them Pink (female) and Yellow (male) because of the colors of temporary ID markings put on their tails. Since their birth, the animal care team has been caring for them, bottle-feeding them a formula specifically designed for cheetahs, weighing them daily to monitor their health and simulating the grooming that they would normally receive from their mother. As the cubs have grown, the bottle feedings have become less frequent, and the cubs are primarily eating formula mixed with meat out of a bowl. Animal care staff say they will be completely weaned from their milk formula within the next few weeks.
Guests visiting the Safari Park this month can see the cheetahs in the Animal Care Center nursery at Nairobi Station between 9 a.m. and 5 p.m.
The San Diego Zoo Safari Park is one of nine breeding facilities participating in the cheetah Breeding Center Coalition (BCC). The goal of the coalition is to create a sustainable cheetah population to prevent extinction of the world's fastest land animal. San Diego Zoo Global has been breeding cheetahs for more than 40 years, with more than 154 cubs born to date. It is estimated that the worldwide population of cheetahs has been reduced from 100,000 in 1900 to just 10,000 today, with about 10 percent now living in zoos or wildlife parks.