The San Diego Zoo's newest okapi calf, Elombe, has moved beyond the barn where he was born and is now occasionally venturing out to explore his expanded exhibit area at the San Diego Zoo. Only a few zoos in the United States house this rare species, so the birth of Elombe was a special event for San Diego Zoo Global—and his arrival serves as a promising achievement in the conservation organization's efforts in saving endangered species worldwide.
Born in January, Elombe—whose name means "brave one" in the Lingala language—is affectionately known as "Eli" and is the second surviving okapi calf born at the Zoo in less than two years. Mosi, the Zoo's other young okapi (born in the summer of 2017), is now sharing the spotlight in the exhibit with Eli. San Diego Zoo animal care staff said they have been mesmerized by Eli since birth, when they watched mom Subira help her young calf slowly stand up and move around on his wobbly legs. Now, a few months later, Eli is growing strong and confident—and he can often be seen exploring his expanded habitat with a keen fascination and curiosity for his surroundings.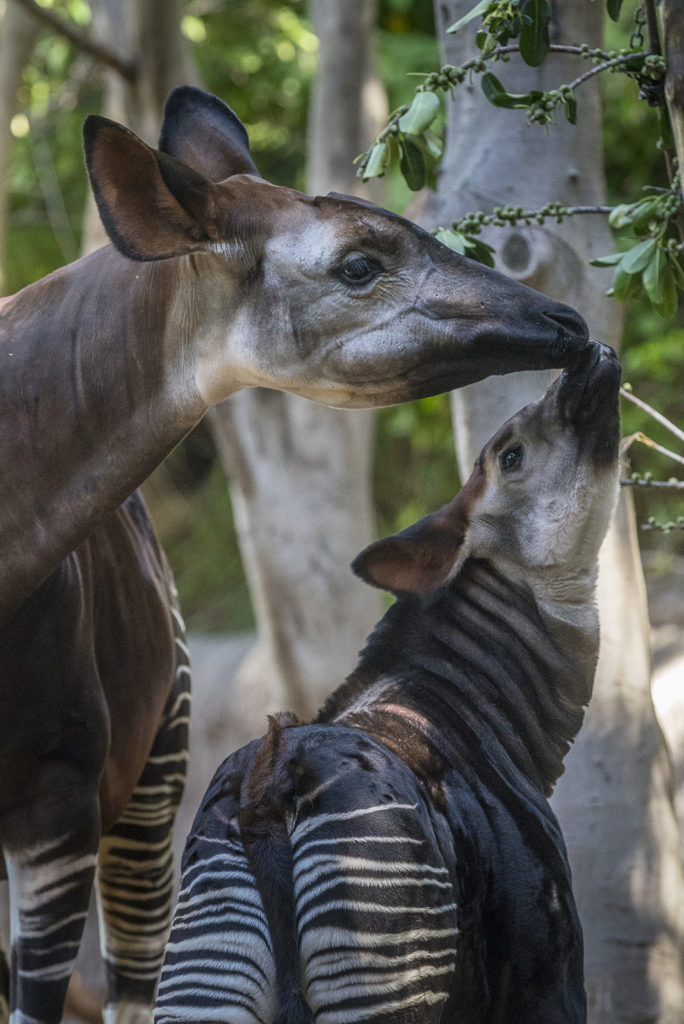 The first time Eli went out on exhibit, he trotted right up to the "howdy" fence where grandmother Safarani and young Mosi were standing on the other side. The three quickly began interacting with each other by sniffing, licking and vocalizing. Although little Eli is still nursing, he can occasionally be seen nibbling on alfalfa—a behavior learned through careful mimicking of his mom and grandma.
"Eli, while already weighing in at 192 pounds at three months old, is equally big, if not bigger, in personality," said Jennifer Chapman, senior keeper at the San Diego Zoo. "He seems quiet at first, staring at keepers and his environment; then all of a sudden, he gets this huge burst of energy and off he goes, checking out everything!"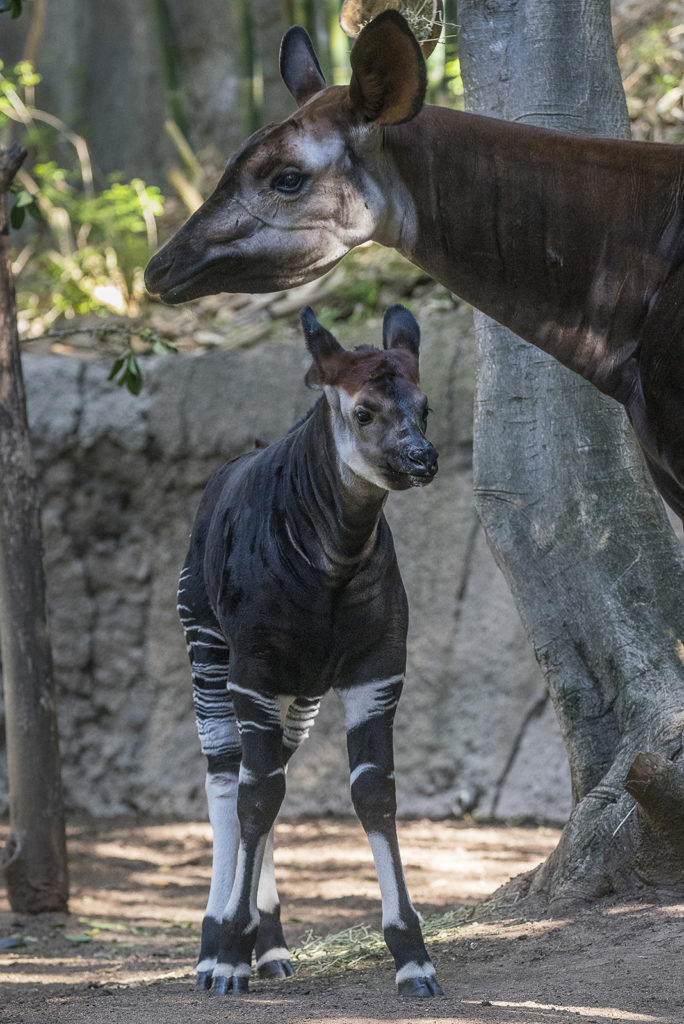 The okapi, the closest living relative of the giraffe, lives in the Ituri Forest—a dense rain forest in central Africa, located in the northeast region of the Democratic Republic of the Congo. The species is rarely seen in the wild by humans because okapis are very cautious, using their highly developed hearing to alert them before people can get close. Today, the okapi is listed as Endangered on the International Union for Conservation of Nature (IUCN) Red List of Threatened Species, due to hunting and continued habitat loss.
San Diego Zoo Global, and other zoos and conservation organizations, are working with local community members in the okapi's native habitat to help protect and support this rare and unusual forest dweller. In 1992, one-fifth of the okapi habitat in the Ituri Forest was protected by the creation of the Okapi Wildlife Reserve, a World Heritage Site that provides the species an area removed from most human interference.
Guests visiting the okapis can also enjoy Yaycation presented by National University, which runs through April 21, with special activities and extended Zoo hours—from 9 a.m. to 7 p.m. daily. Enjoy fascinating animal presentations and learn more about the Zoo's animals and plants from the experts who know them best. All Yaycation activities are included with San Diego Zoo admission or membership. For more information, visit sandiegozoo.org/yaycation.