The world's endangered okapi population has increased by one this month, after okapi mom Subira gave birth to her first calf at the San Diego Zoo. Only a few zoos in the United States house this rare species, so the newest birth is an exciting event for San Diego Zoo Global animal care staff members—and it marks another important milestone in the conservation organization's efforts to move this species further from the brink of extinction.
San Diego Zoo animal care staff said this 2-week-old, not-yet-named male has been very curious—assessing his surroundings and not afraid to let his mom or his keepers know what he needs. He is the second surviving calf born at the Zoo in less than 2 years. In the summer of 2017, Mosi—fondly called the "floppy-eared okapi" on social media due to the curve of his ears—was the first okapi born at the Zoo in four years. As with Mosi, staff members said they were mesmerized as they watched Subira give birth, and they were equally awed when her young calf slowly stood up and began to move around on wobbly legs.
"To see any animal take its first breath is an amazing experience," said Jennifer Chapman, senior keeper at the San Diego Zoo. "We waited 14 months for this calf to arrive, so to finally be able to see him, know he is healthy and witness mom do an incredible job, we can't help but feel a sense of relief and pride."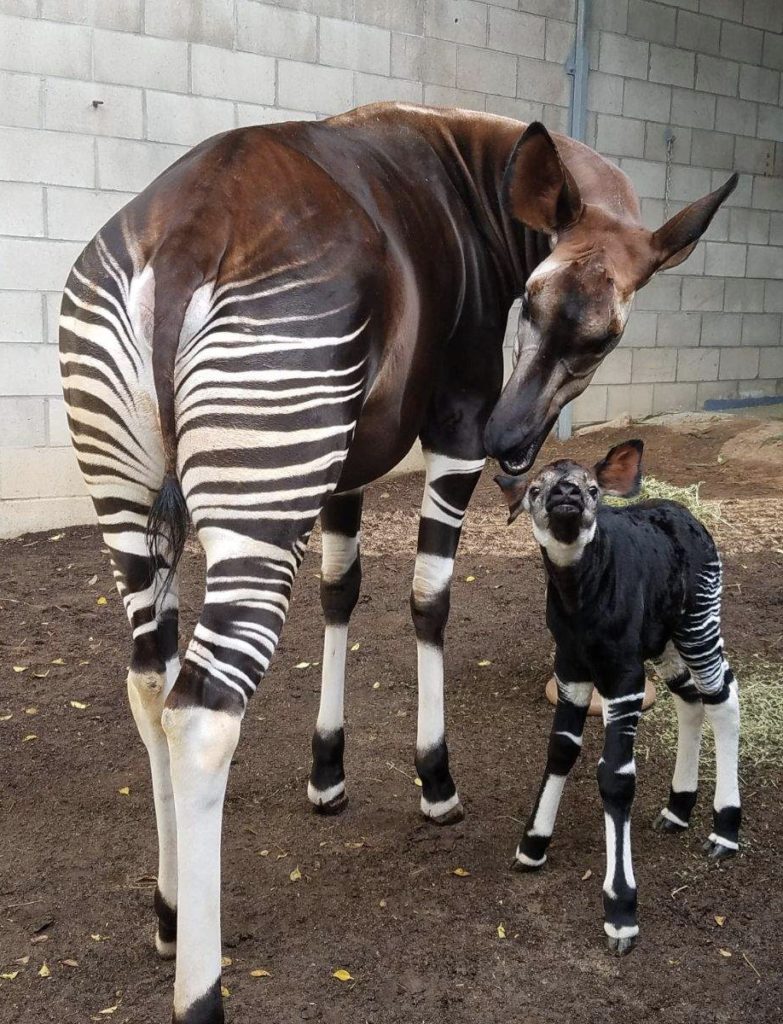 The okapi, the closest living relative of the giraffe, is a large animal that lives in the Ituri Forest—a dense rain forest in central Africa, located in the northeast region of the Democratic Republic of the Congo (formerly Zaire). The species is very cautious, and okapis use their highly developed hearing to alert them before humans can get close. In fact, while natives of the Ituri Forest knew of okapis, scientists did not discover the animal's existence until 1900. Today, the okapi is listed as Endangered on the International Union for Conservation of Nature (IUCN) Red List of Threatened Species, due to hunting and continued habitat loss.
San Diego Zoo Global, and other zoos and conservation organizations, work with local residents to protect and support this rare and unusual forest dweller in its native habitat. In 1992, one-fifth of the okapi habitat in the Ituri Forest was protected to create the Okapi Wildlife Reserve, a World Heritage Site providing the species a place removed from most human interference.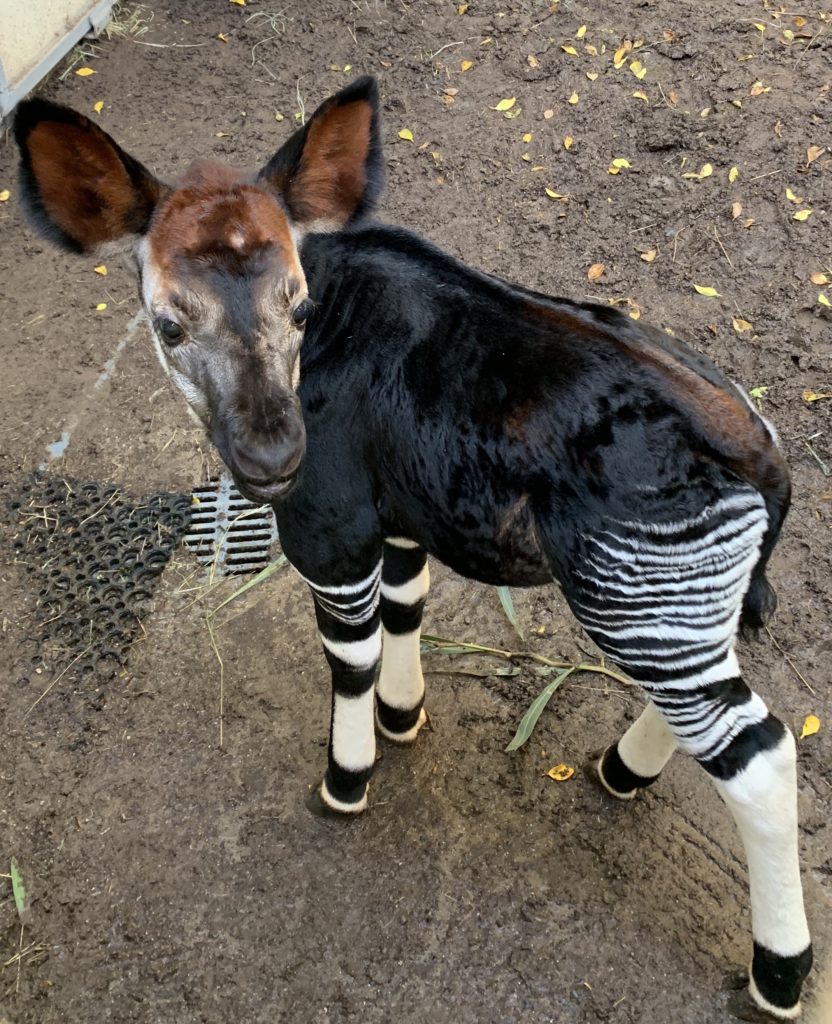 Okapis first came to the San Diego Zoo in 1956, and since then, there have been more than 60 births at both the Zoo and the San Diego Zoo Safari Park. Their exhibit at the Zoo is designed to let guests enjoy viewing these beautiful animals closely without disturbing them. Over the next few weeks, animal care staff will keep Subira and her newborn in a separate maternity area at the back of their habitat. This will give Subira the necessary space to learn how to take care of her newborn and provide her calf an opportunity to acclimate to his home.