Statue Honors Rex and Balboa Park's Long-standing Art Tradition
Visitors to Balboa Park got a monumental surprise this morning (March 25, 2018) when the San Diego Zoo unveiled a more than 27-foot-tall bronze lion at the Zoo's entrance. Crowds cheered and "roared" as zoo officials welcomed the newly created statue that was designed in honor of Rex, the lion that inspired the creation of the Zoo in 1916.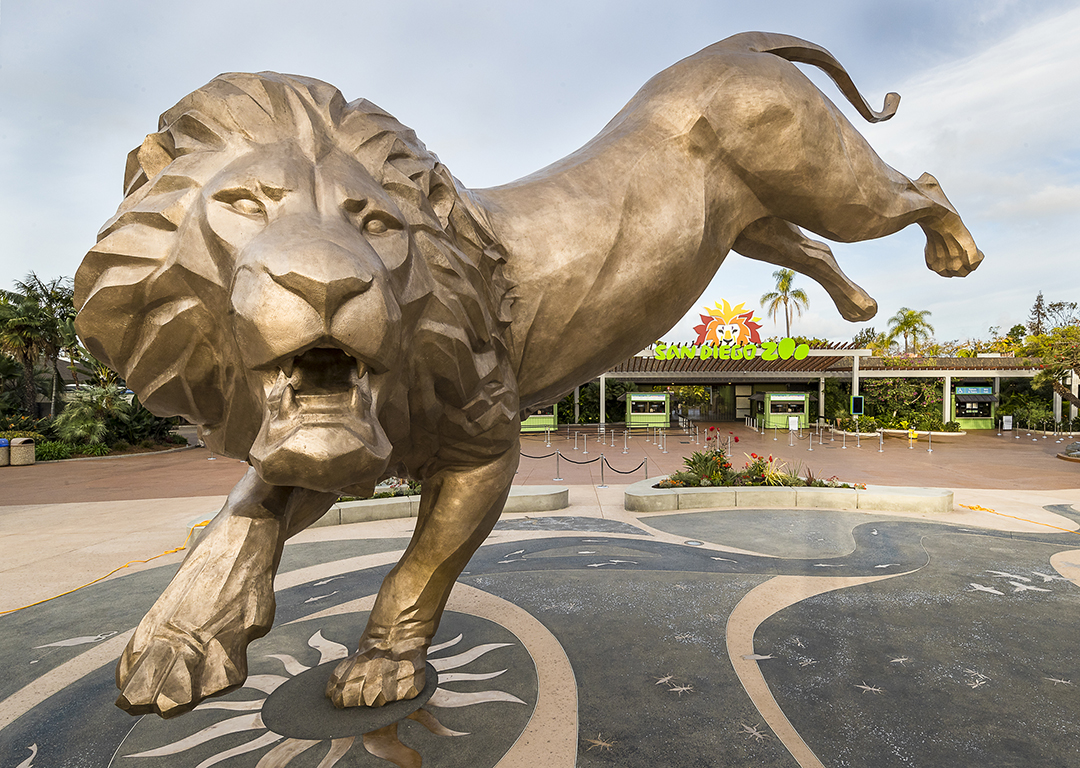 Rex was funded through a generous donation from brothers Craigar and Mark Grosvenor, philanthropists and longtime San Diego Zoo supporters. Standing over 27 feet tall and weighing more than 20,000 pounds, Rex is the largest cantilever bronze animal statue in the world, according to Artworks Foundry in Berkeley, Calif., the company that cast Rex. His unique pose—standing on a single paw—was accomplished thanks to an impressive feat of engineering by the firm of Thornton Tomasetti. It took thousands of hours of craftsmanship to create Rex, based on an original sketch from former San Diego Zoo Global illustrator Tim Reamer. Jim Burt of Blue Rhino Studios turned that sketch into a three-dimensional model, which was later enlarged to its current size through a revolutionary 3-D printing process.
"Rex is more than an engineering marvel," said Rick Schwartz, San Diego Zoo Global ambassador. "He's a huge reminder of where we came from a century ago, and a symbol showcasing that Zoo founder Dr. Harry Wegeforth's dream of uniting people with wildlife lives on."
As the story goes, more than 100 years ago, San Diego physician Dr. Harry Wegeforth and his brother Paul were driving past Balboa Park when they heard a lion roar. The lion, named Rex, was part of a menagerie left over after the Panama-California Exposition. At the time, Rex, his mates and a number of other animals were living in cages along what is now Park Boulevard. He turned to his brother and said, "Wouldn't it be splendid if San Diego had a zoo? You know, I think I'll start one." That "roar" not only launched the Zoo and its mission of saving species in San Diego and worldwide—it also began the Zoo's long-shared history with the city of San Diego.
San Diego City Councilmember Chris Ward, District 3, was on hand to help welcome Rex to the Balboa Park landscape. Zoo officials hope the statue will add to the tradition of amazing public art in Balboa Park and around San Diego.
"Rex is a gift to the people of San Diego, and an iconic image for the world to see," said Schwartz. "We all know it started with a roar, but this statue also shows that the roar has never stopped. It's in the hearts and minds of all of us who share a passion for wildlife."