A team of wildlife biologists from the San Diego Zoo, the U.S. Fish and Wildlife Service (USFWS), and the Conservation Biology Institute released more than 1,700 larvae of the endangered Quino checkerspot butterfly (Euphydryas editha quino) within its native range on the San Diego National Wildlife Refuge on Monday, Nov. 20, 2017. This is the second round of captive-rearing and release efforts for this California and Northern Baja California native butterfly species, whose population has been in drastic decline over the last decade. Last year, increased rainfall provided an opportunity for the successful emerging of the endangered butterflies on the refuge, which encouraged the biologists to release again.
The larvae—each about the size of a pea or smaller—were propagated in the San Diego Zoo's Butterfly Conservation Lab, where Zoo entomologists care for Quino checkerspot butterfly eggs, larvae and adults as part of the breeding program for this threatened species. The Butterfly Conservation Lab is funded by a USFWS Cooperative Recovery Initiative grant to help this butterfly's population recover sufficiently to downlist from "endangered" to "threatened" on the endangered species list.
"We are pleased to partner with U.S. Fish and Wildlife Service and Conservation Biology Institute, in hopes of boosting the population of the endangered Quino checkerspot butterfly," said Ester Chang, senior keeper, entomology, San Diego Zoo. "These butterflies play an important role in our environment, serving as pollinators for local plant species."
Since late May, the larvae have been cared for at the San Diego Zoo in a period of dormancy, called diapause. This behavior is an adaptation that allows the larvae to survive the seasonal absence of their host plant, dwarf plantain (Plantago erecta). They have been curled up in silken shelters and largely inactive all summer long.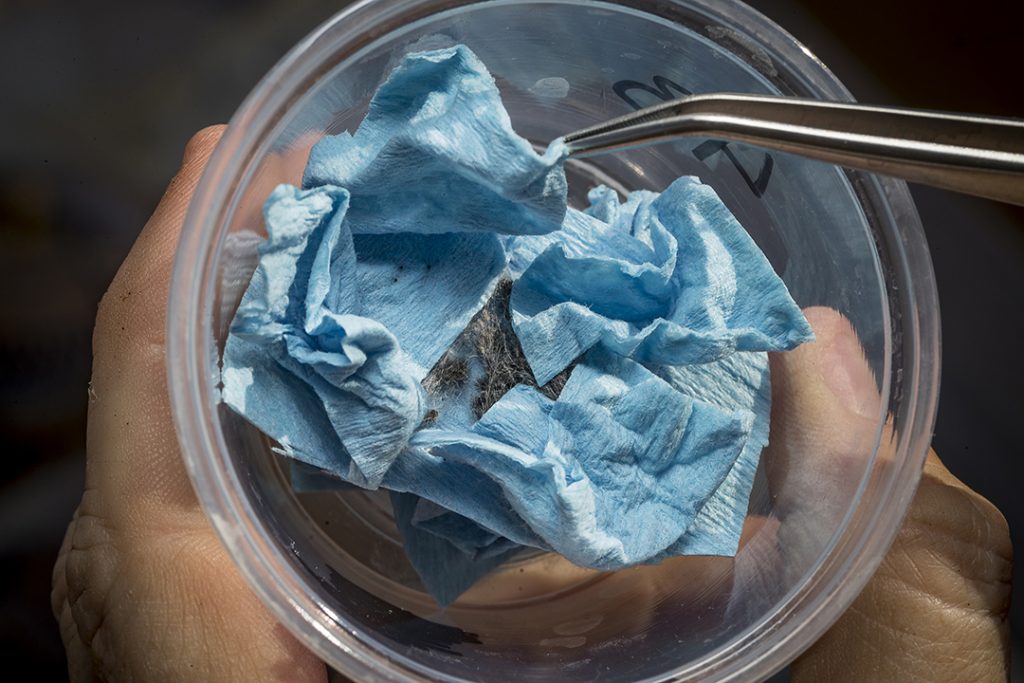 To prepare for releasing these animals in this life stage, Zoo staff place the larvae in a release pod to provide safety for the larvae, protect them from predators and allow them to leave when environmental cues signal them to "break" diapause and begin feeding again. The pod is a spherical mesh seed feeder, with a peat moss container inside. The pods are painted to blend into the environment, and they are capped off with a plastic "rain jacket" to make sure the peat moss container and larvae do not get too wet during potentially strong storm events. Each release pod is designed to hold several larvae, and they are grouped with other larvae from the same clutch of eggs laid by an adult female Quino checkerspot butterfly.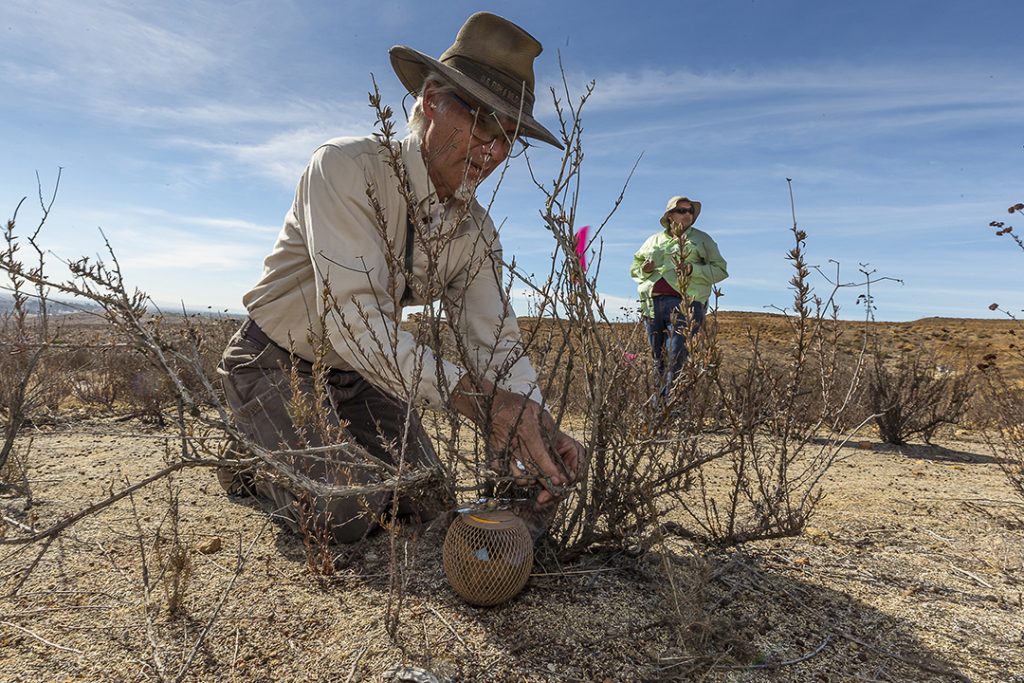 The 34 pods were secured to native shrubs in the San Diego National Wildlife Refuge, in an area where USFWS biologists have observed growth of dwarf plantain. Biologists will be checking on the pods weekly and looking for signs of caterpillar movements.
After winter rain, the larvae in the release pods are expected to emerge from diapause and begin feeding on dwarf plantain on the refuge. If all goes well, the released Quino checkerspot larvae should complete their development into adult butterflies by late February to early April, where they will feed on nectar plants such as owl's clover and native sunflower species, and reproduce for the next generation.
"Last year, we had a high count of 36 individual butterflies, representing the minimum number of adults present. We hope for the same success at this new site, further augmenting the population of beautiful butterflies," said John Martin, wildlife biologist for the San Diego National Wildlife Refuge.
With only a 1.2- to 2-inch wingspan, adult butterflies will be in flight in the same area over a period of five to eight weeks. Quino males will patrol and establish territories, in order to win mates and start a new generation of butterflies. USFWS personnel will be working with researchers from the Conservation Biology Institute and the San Diego Natural History Museum,who will monitor the larvae and their eventual development into adults.
The Quino checkerspot was once among the most commonly seen butterflies in Southern California, ranging along the coast—from just south of Ventura County to the inland valleys south of the Tehachapi Mountains and into northern Baja California. In recent years, this species has experienced a drastic decline, primarily due to loss of its habitat from increased urban development. Climate change, drought, invasive plants and fire pose additional threats to the Quino checkerspot butterfly, and its future has been uncertain.