San Diego Zoo Global is well-known for its role in helping to conserve the California condor. Less is known about our work with its South American relative, the Andean condor. Andean condors are the largest species of New World vulture (family Cathartidae), with a wingspan of up to 10.5 feet and weighing as much as 33 pounds. They are found in patchy distributions throughout the Andes Mountains, from Colombia to southern Chile and Argentina.
The San Diego Zoo received its first Andean condor, a male named Bum, in 1929. A female, Cleo, arrived in 1934. They were housed in the Bird of Prey Aviary – at the time it was the largest aviary in the world (Later, it became the Owens Rain Forest Aviary.). In 1942, Bum and Cleo welcomed their first chick—the first hatching of an Andean condor in North America! Under the wing of the Zoo's Bird Curator, K.C. Lint, the pair produced 9 chicks over a 10-year period. During this time, K.C. Lint documented breeding behavior, chick development, and hand-rearing techniques, making the San Diego Zoo a world leader in condor care and sustainable reproduction—a goal he tried to achieve with all bird species at the Zoo.
Based on this success, in 1952, K.C. and San Diego Zoo Director Belle Benchley proposed a captive breeding program for the severely endangered California condor. A permit was issued to capture a pair of juvenile condors from the wild, but it was soon revoked in a lawsuit from well-meaning, but misguided, individuals. Although this was a setback, K.C.'s experience in breeding Andean condors eventually helped lay the groundwork for the California Condor Recovery Program 30 years later.
In the late 1980s, there were fewer than two dozen Andean condors flying free in Colombia. US zoos were asked to participate in a release program to help increase their numbers. San Diego Zoo Global, along with the Los Angeles Zoo, helped take the lead in this effort. Our partner zoos in Buffalo, Oklahoma City, Colorado Springs, Syracuse, and Los Angeles sent their Andean eggs to the San Diego Zoo Safari Park for hatching, and eggs were also produced by birds at the Zoo and Park. Thanks to this collaboration, 79 Andean condors—many of which hatched in San Diego—have been released to the wild in Colombia and Venezuela since 1989. Some of these birds have gone on to hatch their own chicks in the wild!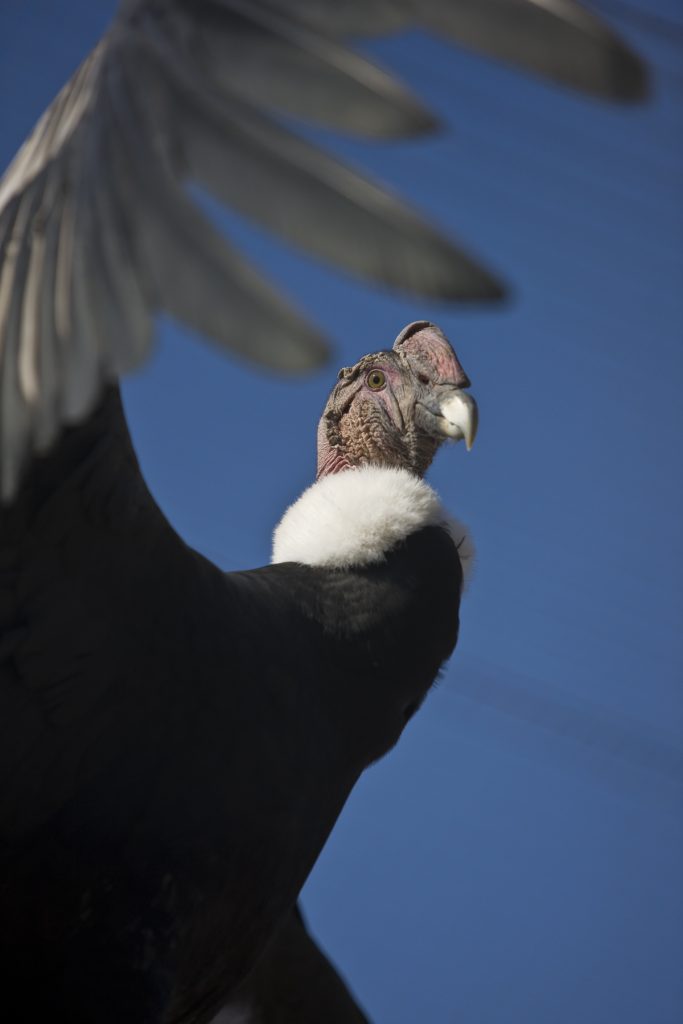 In total, 71 Andean condors have hatched within San Diego Zoo Global (29 at the Zoo and 42 at the Safari Park), more than any other organization in North America. Our long involvement with Andean condors is still going strong: Mike Mace, Bird Curator at the San Diego Zoo Safari Park, is the Andean Condor Species Survival Plan Coordinator; I am the Andean Condor Studbook Keeper; and Jamie Ivy, Ph.D, a population biologist at San Diego Zoo Global, analyzes the population and ensures that it is healthy, genetically diverse, and sustainable.
At the San Diego Zoo, you can visit the country's most productive pair of Andean condors, male Bochica and female Chia, and check out their massive wingspan and stately manner. The pair at the Safari Park, male Braulio and female Carlotta, are off-exhibit and in a special breeding area. Carlotta is one of the most genetically unique birds in North America and we are hoping that she and Braulio will soon bond and produce chicks. You can also see our Andean condor Animal Ambassadors, Pelona at the Zoo, and Califia and Suyana at the Safari Park's Frequent Flyers Bird Show. And on September 2, 3, and 4, we're celebrating International Vulture Awareness Days at the Safari Park—come see special displays and discover more about these fascinating birds!
Ron Webb is a senior keeper at the San Diego Zoo Safari Park. Read his most recent blog, Saqutinan the California Condor.