Hand Raised Penguins Introduced to Their New Home at Africa Rocks' Cape Fynbos
It's move-in time for a couple of young hand-raised penguins, as San Diego Zoo's animal care staff introduced two 3-month-old penguin chicks to their new home inside the large Dan & Vi McKinney Penguin Habitat this week, at Conrad Prebys Africa Rocks' Cape Fynbos. After weeks of careful planning—including providing the chicks with a private pool, where they learned how to swim; and allowing them supervised visits with a few of the adults—young penguins Lucas and Dot were released into the Zoo's colony of 29 current residents. The two juveniles immediately started swimming and climbing rocks, while keepers vigilantly monitored their progress. Animal care staff said the initial introduction went very smoothly and the birds behaved exactly as keepers had hoped, but they plan to allow only closely monitored interactions for the next few days.
"We will be pulling [Lucas and Dot] back at night," said Debbie Denton, keeper. "We don't want to leave them out unsupervised yet. We just want to give them a few days out here with the rest of the colony, and make sure that they are comfortable enough to do OK on their own overnight."
Lucas and Dot were hatched in San Diego from eggs supplied though a breeding loan by the Minnesota Zoo, which has successfully hatched more than 24 eggs since opening its African penguin habitat in 2011. Both birds were hand raised to be part of the San Diego Zoo's animal ambassador program, where they will act as representatives for their species—educating the public about the current status of endangered African penguins and the conservation work scientists are doing to save the species.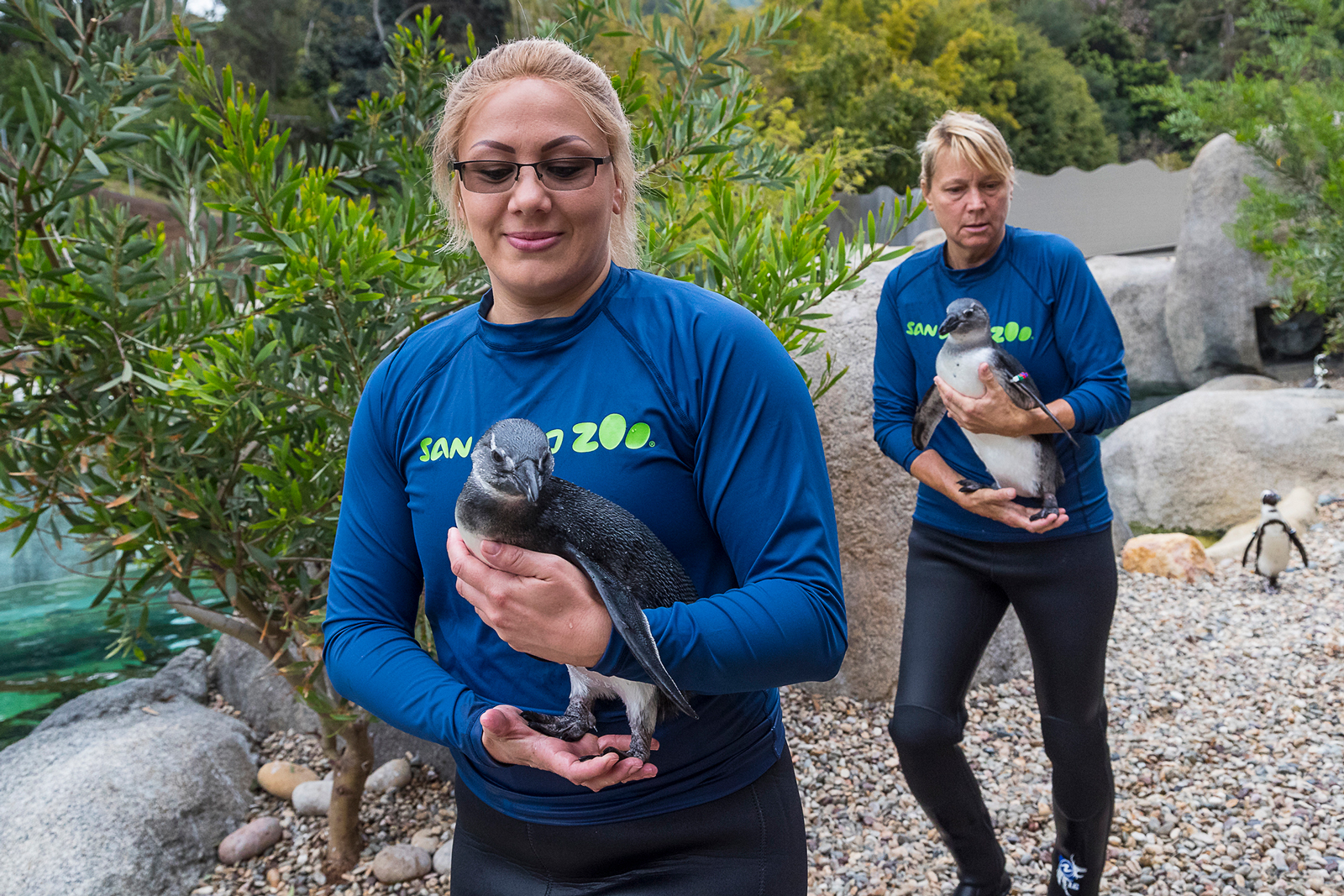 The African penguin is listed as Endangered on the International Union for Conservation of Nature (IUCN) Red List of Threatened Species. Once one of southern Africa's most abundant seabirds, the species has suffered a massive population decline—from an estimated 1 million breeding pairs to only 23,000 breeding pairs today, a population decrease of more than 60 percent in the past 28 years. Historically, penguin eggs and guano were commercially harvested, which had a devastating effect on the population. Although both practices were abolished toward the end of the 20th century, other threats—including a lack of readily available food due to overfishing, climate change, oil and marine pollution, the emergence of Avian flu- H5N8, habitat degradation and predation by seals, sharks and land-based predators—continue to push their population numbers to lower levels.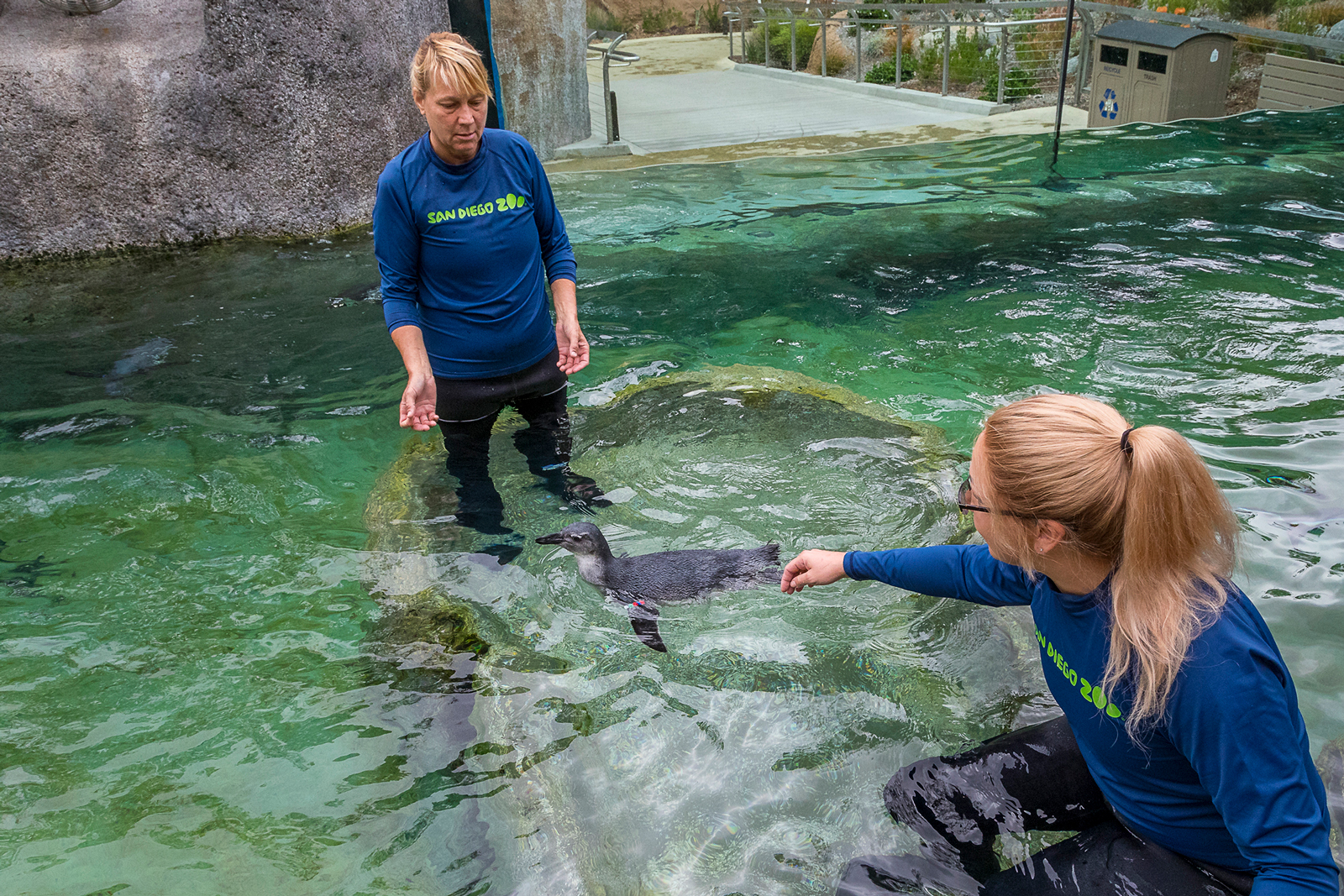 San Diego Zoo Global and Minnesota Zoo participate in the Association of Zoos and Aquariums' Species Survival Plan (SSP) program for these endangered aquatic birds, and both are partners with the Southern African Foundation for the Conservation of Coastal Birds (SANCCOB), to help facilitate conservation programs in South Africa.
Guests can visit Lucas and Dot at their home at Cape Fynbos, inside Africa Rocks at the Zoo. The colossal Dan & Vi McKinney Penguin Habitat is home to the Zoo's 31 penguins, including the two newcomers. The habitat features a cobble beach area, penguin nesting areas and rockwork that mimics the granite boulders found at Boulders Beach in South Africa. The habitat includes a 200,000-gallon pool that's approximately 13 feet deep.