The San Diego Zoo hosted the ultimate penguin party today (Tuesday, April 25, 2017) honoring these iconic flightless birds and raising awareness for wildlife conservation on World Penguin Day. The Zoo's five African penguins enjoyed a chilly treat of snow in their habitat at the Children's Zoo, before diving into additional fun throughout the day.
Although African penguins do not typically encounter snow in their native range, snow was offered to the Zoo's birds as a unique sensory experience to keep them stimulated and active, and as an additional opportunity to thrive. With the help of Zoo visitors, bubbles were also blown into the penguin habitat while the animals played and observed partygoers.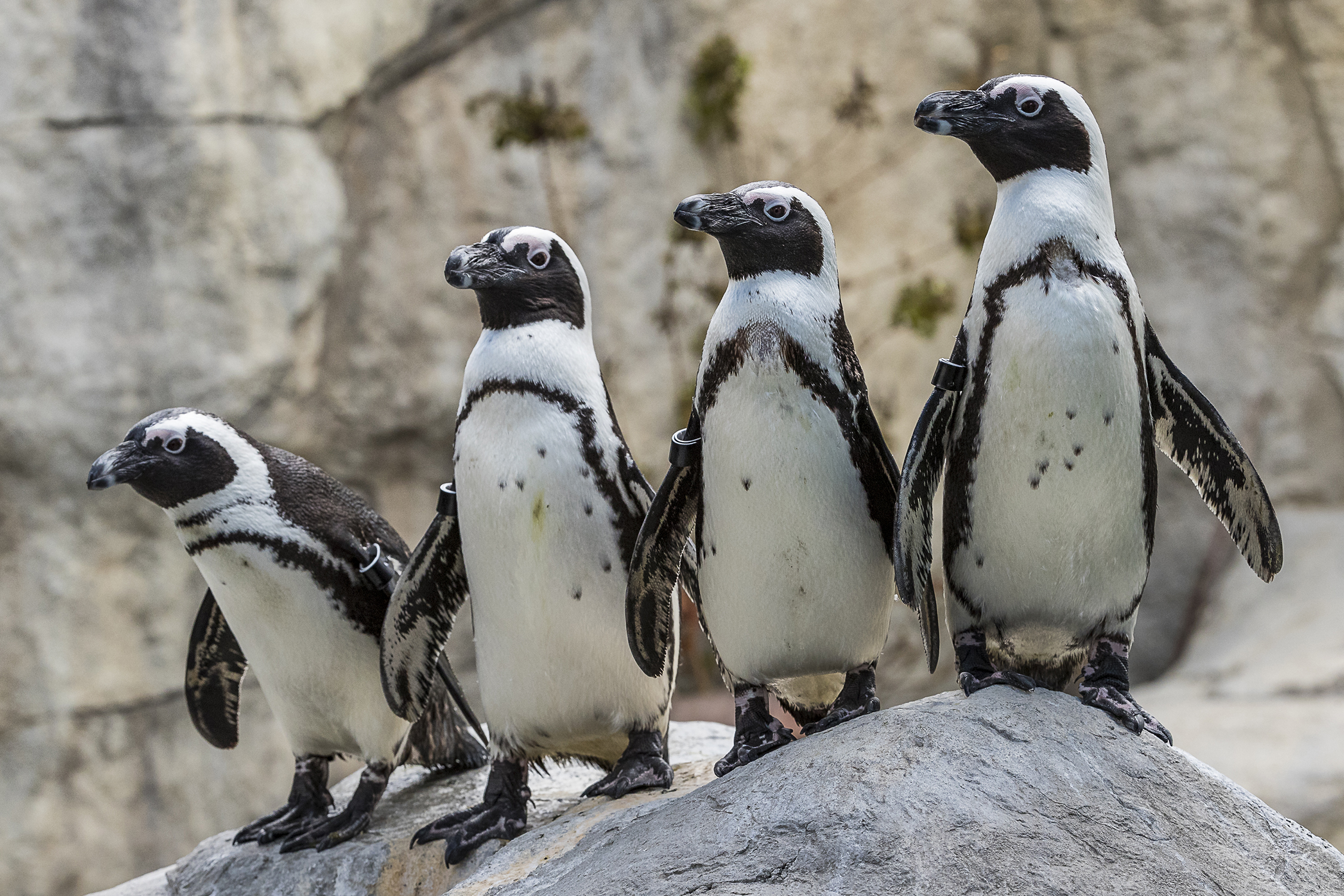 "World Penguin Day allows us to spotlight how important penguins are to the marine environment," said Joop Kuhn, animal care manager, San Diego Zoo bird department, "Penguins are great indicators of a healthy and vibrant ecosystem, so we're proud to preserve these animals at the Zoo and work with local partners in South Africa."
During the event, the Zoo's original pair of penguin ambassadors, Dan and McKinney, made an appearance on the Front Street Stage for a special presentation. Guests visiting the Zoo were invited to enjoy penguin-themed cookies and participate in educational activities, face painting and special keeper talks to celebrate these remarkable black-and-white birds. The World Penguin Day event also drew attention to San Diego Zoo Global's conservation efforts in South Africa, and the new home designed for the Zoo's African Penguin breeding colony in the soon-to-open Conrad Prebys Africa Rocks expansion.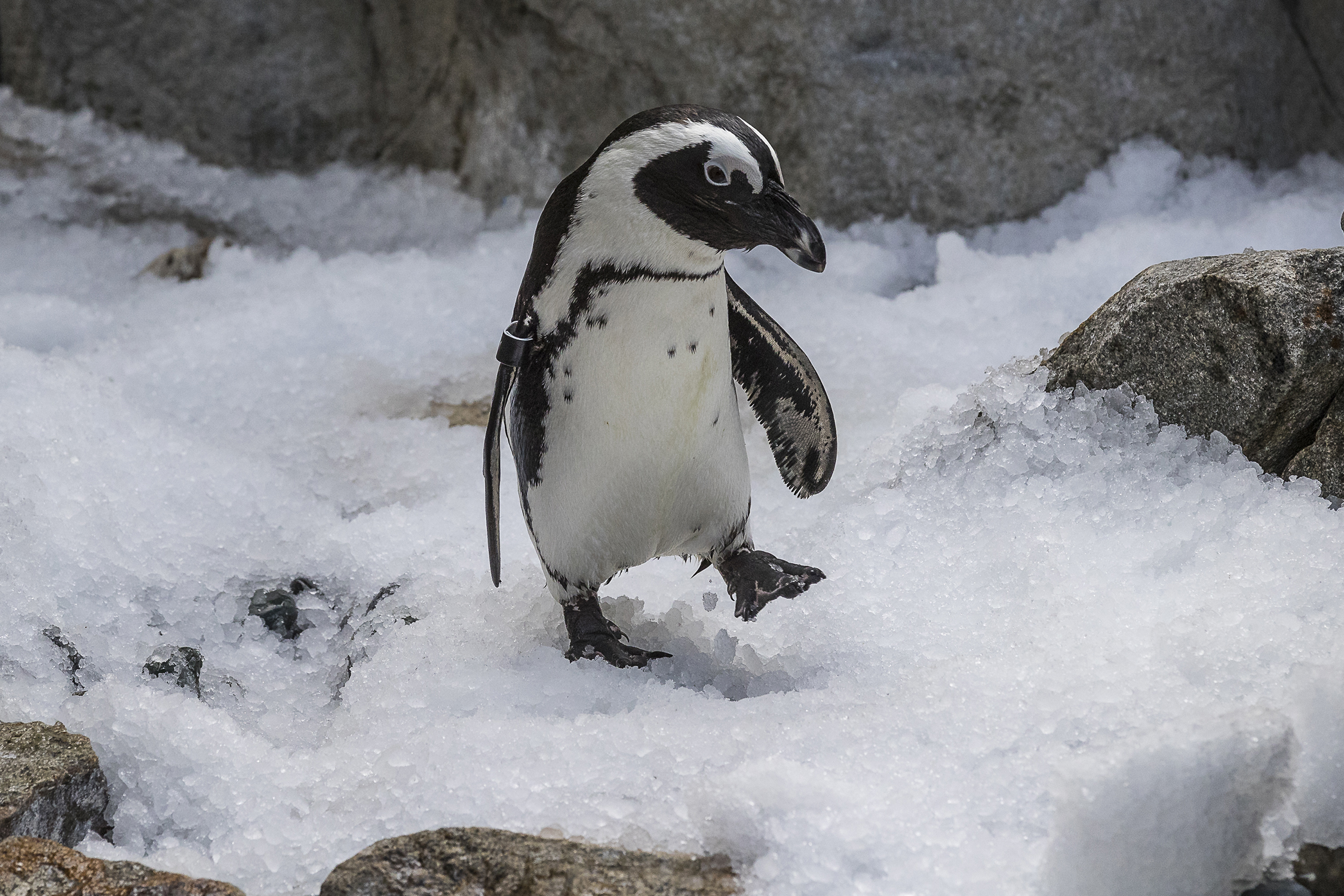 The colossal new Cape Fynbos penguin habitat in Africa Rocks, opening this summer, will feature a cobble beach area, penguin nesting areas, and rockwork that mimics the granite boulders found at Boulders Beach in South Africa. The 70-foot-long and 10-foot-wide habitat will also include a 200,000-gallon pool that stretches 170 feet for the penguins, with depths up to 13 feet deep. The Zoo's five African penguins now residing in the Children's Zoo will be relocated to the new space, and they will be introduced to a larger colony before the habitat opens to the public.
The African penguin is listed as Endangered on the International Union for Conservation of Nature (IUCN) Red List of Threatened Species. Once one of southern Africa's most abundant seabirds, the species has suffered a massive population decline—from an estimated 1 million breeding pairs to only 23,000 breeding pairs today: a decline of more than 60 percent in just the past 28 years. Historically, penguin eggs and guano were commercially harvested, which had a devastating effect on the population. Although both practices were abolished toward the end of the 20th century, other threats—including as a lack of readily available food due to overfishing, climate change, oil and marine pollution, habitat degradation and predation by seals, sharks and land-based predators—continue to push their population numbers to lower levels.
San Diego Zoo Global participates in the Association of Zoos and Aquariums' Species Survival Plan (SSP) program for these endangered aquatic birds and partners with the Southern African Foundation for the Conservation of Coastal Birds (SANCCOB), to help facilitate conservation programs in South Africa.