Fewer than 100 Are Believed to Still Survive in Their Historic Range
Guests at the reopened San Diego Zoo are getting a first look at two endangered Amur leopard cubs, born April 26, 2020, as they explore their outdoor habitat with mom, Satka. The cubs' birth is particularly significant for their species, as fewer than 100 Amur leopards are believed to exist in their historic range in Russia and China.
 After their birth, the cubs spent most of their time in an indoor habitat with Satka. They started to emerge from their den at 20 days old, and had their first visit to the outdoor habitat 10 days later. They are now venturing out to explore with their mother daily.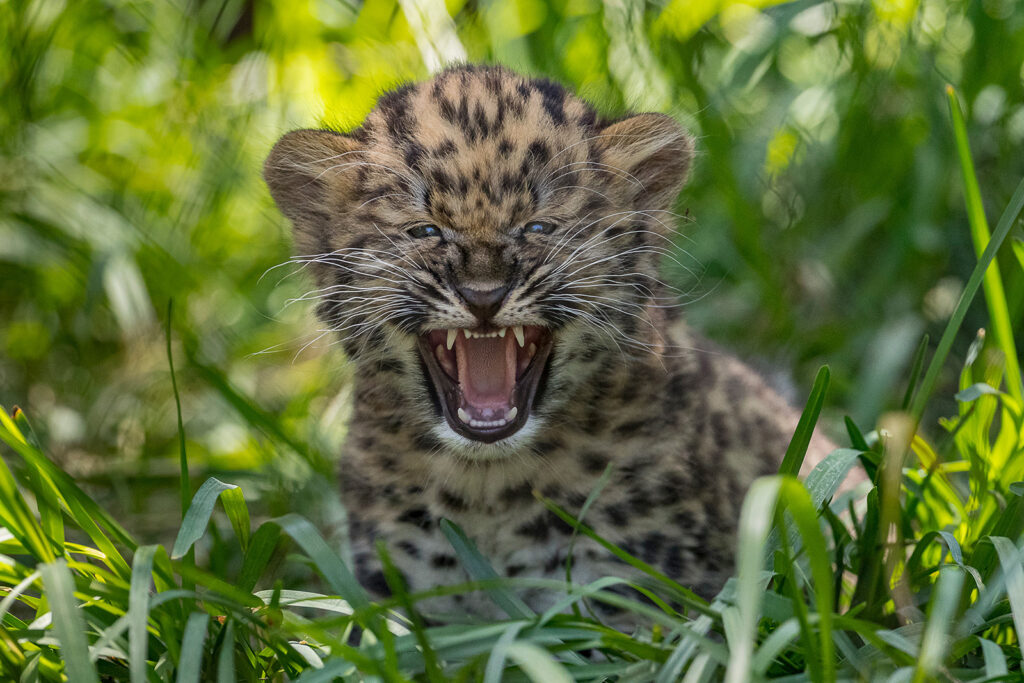 Satka can be seen monitoring the habitat, demonstrating her natural instincts to watch out for any potential threats to her cubs. The cubs are already showing natural behaviors of stalking and climbing. Wildlife care specialists observed one of the cubs climbing about four feet up a tree, before Satka brought the cub back to the ground.
"The cubs are climbing up on the rocks, they are getting into the trees, sometimes listening to mom and sometimes not," said Kelly Murphy, senior wildlife care specialist, San Diego Zoo. "Their personalities are still developing, and I'm looking forward to see what they become."
The cubs, who do not have names yet, will get their first hands-on veterinary exam this week, which will also reveal the sex of each cub. This is Satka's second set of cubs, and they are being raised in the leopard habitat in Africa Rocks. Although Amur leopards are not a leopard species found in Africa, Satka and male Amur leopard Oskar were moved to this habitat to provide them with a space of their own for breeding.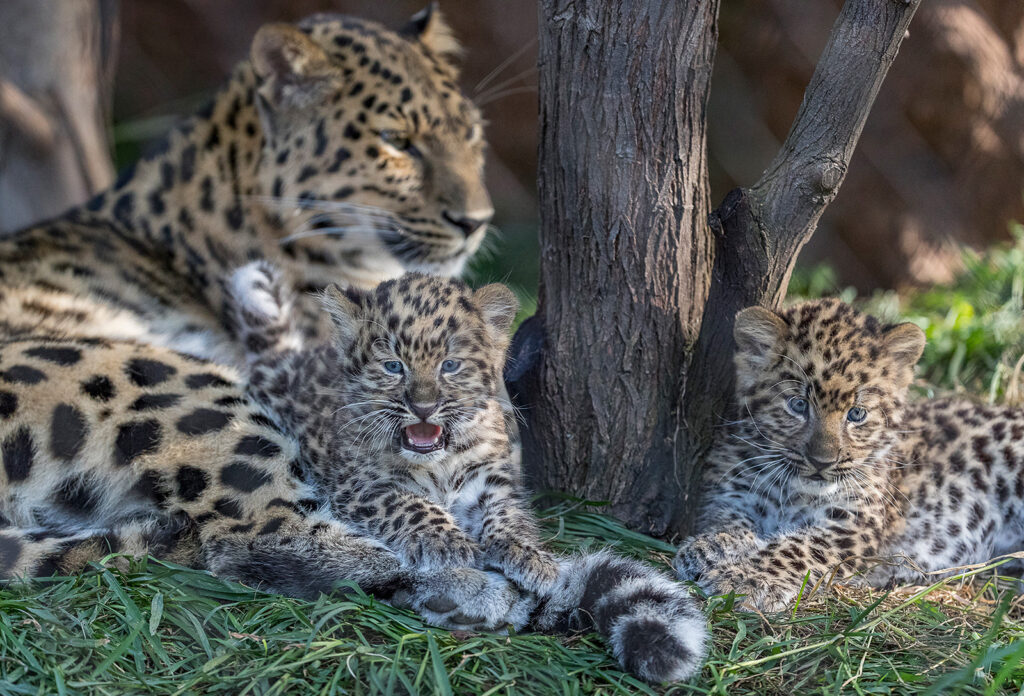 Amur leopards are the rarest of the big cat species on the planet. This species was once found in northeastern China, Russia and the Korean peninsula, but those populations have been decimated, due to loss of habitat and poaching for their thick, spotted coats. It is estimated there may be as few as 85 currently living in their historic range in the Primorye region of the Russian Far East.
San Diego Zoo Global and other zoological organizations around the world have joined together in efforts to conserve this species. More than 94 institutions, caring for over 220 leopards, take part in the Global Species Management Program (GSMP)—an international conservation effort in which scientists work to increase regional animal populations.
Bringing species back from the brink of extinction is the goal of San Diego Zoo Global. As a leader in conservation, the work of San Diego Zoo Global includes on-site wildlife conservation efforts (representing both plants and animals) at the San Diego Zoo, San Diego Zoo Safari Park, and San Diego Zoo Institute for Conservation Research, as well as international field programs on six continents. The work of these entities is made accessible to over 1 billion people annually, reaching 150 countries via social media, our websites and the San Diego Zoo Kids network, in children's hospitals in 12 countries. The work of San Diego Zoo Global is made possible with support from our incredible donors committed to saving species from the brink of extinction.