Become a Penguin Protector for Giving Tuesday
Animal care staff from the San Diego Zoo bird department have spent most of November in South Africa, helping rehabilitate African penguins at a sea bird rehabilitation center managed by the Southern African Foundation for the Conservation of Coastal Birds (SANCCOB), one of San Diego Zoo Global's conservation partners. On Thursday, Nov. 24, 2016, the Zoo's three aviculturists, along with staff and researchers from SANCCOB, released seven rehabilitated penguins at the Stony Point Nature Reserve, part of the Betty's Bay marine protected area. Stony Point Nature Preserve is managed by CapeNature.
The group of African penguins released at Stony Point included two adult birds, one juvenile bird and four younger birds called blues, which are approximately 70 to 80 days old. They are called blues because the fluffy down feathers of a chick are replaced by plumage that has a bluish color just before they reach three months of age. One of the adults was rescued from an oil spill and was under treatment for more than a year at SANCCOB's rehabilitation center in Cape Town.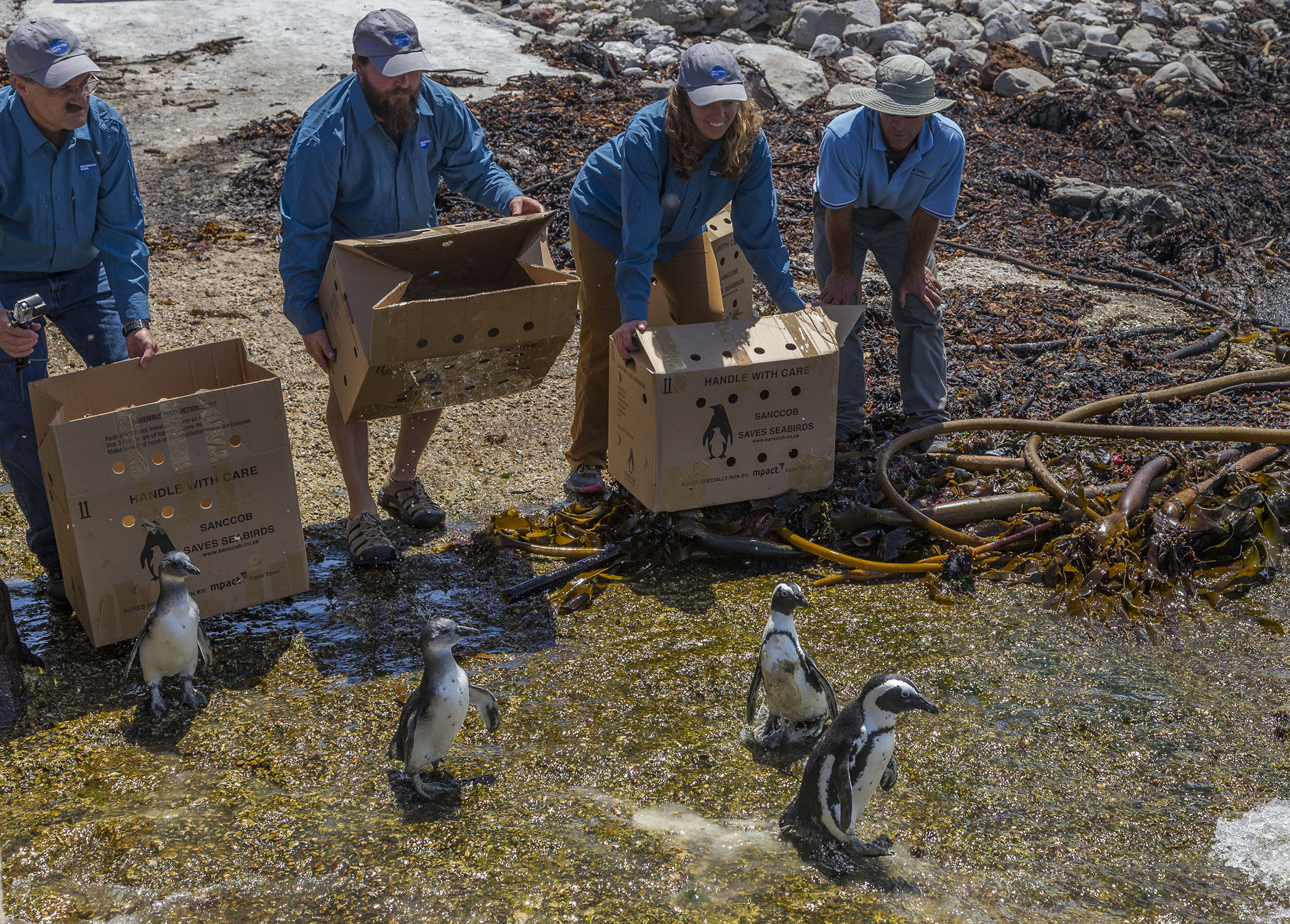 The release of the birds went quickly and smoothly, and six of the African penguins waddled down to the water when their travel crates were opened on the beach. When they reached the water, they swam off as a group through the kelp bed and far out into the bay. One of the blue penguins was reluctant to join the group as they headed off and was placed within the colony on the shore.
"Rehabilitating African penguins takes concentrated, hands-on care, and I put in a lot of long days while working at SANCCOB," said Joop Kuhn, animal care manager at the San Diego Zoo. "The work of saving African penguins is critical to the survival of the species, but it's also important to ensure a healthy ecosystem. Having the chance to work with rescued African penguins, and to be a part of the team that helps release these animals back to their home range, is an amazing feeling for me personally and professionally."
Before any bird is returned to its native habitat, the SANCCOB staff provides a thorough medical exam of each animal—including a check of the respiratory system, a blood test and an assessment the feathers, to ensure that they are waterproof. On the day of the planned release, each bird takes a final swim in the facility's pool, is fed fish, has its armband removed and has its microchip checked. They also receive one final health check before being placed into a carrier for transport to Stony Point Nature Reserve, which is about a two-hour trip by car.
We released endangered penguins in S. Africa. Now we need your help this #GivingTuesday. Every $ will be doubled: https://t.co/p0ILfetl8x pic.twitter.com/GAUYbKSUzZ

— San Diego Zoo (@sandiegozoo) November 29, 2016
"We are anticipating quite a lot more chicks to be admitted to our Eastern Cape center in the weeks to come," said Nicky Stander, rehabilitation manager for SANCCOB. "In the Western Cape, however, we are hopeful that most of the chicks in need have been rescued and brought to our center to be cared for. It is hard work raising these chicks, and we are extremely thankful for all the local and international volunteers and zoo and aquaria staff who are assisting at our centers during this busy season."
The iconic African penguin was once one of southern Africa's most abundant seabirds, but has suffered a massive population decline—from an estimated 1 million breeding pairs to only 25,000 breeding pairs today. Historically, penguin eggs and guano were commercially harvested, which had a devastating effect on the population. Both of these practices were abolished toward the end of the 20th century. Currently, the biggest threats to the population include a lack of available fish due to overfishing, climate change, oil and marine pollution, habitat degradation and predation by seals, sharks and land-based predators.
"The increasing threats to this species led the Association of Zoos and Aquariums to name African penguins as one of its ten signature species in the SAFE program – Saving Animals from Extinction," said Debborah Luke, Ph.D, senior vice president of conservation and science with the Association of Zoos and Aquariums. "Staff from six other AZA accredited zoos and aquariums also support SANCCOB's work in the rescue and release of the African penguin in November and December."
SANCCOB's objective is to reverse the decline of seabird populations through the rescue, rehabilitation and release of ill, injured, abandoned and oiled seabirds—especially endangered species like the African penguin. The organization works closely with colony managers at Stony Point Nature Reserve and Boulders Beach, to identify birds in need of care in the wild and bring them to one of its two centers in South Africa: Cape Town (Western Cape) and Cape St. Francis (Eastern Cape). This year alone, over 950 sea birds have been treated by the Cape Town SANCCOB team, and they are currently raising more than 300 baby penguins.
San Diego Zoo Wildlife Conservancy Invited Public to Fight to End Extinction
For Giving Tuesday, the San Diego Zoo Global Wildlife Conservancy has launched a campaign to raise funds to help prevent the extinction of this species. Donors have the chance to become a "penguin protector" and support African penguin conservation in South Africa. Funds raised during this five-week campaign will provide a specialized fish formula for hand-raised chicks and around-the-clock care for penguins rescued from oil spills, until they can be released. For each donation given during this campaign, thanks to a generous friend of the San Diego Zoo Global Wildlife Conservancy, every donation will be matched dollar for dollar—up to $100,000—doubling the power of each donor's support.
The seven African penguins released at Stony Point Nature Preserve on Nov. 24, 2016, will become part of the third largest African penguin colony in South Africa. Managed by CapeNature, Stony Point has more than 2,500 breeding pairs and is one of the few colonies that have seen an increase in the population over the last six years. It is estimated that only 2.5 percent of the African penguin population remains in its historical range. CapeNature is driven by the vision to establish a successful "Conservation Economy"—embraced by all citizens of the Western Cape, to transform biodiversity conservation into the foundation of local economic development in the province.