The San Diego Zoo was rededicated to the children of the world on Sunday, Oct. 2, during a 100th birthday party for thousands of guests and members. The rededication was made by Zoo Director Dwight Scott during a special presentation in the historic Wegeforth Bowl—named after the Zoo's founder, Dr. Harry Wegeforth. Oct. 2 is recognized as the Zoo's birthday because on this date in 1916, Dr. Harry and his brother Paul met with three San Diego colleagues, Dr. Fred Baker, Dr. Joseph Thompson, and naturalist Frank Stephens; and together, they formed the Zoological Society of San Diego.
Happy birthday to us! ?#sdzoo100 pic.twitter.com/Q2SES1Ttwj

— San Diego Zoo (@sandiegozoo) October 2, 2016
Following the rededication of the Zoo, Dwight Scott was joined by Robert Horsman, chairman of the board of San Diego Zoo Global; and Angie Lasagna, vice president of community relations at Mission Federal Credit Union; to cut the Zoo's birthday cake. The four-tiered cake was created by Charm City Cakes in Los Angeles and was topped with a colorful, three-dimensional version of the Zoo's centennial logo, which features Rex the lion. The cake was specially designed for the Zoo's 100th birthday and took five days to decorate, as each piece of confetti was hand-placed. The chocolate cake with vanilla buttercream frosting boasted 100 pounds of fondant icing and three-dozen sparklers.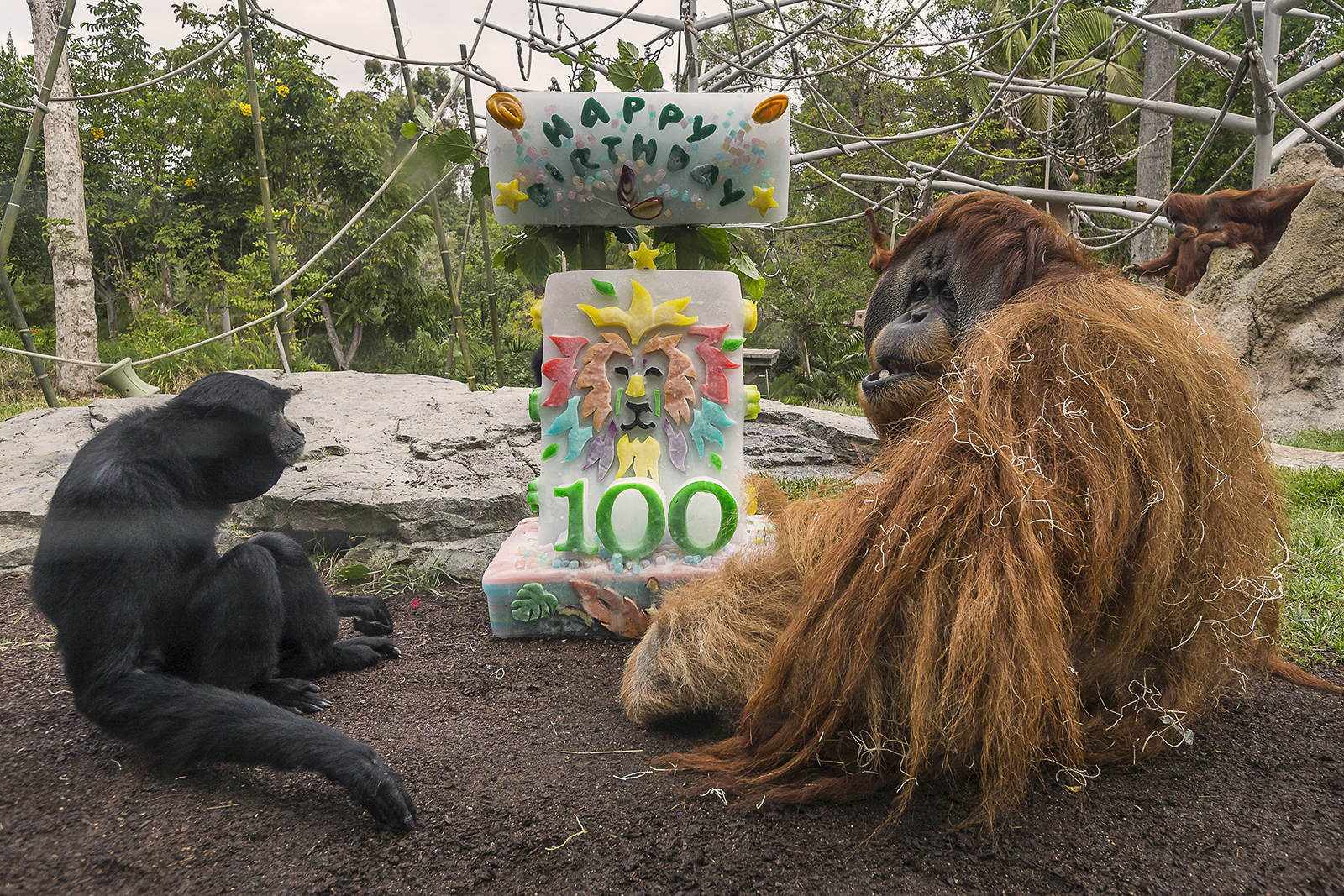 Sunday's celebration at the Zoo also served as the official launch of Kids Free presented by Mission Federal Credit Union, an annual event that offers free Zoo and Safari Park admission all month long to children 11 and younger, when they are accompanied by an adult.
100 never looked so good. Our Galapagos tortoise elders helped us celebrate our 100th birthday yesterday. #sdzoo100 pic.twitter.com/2o7sA0P1Co

— San Diego Zoo (@sandiegozoo) October 3, 2016
About Kids Free Month at the San Diego Zoo and Safari Park
For more than 30 years, the San Diego Zoo has hosted "Kids Free" month at the Zoo, and for the last five years Mission Fed has sponsored this event, designed to encourage kids to connect with the natural world.
Throughout the month of October, Saturdays and Sundays at the Zoo and Safari Park will feature special interactive activities and experiences to help kids connect with wildlife and nature. Weekends at the Zoo will also bring extra enrichment for the animals, in the form of pumpkins! Each weekend, animals in a different area of the Zoo will receive festive gourds—some stuffed with "treats," others just given "au naturel" for the animals to gnaw on, bite, bash and enjoy.
Of course, it won't just be the animals having a roaring good time. For the centennial, the Zoo has put together a special Treasure Hunt. When kids follow the clues and map to where "X marks the spot," they'll discover wildlife treasures. And, as always, Dr. Zoolittle has a slew of laughs and wonderment up his zany sleeves. He's weaving the best bits of his popular presentations into one fabulous performance, "The Best of Dr. Zoolittle," at the Koalafornia Boardwalk.
At the San Diego Zoo Safari Park, there are many interactive activities and experiences to help kids connect with wildlife and nature in exciting and fun ways. Each Saturday and Sunday in October, children and their families can come face-to-face with some fascinating animal ambassadors. Whether it's a cheetah, an owl, an alligator or some other unusual creature, the Park's animal experts share fun information and stories, as guests get a special up-close look. A variety of keeper talks give kids (and their favorite adults) a new way of looking at wildlife, from tigers to bats to flamingos.
Kids Free at the Safari Park is a great way to give kids more exposure to nature. In addition to getting excited while meeting animals up close, youngsters will have a wildly good time exploring fun activity booths and enjoying Tiger Tales, a story reading paired with an animal presentation.
During Kids Free in October, the Zoo is open from 9 a.m. to 6 p.m. every day—and the Park is open from 9 a.m. to 5 p.m. Guests have the option to enhance their child's experience with a 1-Day Pass Child Upgrade for $12, which includes admission to the Guided Bus Tour, Kangaroo Bus and Skyfari aerial tram. All children younger than 15 must be accompanied by a paid adult during their visit to the Zoo and the Safari Park. For more information on Kids Free presented by Mission Fed, show times and activity schedules, visit sandiegozoo.org/kidsfree and sdzsafaripark.org/kidsfree.