Polar Bear Plunge at the San Diego Zoo was transformed into a winter wonderland early this morning, as nearly 26 tons of glistening white snow blanketed the polar bear exhibit. The three bears—Kalluk, Tatqiq and Chinook—showed their excitement by frolicking in the snow. They rolled around in the fresh powder and wrestled with each other all morning long. Animal care staff also scattered yams, carrots, melons and beef femur bones throughout the exhibit as added enrichment, and watched as the bears pounced and dug for their prizes.
This surprise snowy enrichment was made possible by donors who contributed to the animal care wish list on the San Diego Zoo website. Enrichment is very important for the bears, as it stimulates them, keeps them active and promotes natural behaviors.
"This was a special day for the polar bears, and I could tell they really loved it," said Susan Purtell, senior keeper, San Diego Zoo. "It was great seeing them roll around in the snow, showcasing their natural behaviors."
Some of those behaviors include sliding, digging and pouncing on the snow. Bears utilize these behaviors to help them break through ice to reach seal dens. All three bears were rescued at a young age, so they had to learn these behaviors without the help of their mothers. Kalluk and Tatqiq's mom was shot and killed when they were young cubs, and Chinook's mother was nowhere to be found when the young cub was discovered roaming around the streets of a city alone.
As a threatened species, polar bears face danger from poachers and habitat loss, mostly due to climate change.
Zoo guests can visit Kalluk, Tatqiq and Chinook at Polar Bear Plunge during the San Diego Zoo's Jungle Bells celebration presented by California Coast Credit Union. During Jungle Bells, guests will be treated to twinkling holiday lights, merrymaking activities, live music performances and festive foods.
This year, Zoo visitors can also join in on the Jungle Bells Instameet, an exclusive Instagram meet-up and photo walk at Northern Frontier. Enjoy the holiday cheer, enter a free raffle and compete with fellow "phone-ographers" for cool prizes. The Jungle Bells Instameet will take place Saturday, Dec. 19. Check-in begins promptly at 9:30 a.m., at the entrance to Polar Bear Plunge.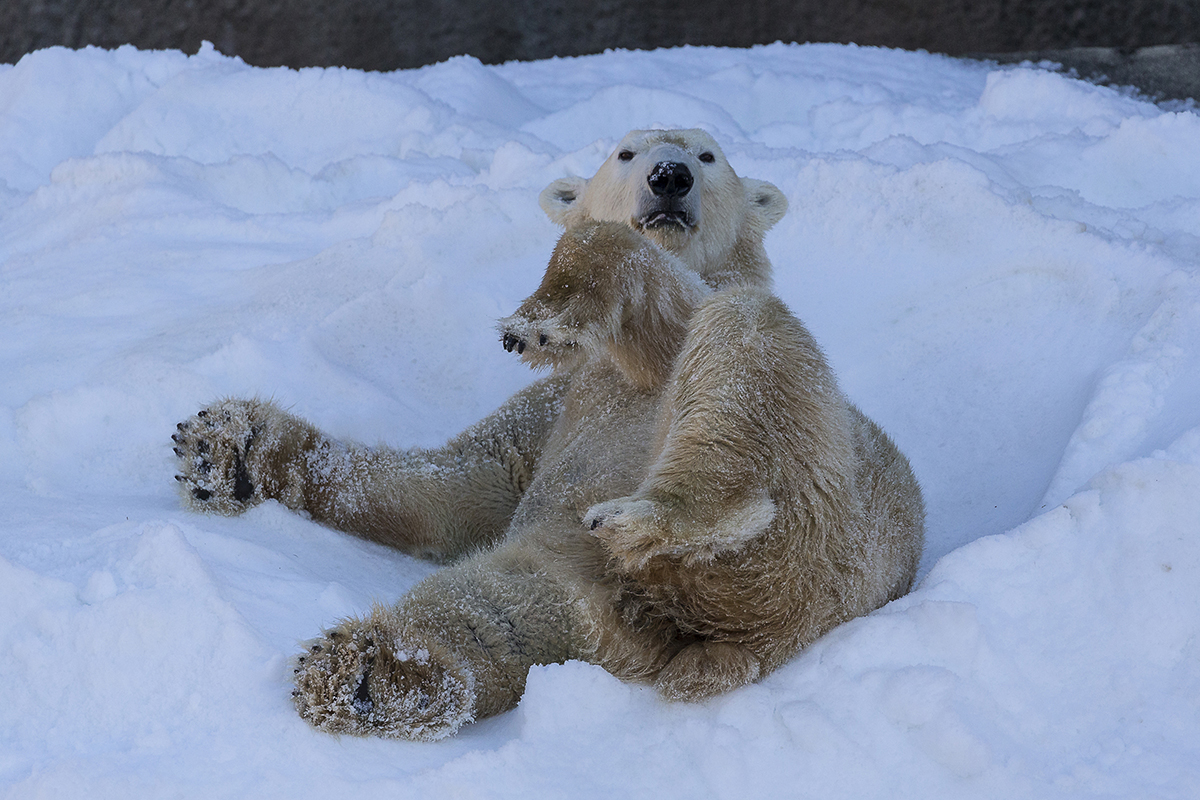 The Zoo's holiday celebration runs now through Jan. 3, 2016, and is free with paid admission or membership to the San Diego Zoo. The Zoo stays open until 8 each night of Jungle Bells, except Dec. 24, 2015, when the Zoo closes at 5. For a schedule of activities and more information about Jungle Bells and the Jungle Bells Instameet, visit sandiegozoo.org.
Bringing species back from the brink of extinction is the goal of San Diego Zoo Global. As a leader in conservation, the work of San Diego Zoo Global includes on-site wildlife conservation efforts (representing both plants and animals) at the San Diego Zoo, San Diego Zoo Safari Park, and San Diego Zoo Institute for Conservation Research, as well as international field programs on six continents. The work of these entities is inspiring children through the San Diego Zoo Kids network, reaching out through the Internet and in children's hospitals nationwide. The work of San Diego Zoo Global is made possible by the San Diego Zoo Global Wildlife Conservancy and is supported in part by the Foundation of San Diego Zoo Global.