Turks and Caicos rock iguanas were downlisted from Critically Endangered to Endangered, thanks to decades of committed, cooperative conservation work.
BY Glenn Gerber, Ph.D.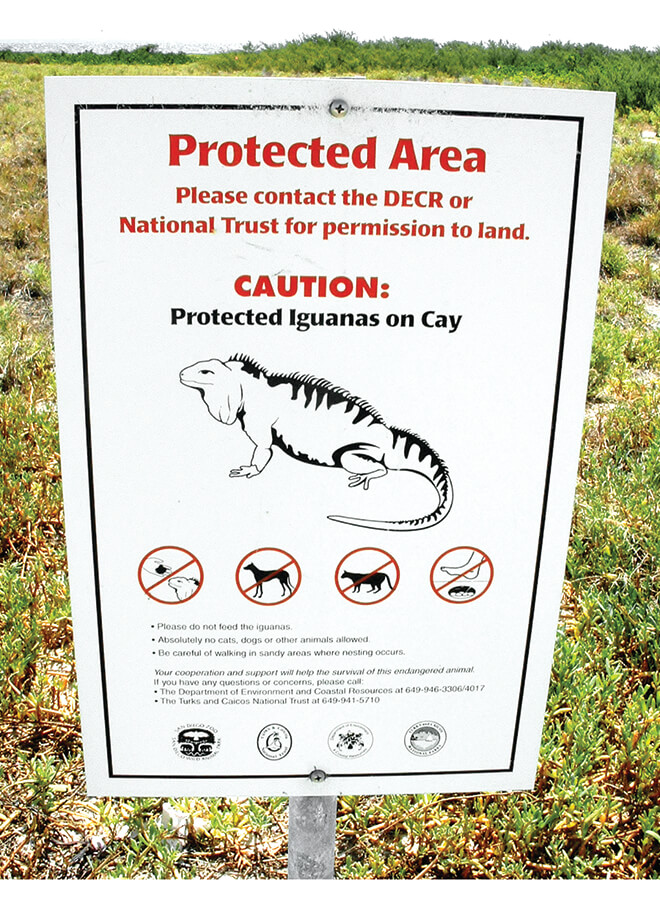 Caribbean rock iguanas are the largest native land animals on the islands where they occur and are the dominant herbivores in endangered Caribbean dry forest ecosystems, which they help sustain through selective browsing and dispersal of seeds. Ten species of Caribbean rock iguanas are recognized. Collectively, they are the most endangered group of lizards in the world, and Turks and Caicos rock iguanas are no exception.
San Diego Zoo Global (SDZG) has been working to save this species, endemic to the Turks and Caicos Islands (TCI), a United Kingdom Overseas Territory, for the past 20 years. During most of this time, the species has been categorized as Critically Endangered on the International Union for Conservation of Nature (IUCN) Red List of Threatened Species. However, due to conservation measures implemented by SDZG and our network of conservation partners, the species was recently downlisted to Endangered. This change may seem minor, but it represents a milestone in the recovery of Turks and Caicos rock iguanas: a reversal from a population in rapid decline to one that is stable and poised for significant increase.
Turks and Caicos rock iguanas are the smallest species of the Caribbean rock iguanas, and as such are particularly vulnerable to predation by introduced mammals such as dogs, cats, and rats. These predators and other invasive alien species, combined with habitat loss and other human impacts, had eliminated Turks and Caicos rock iguanas from most of the 250-plus islands there by 1995, when I began researching them. At that time, my field assistant and I documented that Turks and Caicos rock iguanas had been extirpated from at least 13 large islands since the late 1970s, when the TCI were last surveyed for iguanas. This represented a population decline of more than 50 percent for the species in less than two decades. In essence, Turks and Caicos rock iguanas were in free fall due to the spread of invasive species. Without conservation intervention, this species was headed for extinction.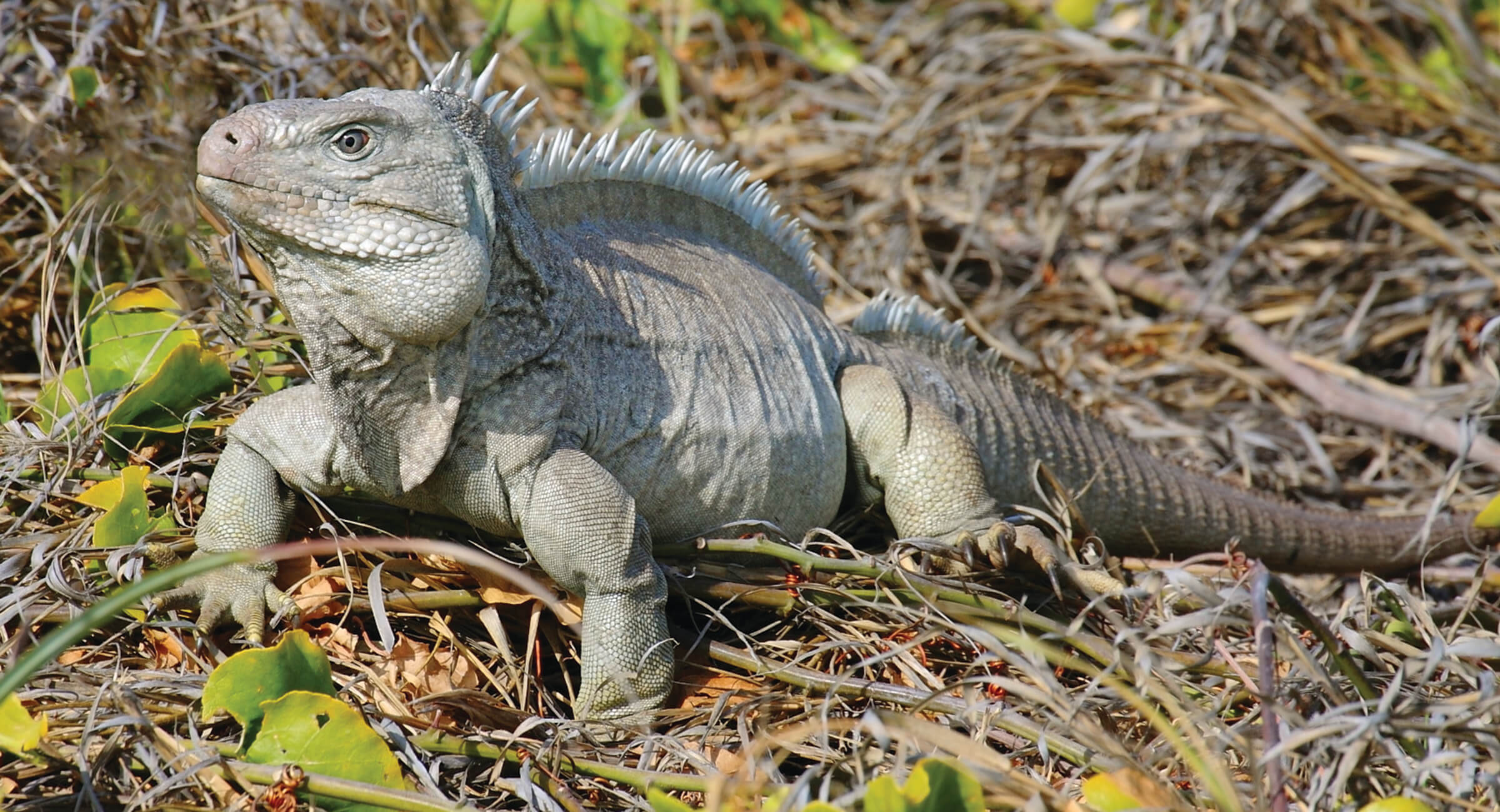 Tipping the Scales
In 2000, I joined the San Diego Zoo Institute for Conservation Research as a postdoctoral researcher to initiate a translocation program aimed at reintroducing Turks and Caicos rock iguanas to as many islands in the TCI as possible. To be considered for iguana reintroduction, islands needed to contain appropriate habitat, be uninhabited by humans, be part of the TCI reserve system, and be free of harmful invasive species. In several cases, invasive species were removed from islands to facilitate iguana reintroduction. Turks and Caicos rock iguanas have been reintroduced to six islands in the TCI to date, increasing the overall population by several thousand adults. Two additional translocations are currently being planned, with more on the horizon.
In addition to restoring Turks and Caicos rock iguanas to islands from which they had been extirpated, we have been working with project partners to protect all remaining island populations of the species and facilitate recovery of threatened island populations. This work involves a wide variety of activities, including monitoring the abundance and health of iguana populations; conducting applied conservation work on everything from iguana population genetics to reproductive ecology; educating the public about iguanas and the threats they face; and increasing the capacity of local conservation partners. We are also working to enact legislation for the protection of iguanas and their habitat in the TCI; working with private island owners to mitigate human impacts on iguanas; and implementing large-scale invasive species removal and biosecurity measures.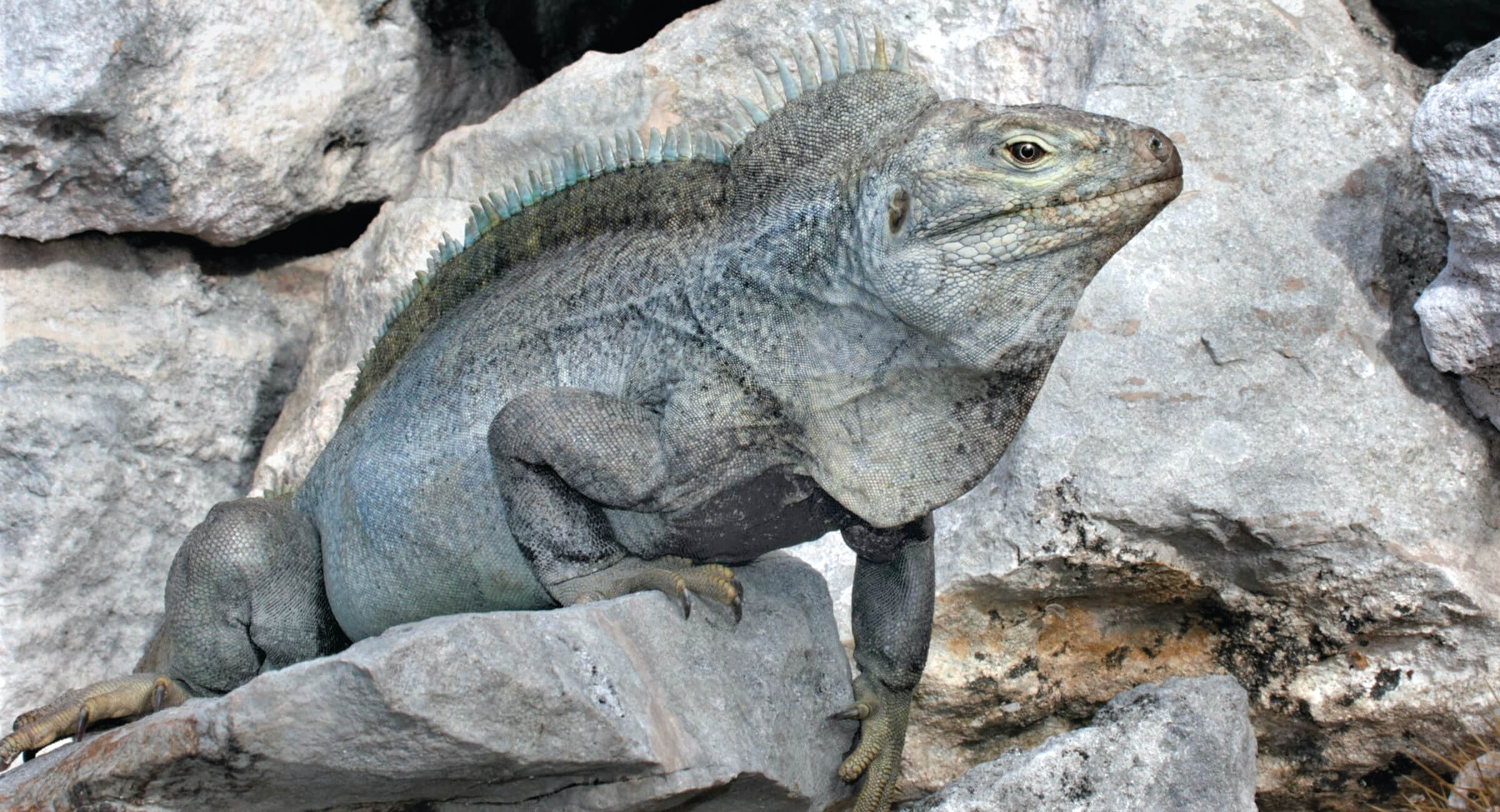 Partners and Collaborators
Establishing a comprehensive conservation program such as this requires buy-in from disparate sectors of society and cooperation on many levels. To facilitate this, the Iguana Islands Partnership (IIP) was formed, in conjunction with funding from the UK Darwin Initiative and project collaborators at the Royal Society for the Protection of Birds (RSPB), who brought expertise in biosecurity and feral mammal control. The IIP is a collaboration between multiple TCI government departments (Environment and Coastal Resources, Agriculture, and Environmental Health), local and international NGOs (Turks and Caicos National Trust, RSPB, Fort Worth Zoo, SDZG), and two private islands (Pine Cay, Ambergris Cay), with support from other organizations and individuals. The South Bank Marina and Boatyard has provided free drydock storage for our research vessel (which allows us to access remote uninhabited islands for weeks at a time) for nearly 20 years. Dr. Mark Woodring, a local veterinarian, has allowed our team to store equipment (including a vehicle and a trailered skiff) and use his property on the main island of Providenciales as a base since 1997. And a small army of volunteers numbering in the hundreds, from college students to retirees, have donated their time and travel to help conduct fieldwork and implement conservation action since 1995.
Since our efforts began, habitat losses and population declines have slowed, and are now largely offset by conservation gains. Turks and Caicos rock iguana numbers have stabilized within the last decade. Future conservation gains are expected with the implementation of biosecurity measures, removal of invasive species from additional islands, covenants against pet ownership on private islands, and the creation of the IIP. To help implement these initiatives, the IIP recently received an additional three years of funding from the Darwin Initiative.
In 2019, invasive cats and rats were removed from nine islands, protecting five robust island populations of iguanas and providing for recovery of two highly threatened populations, and restoring the habitat of two islands where iguanas had been extirpated by invasive species so that iguanas can be reintroduced. A second species recovery planning workshop was held, and we are in the process of publishing an updated IUCN Conservation and Management Plan to guide the IIP's conservation actions through 2024.
Let there be no doubt: significant threats to Turks and Caicos rock iguanas remain. Nevertheless, overall the iguana population is now relatively stable, as opposed to actively declining, and is poised for large gains in the near future if current conservation measures can be maintained and expanded.
Photography by: Glenn Gerber, Ph.D., Joe Burgess, Giuliano Colosimo, and Kelly Bradley.