BY Peggy Scott
Photography by Ken Bohn
What could create a greater buzz than the arrival of a greater one-horned rhino calf? The arrival of two of these chubby cuties! This double delight is cause for celebration at the San Diego Zoo Safari Park, where the summer of 2018 was a big one for welcoming baby Rhinoceros unicornis.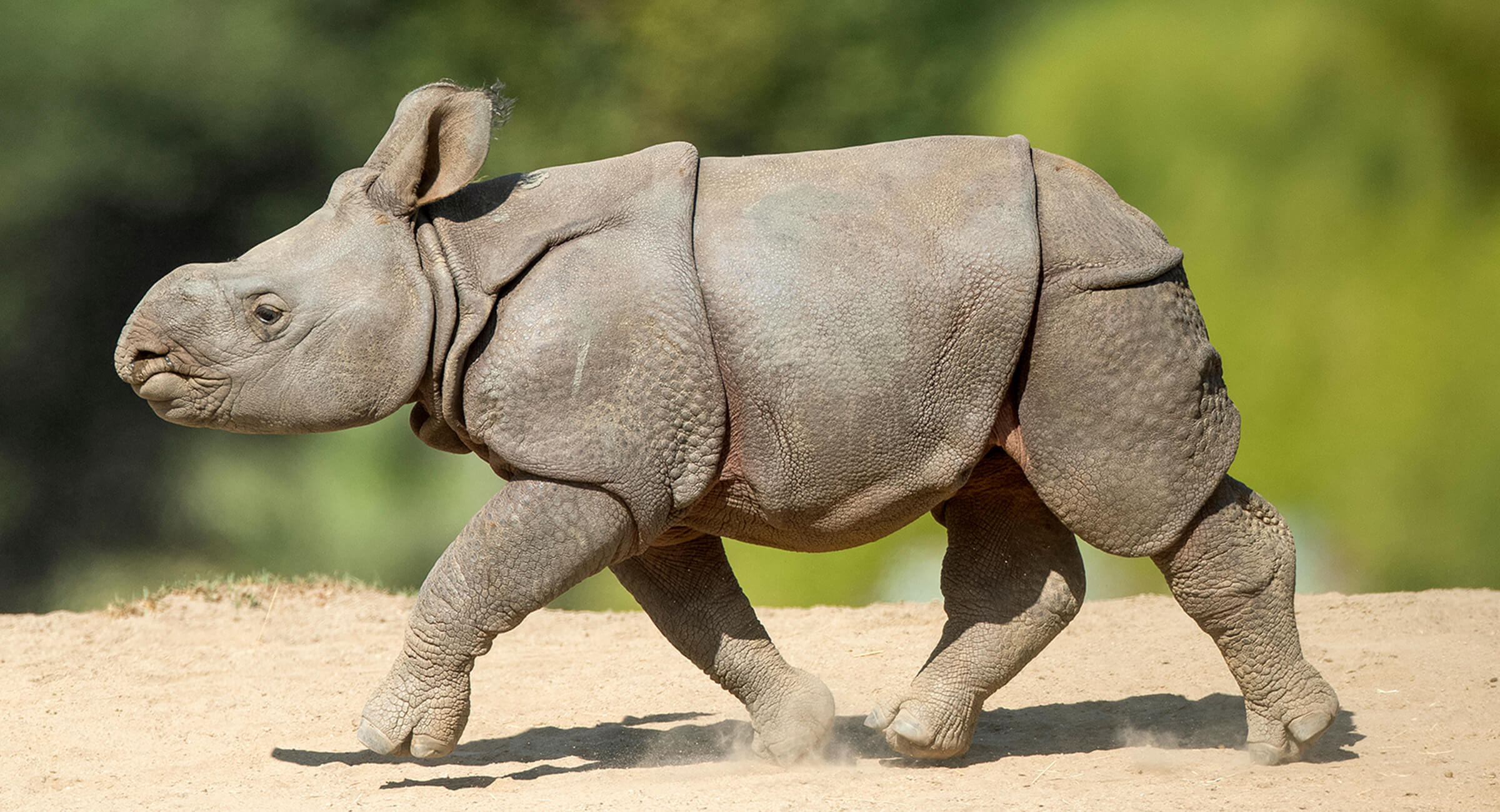 Boma, Sweet Boma
When it comes to giving birth, the greater one-horned rhinos are treated a little differently from their rhino relatives (southern white rhinos give birth out in the field) and other animals in the Safari Park's field exhibits. "We always bring the greater one-horned rhinos into a boma, a private, protected area, for birthing," says Matt Gelvin, a lead keeper at the Safari Park. "This allows the dam and calf to bond, and allows us to intervene if there are complications during the birth." This precaution is taken, he adds, because the incidence of complications and stillbirth is higher among greater one-horned rhinos than southern white rhinos when it comes to first-time mothers, and the deep canyons and wallows in the Asian Plains field exhibit could make things even more difficult. Once the calf is born, mother and baby spend up to two months together in the boma before they rejoin their crash.
Asha and Carole
Following a gestation of about 16 months, 6-year-old, first-time mom Asha gave birth to a female calf, named Carole, on June 22, 2018. After about 7 weeks of bonding time in the boma, they were ready to charge out into their expansive, 40-acre Asian Savanna field exhibit, which they share with fellow rhinos and other species. Right away, keepers knew they had a sassy calf on their hands. With youthful exuberance, Carole ran around exploring her new surroundings. Her first stop? The mud wallow. "Right from the boma, Carole ran to the first large wallow," Matt says. "She dove right in the deep end from a foot-high wall."
After a nice dip, Carole followed mom on an expedition to explore more of the field, a layer of young, pink skin still visible underneath the folds of her thickening, armor-like top layer of skin. On their stroll, they encountered Safari Park arborists trimming a tree, and enjoyed some fresh ficus leaves while Carole met other animals in their habitat, including gaur and nilgai. They continued surveying the hilly terrain, and then headed back to the wallow for more pool time. When she's not exploring or doing mud laps, Carole enjoys snacks with a friend. "She loves being hand fed bananas by her keepers," Matt says.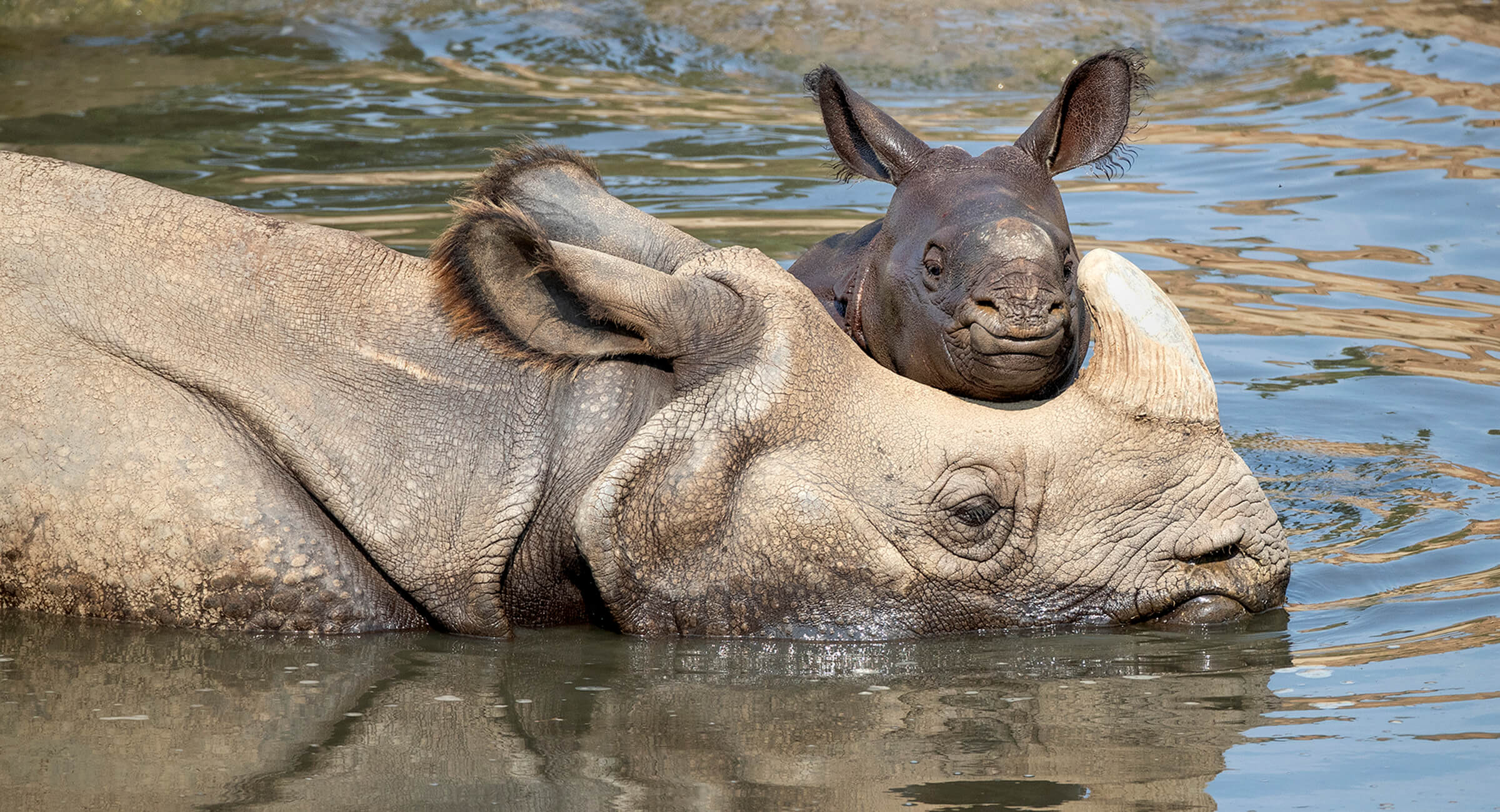 Tanaya and Tio
On July 9, 2018, 12-year-old greater one-horned rhino Tanaya added to the excitement with the birth of her fourth calf, a male named Tio. Tio is more cautious than Carole but still investigates everything in the field exhibit. Although he is three weeks younger, he was already noticeably bigger than Carole within just a couple of months. Tio prefers to stay close to mom most of the time, but he and Carole have spent some time together, and they have both introduced themselves to their field-mates, such as sambar deer and nilgai. The deep wallows have become a favorite destination for rhino "mommy and me" dip sessions, shared by both Asha and Tanaya and their calves.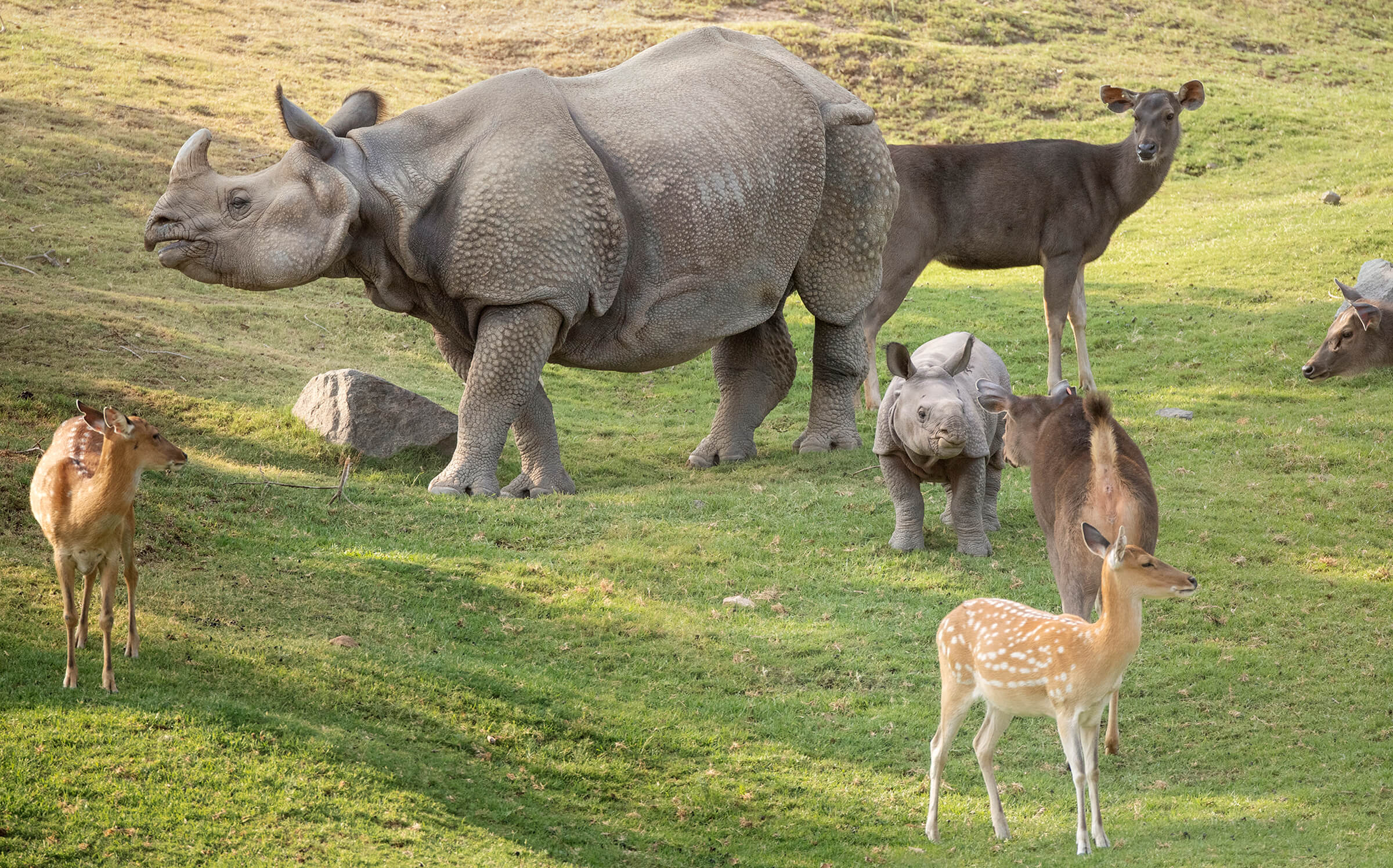 Running the Numbers
While our rhinos and their calves are doing well, the story is different in the species' native ranges. Once widespread in Southeast Asia, the greater one-horned rhinoceros is now found only in India and Nepal. The greater one-horned rhino is listed as Vulnerable on the International Union for Conservation of Nature Red List of Threatened Species, primarily due to habitat loss, poaching threats, and illegal trafficking of rhino horn. There are an estimated 3,550 to 3,600 greater one-horned rhinos remaining in the wild, with over 70 percent of the population living in one reserve: Kaziranga National Park in India.
Rhinos are very important to the ecosystems in which they reside. Greater one-horned rhinos live in humid, swampy, tall-grass habitats. These large herbivores graze on the grass, which helps to maintain it and increases plant diversity and grazing areas for other animals. Rhinos digest large volumes of plant material and disperse the seeds in their dung, thus aiding the health and maintenance of vegetation in their habitat. As rhinos disappear, their absence impacts other species of birds, reptiles, mammals, and plants.
San Diego Zoo Global has been working for more than 40 years—along with other accredited zoos and conservation partners like the International Rhino Foundation—to keep a sustainable population of rhinos safe under human care while protecting them in sanctuaries in the wild. Carole and Tio are the 72nd and 73rd greater one-horned rhinos born at the Safari Park since 1975, making the Park the foremost breeding facility in the world for this species. We are doing what we can to boost the numbers.
"In recent years, natural disasters like flooding have taken a toll on rhino numbers," Matt says. "Rhino translocations have taken place in India to balance the populations between national parks. The greater one-horned rhino population is slowly on the rise. Every birth we have is very significant." Here's to many more new arrivals.