There's a big cat baby boom at the Safari Park, with six cheetah cubs and three tiger cubs growing bigger every day—as guests watch.
BY Eston Ellis
Photography by Ken Bohn
Videography by Maria Bernal-Silva
A "baby boom" of big cat cubs is creating a purr-fect opportunity to see how cute, fluffy furballs grow into sleek, skilled hunters—with a lot of help from their mothers—at the San Diego Zoo Safari Park. Last November, Addison, a South African cheetah Acinoynx jubatus, gave birth to six healthy cubs—males Copley and Donald and females Darlene, Geisel, L.C., and Mary Jane—the Park's biggest cheetah litter ever.
In January, Joanne, a Sumatran tiger Panthera tigris sumatrae, became the proud mama of three rowdy, rambunctious cubs: sisters Cathy and Debbie, and their brother Nelson. Addison and her cubs can be seen on exhibit in the Okavango Outpost area, adjacent to East Africa; and Joanne and her cubs can be seen on exhibit at the Tull Family Tiger Trail. Addison and Joanne have proven to be great mothers, and the cubs are growing up fast—right before the adoring eyes of Safari Park guests.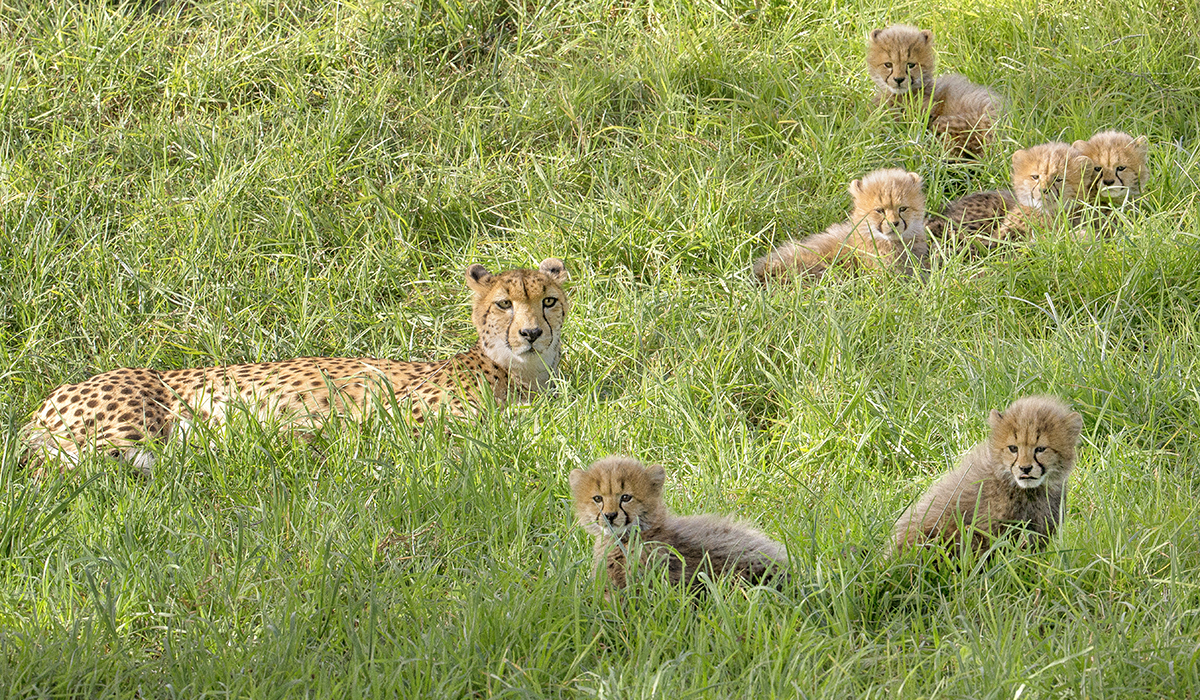 A Crowd of Cheetahs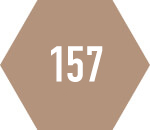 Number of cheetah cubs born at the Safari Park since the 1970s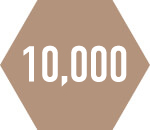 Number of cheetahs left on Earth
On November 21, 2015, nine-year-old Addison gave birth at the Park's off-exhibit Cheetah Breeding Center. This is one of nine Cheetah Breeding Center Coalition member facilities worldwide, which are working to create a sustainable cheetah population and prevent extinction of the world's fastest land animal. Two years ago, Addison raised a litter of four cubs. This time, she gave birth to six. "That's not a record number for cheetahs, but it's a record for us at the Safari Park," said Autumn Nelson, animal care supervisor.
Despite the large number of cubs, none had to be removed for hand rearing, said Melodi Tayles, lead keeper at the Cheetah Breeding Center. "Addison had it dialed in: she knew what she was doing."
Addison is a calm and confident mom, but she has been more protective with this litter, explained Paula Augustus, senior keeper at the Cheetah Breeding Center. "At any given moment, her six cubs could be running in six different directions."
In March, Addison and the cubs moved to their current exhibit at the Safari Park. It has bedrooms that Addison and her cubs can go to anytime, along with open space for running and playing. The cubs are now eating meat, and the keepers are giving them gourds and Boomer Balls as enrichment. Plus, the sights, sounds, and smells of the other animals in the East Africa enclosure are "the best entertainment they could have," Melodi said.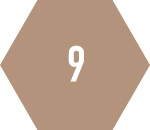 Number of Cheetah Breeding Center Coalition member facilities worldwide (including the Safari Park's Cheetah Breeding Center)
The cubs weighed 15 to 20 pounds at four months old, and they have their own unique personalities. "Darlene is the boldest," Melodi said. "She is also the biggest, and is an easygoing, confident cub." Mary Jane, the "best eater," is easy to spot by her light coloration. "L.C. is a close second as a good eater," Melodi said. Geisel, the last female, "has the most spit and vinegar of the group. Her color is a little darker, and she always holds back from the group and waits for mom to call her."
Donald is a "mama's boy," Melodi said. "He's the one you might see calling for mom, as if to say, 'Help me, I'm here by myself and I can't figure this out!' And Copley is a confident male cheetah cub, with a stately bearing."
Their personalities help keepers tell the cubs apart, but their overall appearances are so similar that it can be a challenge, Paula said. The cubs are expected to stay with Addison in the exhibit for at least a year, as they will not reach sexual maturity until age three or four.
"For guests, it's especially fun to watch them play—stalking each other, chasing, and pouncing—and realize that these activities translate into behaviors they will use later in life," Melodi said. "Mom is a good sport, or at least a good target, for playful sneak attacks."
According to Melodi, the best times to watch them are early in the morning or late in the afternoon. "You'll see a lot of behaviors you see with your cats at home, like when they are mouthing things," Melodi said.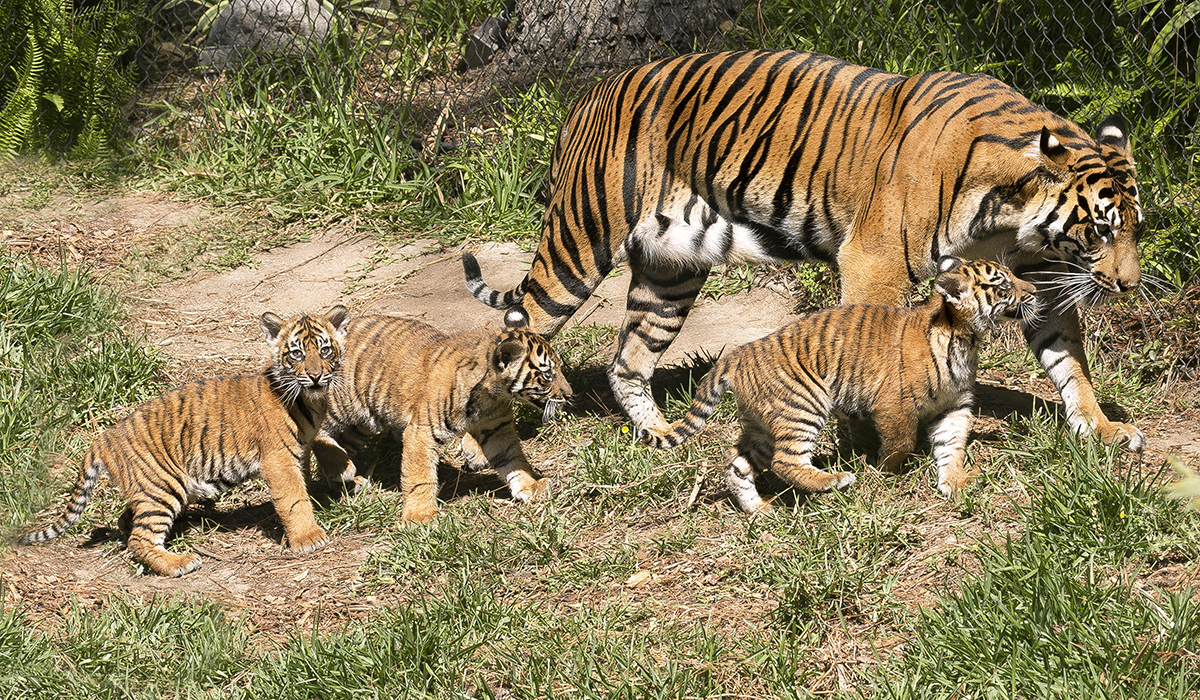 Tiger Trio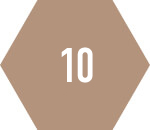 Number of Sumatran tigers at the Safari Park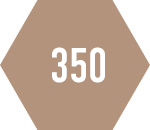 Number of Sumatran tigers left in
the wild
It's no exaggeration to say that when tiger Joanne gave birth to three cubs, the whole world was watching. "For the first time, we were able to get a birth video, thanks to a new type of camera system we are using," Autumn explained. "Leading up to the birth, we gave Joanne a nice, soft den in a bedroom where she was able to prepare herself. Those cameras allowed us to let Joanne stay comfortable and have some privacy, while we closely monitored the entire birth process."
On January 28, Joanne grew restless, said Janet Lawhon, a lead keeper at the Safari Park. "About 10:30 that morning, she was showing signs of labor. Around 11:30, the first cub was born, and at 12:30, the second birth. There were close to two hours between the second and third birth."
While Joanne's previous single cub, Suka, born last September, had to be hand-raised after the first-time mom stopped caring for the youngster, she has proved to be a doting mom this time. "She is also very tolerant of us being with her cubs," Autumn said. "We go in to socialize with the cubs every day, while she chews on a bone in a separate area. This helps the cubs build bonds with the keepers, making our presence and taking care of them part of the routine."
Teddy, the father of Joanne's three current cubs, and Suka have been "nice neighbors," in adjacent bedrooms, Autumn said. "We have an appropriate barrier for them, but Teddy loves to go over and greet his cubs. In the wild, the male tiger will not have anything to do with his cubs, so this is out-of-the-ordinary behavior. He vocalizes, chuffing to greet the cubs, and Suka makes the sound back at him. Suka and the three cubs chuff at each other, too. Mom's a little lukewarm about it, but each morning, we give them a chance to say 'hi' to each other."
The three little cubs have big personalities. Debbie is the most petite, but she is also the most vocal, inquisitive, bold, and independent of the three cubs, Janet said.
Nelson is the biggest, but he is the most laid-back, Janet explained. In early training sessions, "while I was scratching his neck as a reward, he would kind of go to sleep in my hands." Cathy is not quite as feisty as her siblings, Janet said. "She's a little more reserved."
All three are growing up quickly, and are getting more playful and daring every day. "Right now, they seem to think mom is some sort of chew toy," Janet said. Weaning typically takes place when the cats are around six months old. "Instead of just sampling meat, as they are doing now, they will start eating about a quarter-pound a day, and then a half-pound, and it goes up from there."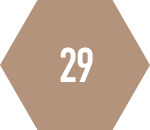 Number of tiger cubs born at the Safari Park since the 1970s
Keepers are watching to see how high the cubs jump as they grow. "We know they're becoming adults when they can jump up onto a bench in their bedrooms," Janet said. "That's a sad day for mom, because that's her get-away-from-the-cubs place right now."
In April, the cubs made their debut at the Park's Tull Family Tiger Trail, going out in the yard with Joanne for half days at first. "Everything is new and fresh and novel for them," Janet said. "As tigers, they tend to be brave, stalking branches, hiding, chasing each other, and chasing mom."
Being alone may be typical for adult tigers, since this is a solitary species, but the cubs are very social right now, as they're learning the behaviors and gaining the physical abilities they will need as grownups, Janet said. "They may be clumsy, tumbly, and cute as cubs; but they will become graceful and agile adults."