Birthday Celebration Held in Omeo's Honor
Omeo (pronounced Ooh-me-ooh), a male koala at the San Diego Zoo, turned 1 year old (July 15, 2020) and received a special birthday celebration—complete with a heart-shaped ice cake made with natural flowers, and "presents." This milestone birthday is extra special, as the young joey lost his mother due to cancer when he was about 5-and-a-half months old and still in her pouch. To save the joey's life, Zoo veterinarians and wildlife care specialists intervened, feeding and caring for the little marsupial round the clock, and tending to his every need.
"Omeo is a fighter, and has come a long way since we first started taking care of him," said Candis Malcolm, wildlife care specialist, San Diego Zoo. "Turning 1 is a huge milestone for this little guy, and we wanted to celebrate in a special way, by providing him some special treats on his birthday."
Wildlife care specialists decorated the koala habitat with a number 1 made of eucalyptus wrapped in raffia, a very large eucalyptus bouquet, and eucalyptus branches, melaleuca branches, bottlebrush and other Australian flowers. The birthday joey curiously looked at the items before energetically climbing on branches.
"In the beginning, Omeo was so compromised and so underdeveloped, we wondered if he would make it," said Kim Weibel, senior neonatal assisted care specialist, San Diego Zoo. "While he still requires special care, we are thrilled to see the progress he has made over this past year. He is getting stronger, his endurance has increased, he is eating eucalyptus and climbing—doing all the great things koalas do." Omeo still receives three bottle feedings a day in addition to eucalyptus. He is brought outside from his indoor nursery area each day for up to three hours to enjoy the sunshine as he continues to learn to climb and eventually socialize with other koalas.
When not taking a bottle, exercising or sunning himself, Omeo does what koalas do best—he sleeps most of the day, perched in a custom-designed miniature eucalyptus tree. As Omeo continues to grow stronger, his caregivers will encourage him to rely on his own instincts and eventually live in his own habitat at the Zoo's Australian Outback.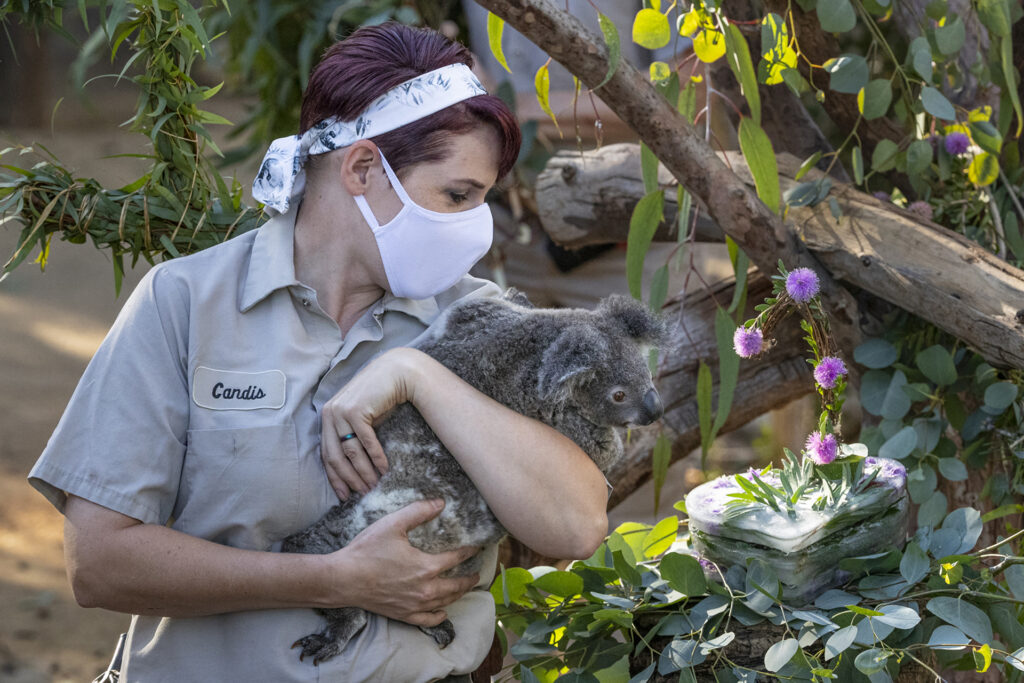 The San Diego Zoo has housed and cared for koalas since 1925, Staff at the San Diego Zoo and the San Diego Zoo Institute for Conservation Research are studying koala populations, both at the Zoo and in their Australian habitats, to better understand the species' complex ecology, mating behaviors and health. The information gleaned from this work will help further develop conservation strategies for koalas.
San Diego Zoo Global has been a core partner with Science for Wildlife and their Blue Mountains Koala Project since it began five years ago. Australia's Blue Mountains World Heritage region is home to the most genetically diverse population of koalas in the world. Earlier this year, mega-fires raced through the region, devastating more than 2.5 million acres (1 million hectares) of habitat and threatening wildlife. Researchers from Science for Wildlife, with the support of San Diego Zoo Global, were able to rescue koalas from approaching bushfires and eventually reintroduce them back into their home in the eucalyptus forests. The koalas were equipped with radio-tracking devices that allow researchers to follow them and find out more about how koalas use the landscape after fire. This valuable information will help researchers to plan a future for koalas under climate change, where more frequent and intense fires are expected in the future.
Bringing species back from the brink of extinction is the goal of San Diego Zoo Global. As a leader in conservation, the work of San Diego Zoo Global includes on-site wildlife conservation efforts (representing both plants and animals) at the San Diego Zoo, San Diego Zoo Safari Park and San Diego Zoo Institute for Conservation Research, as well as international field programs on six continents. The work of these entities is made accessible to over 1 billion people annually, reaching 150 countries via social media, our websites and the San Diego Zoo Kids network, in children's hospitals in 12 countries. The work of San Diego Zoo Global is made possible with support from our incredible donors committed to saving species from the brink of extinction.