Join in the Fun Online, with Activities Scheduled April 24–26
World Penguin Day is this Saturday (April 25, 2020), and two new residents of the Dan and Vi McKinney Penguin Habitat at the San Diego Zoo are starting the weekend celebration early by practicing what penguins do best—swimming. This duo is the second set of chicks to hatch at the Zoo from eggs laid by the colony's resident African penguins. The youngsters—who have not been named yet—were provided an opportunity for some important swimming lessons, in an effort to prepare them to join the rest of the colony and navigate the habitat's large 275,000-gallon pool.
Over the past few weeks, the wildlife care team has worked closely with the birds to prepare them for life in the colony and build a trust-based relationship with team members. This specialized guidance involves coaching the chicks to accept meals fed to them by hand by wildlife care specialists, instead of through regurgitation from their parents; and slowly introducing the birds to the colony's other residents. Wildlife care specialists said both of the young penguins are healthy, growing at a rapid rate and quickly learning and adapting to their training and their surroundings.
"Just a bit shy of 3 months old, they are already pretty self-sufficient, independent kids," said Debbie Denton, wildlife care specialist at the penguin habitat inside the San Diego Zoo's Conrad Prebys Africa Rocks. "They spend their days enjoying the pool and practicing their swimming skills. They have almost lost the last tiny tufts of down on their heads, and will be ready to meet the rest of the colony in the coming days."
The chicks aren't the only ones expected to enjoy World Penguin Day this year. San Diego Zoo Global is inviting the public to take part in a wealth of free online content, entertainment and educational tools geared toward penguin lovers around the world. As part of the #WereHereTogether Campaign, San Diego Zoo Global fans can waddle to the Zoo's World Penguin Day website and social media channels throughout the weekend to enjoy a variety of entertaining options—including the drama-filled reality TV-style web series Penguin Beach; a 360-degree virtual reality video that immerses viewers into the penguin colony at Boulders Beach in Simon's Town, South Africa, a site of current conservation efforts; Instagram question-and-answer sessions with knowledgeable wildlife care specialists; fascinating ZOONOOZ Online articles about penguins and ongoing conservation projects; and the increasingly popular live Penguin Cam, presented by Alaska Airlines, where watchers can follow the colony's shenanigans in real-time video.
In addition, families can swim over to the San Diego Zoo Kids website to enjoy additional entertaining games, stories and fun learning activities, such as searching the site for penguins, coloring pages, fun made-for-kids videos and much more. Online fans can also check out the Zoo's Facebook and Instagram pages daily for engaging posts and bonus educational materials.
The African penguin is listed as Endangered on the International Union for Conservation of Nature (IUCN) Red List of Threatened Species. Once one of southern Africa's most abundant seabirds, the species has suffered a massive population decline, from an estimated 1 million breeding pairs to only 23,000 breeding pairs today—a population decrease of more than 60 percent in the past 28 years. Historically, penguin eggs and guano were commercially harvested, which had a devastating effect on the population. Although both practices were abolished toward the end of the 20th century, other threats—including a lack of readily available food due to overfishing, climate change, oil and marine pollution, the emergence of avian influenza A (H5N8) virus and habitat degradation—contribute to a continuing population decline.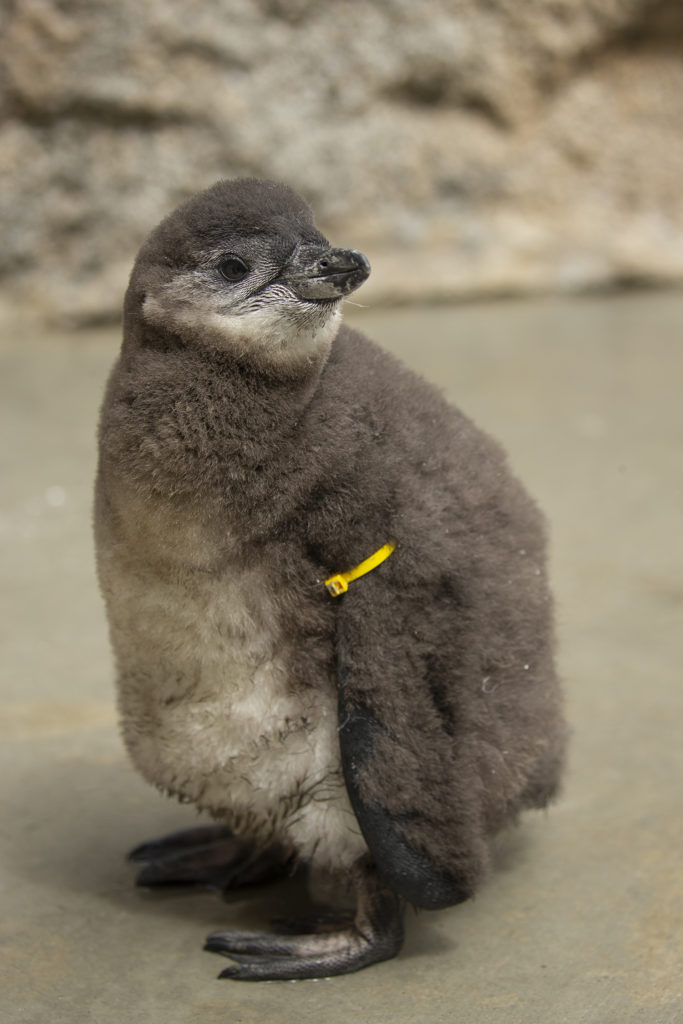 San Diego Zoo Global participates in the Association of Zoos and Aquariums' Species Survival Plan (SSP) program for these endangered aquatic birds and partners with the Southern African Foundation for the Conservation of Coastal Birds (SANCCOB), to help facilitate conservation programs in South Africa.
"Penguins are an amazing and diverse family of birds," said Denton. "There is no other type of animal that is so widely spread across an enormous geographic range, or displays so many unique characteristics among its members. It's vital that we work to ensure their continued survival for generations to come."
Bringing species back from the brink of extinction is the goal of San Diego Zoo Global. As a leader in conservation, the work of San Diego Zoo Global includes on-site wildlife conservation efforts (representing both plants and animals) at the San Diego Zoo, San Diego Zoo Safari Park, and San Diego Zoo Institute for Conservation Research, as well as international field programs on six continents. The work of these entities is made accessible to over 1 billion people annually, reaching 150 countries via social media, our websites and the San Diego Zoo Kids network, in children's hospitals in 12 countries. The work of San Diego Zoo Global is made possible with support from our incredible donors committed to saving species from the brink of extinction.