The newest addition to the river hippopotamus family at the San Diego Zoo, Amahle (ah-mah-shleh) meaning beautiful one in Zulu. She might seem small next to her 3,500-pound mother, Funani, but her personality and the joy she has already spread to thousands around the world is great! And you can watch her grow up on our new Hippo Cam Presented by Mattel Playroom.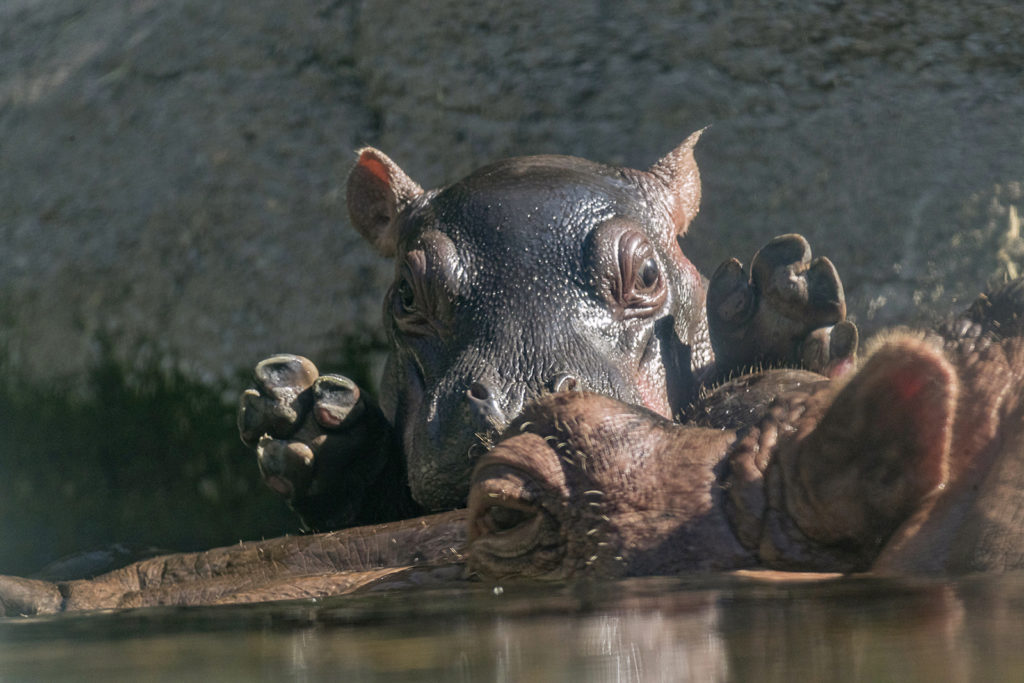 Amahle was born under the light of a full moon on February 8, 2020 a little after 6:30 p.m. Funani's wildlife care team knew she was getting close to giving birth and monitored her closely throughout the day. Zoo visitors were also observing from the habitat viewing areas, in hopes of getting the rare opportunity to witness a hippo calf take its first breath. But alas, Amahle waited until after the visitors, along with the sun, had departed and the full moon shone brightly.
The cycle of the moon has always been something that wildlife care specialists watch for when it comes to Funani. In fact, my nickname for her is "Full Moon Fu," so her timing was no surprise: she gave birth on the full moon. In previous years, Funani's estrus cycle has been on or around the full moon—an indicator we use to ensure that when Otis and Funani are reintroduced she is receptive to his presence in the same space with her. What was different about their last pairing this past summer was that Funani was not cycling on the full moon; instead she changed to a different moon cycle, the new moon.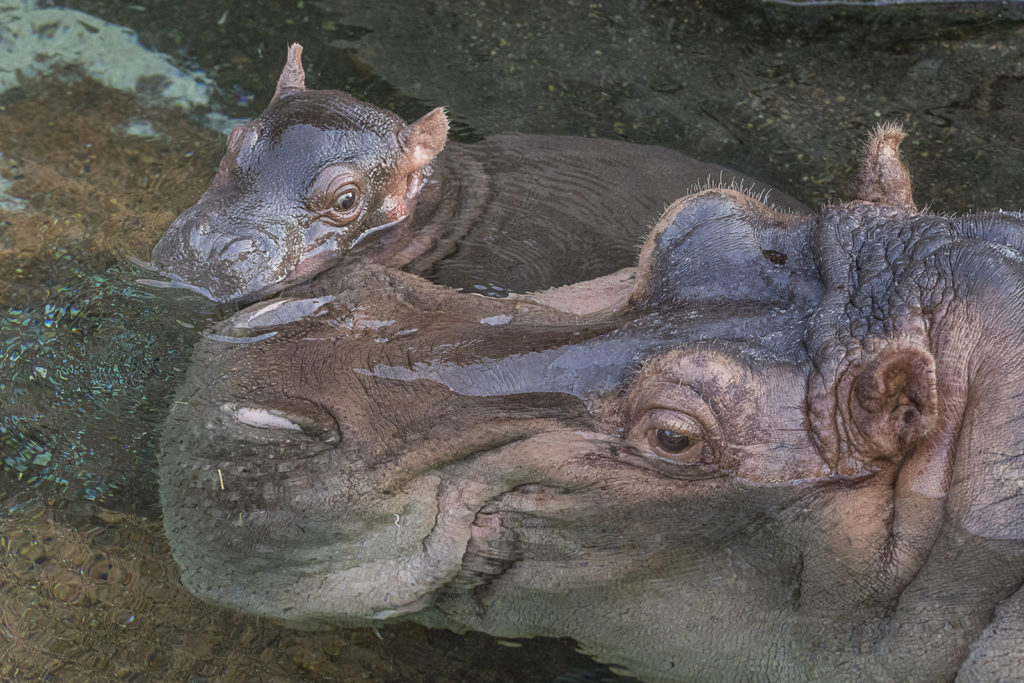 With an observed breeding date of July 2, 2019 and a gestation of about seven and a half months, Funani wasn't due until the middle of February. Yet, given how close she has been with the moon cycle in the past, we were not surprised that on the morning of February 8, she was exhibiting her typical pre-labor behaviors. She was making sure Otis knew to keep his distance (which he did), she was restless, had a low appetite, and a large udder. That signaled to us that it was time to make all the proper last minute arrangements to make sure Funani felt as comfortable as possible. After a short time inside for a quick habitat clean, she shifted back out into the Otis-free main habitat so she could focus on what her needs are during labor.
We observed Funani doing quick laps in the pool, walking or lounging on the beach and lying in the shallow area of the pool. We call the shallow area "Funani's birthing pool," because this is where she has given birth to previous calves and has been observed bracing herself between the rock ledges during hard contractions.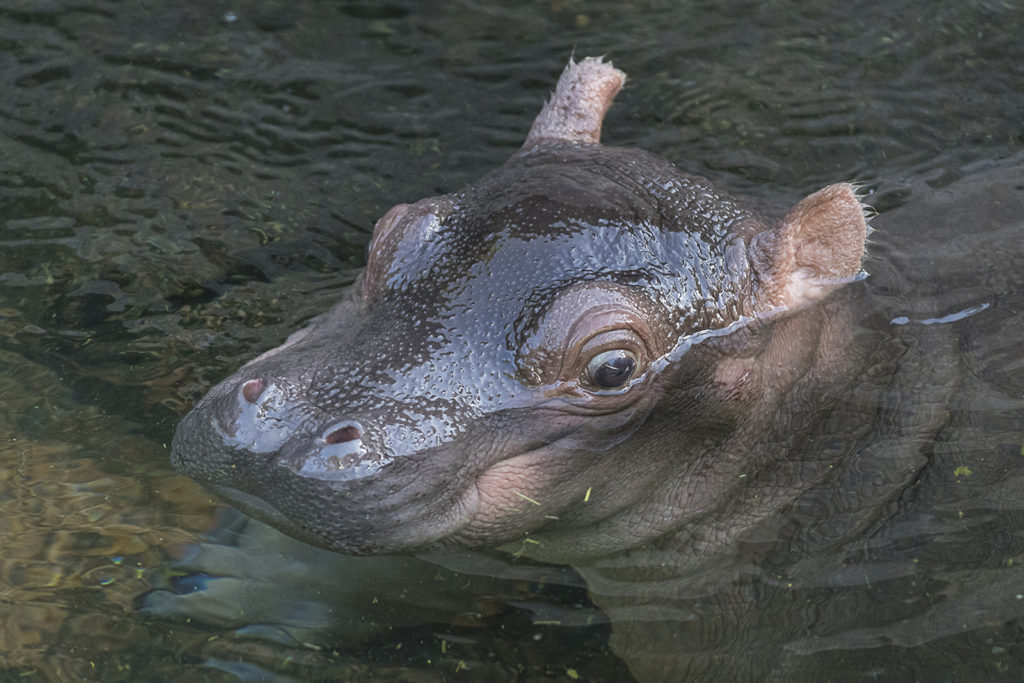 It is important to note that Funani is such a protective and reactive mom that it is imperative for the health and well-being of all involved to keep Otis separated from her while she raises a calf. At birth, a calf can range in weight from 50 to 100 pounds and a protective mom, like Funani, often moves her large, almost 2-ton-body around quickly to ward off any possible threats to the calf; and that movement could result in injury to the little one. It happens in Africa, the native habitat of river hippos, where there is high calf mortality from quick movements by mom or members of their group, which is one theory as to why the river hippo gestation is so short.
With the delivery of Amahle taking place under the light of the full moon and limited staff around, I was called back in to do some observations to ensure all was going well with mom and the newborn. Arriving and seeing the adorable duo on the beach, I was a bit surprised that the calf was on land; they usually remain in the shallows for a few nursing sessions. After that, they have the strength and wherewithal to venture out. Thanks to a camera and DVR we had set up (made possible through a generous grant from the Ocelots group), I was able to look back at the events that lead up to their beach time.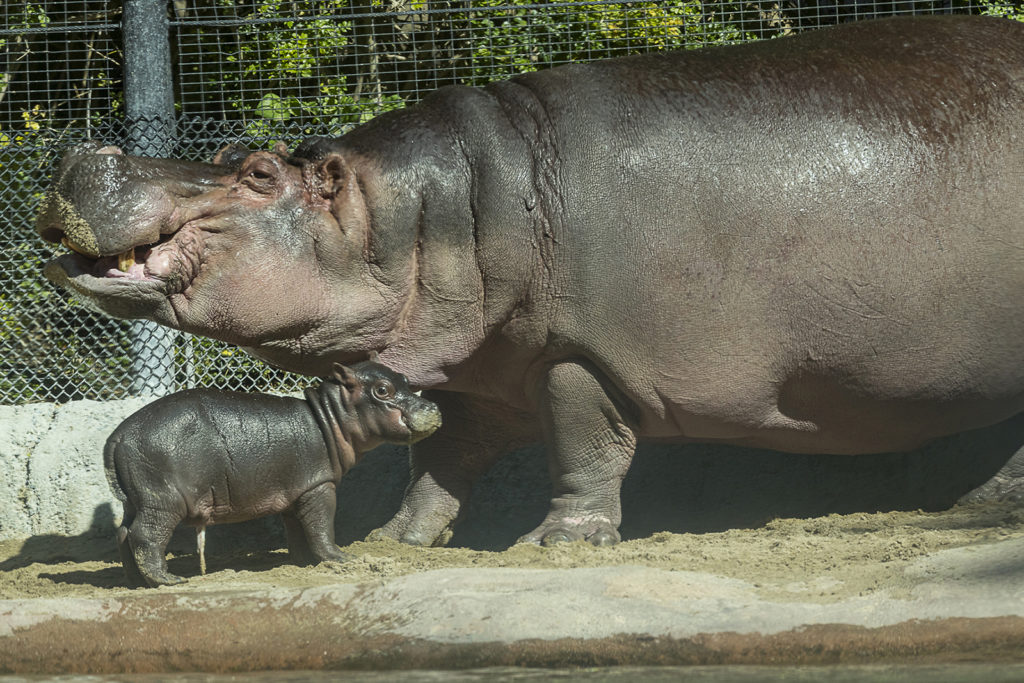 The calf was strong and independent from her first breath. Footage showed she was just as reactive as Funani would be to a threat by moving and reacting quickly, which got her jumping out of the shallow and onto the beach! Funani took it all in stride and stayed with her, constantly communicating with her by vocalizing and physically nudging her or just resting her head on or next to her to keep her safe.
There were times that night Amahle had her own adventures and would get into spots just out of reach of Funani. And that was where my mind was blown; Funani was establishing their communication and training Amahle to move out of those areas and back to her. She used techniques that animal trainers (domestic and exotic) can clearly recognize. Picture this: Amahle lying in a spot where Funani can touch her, yet not enough to be able to push her back to an area where she will have full control to keep her safe. Funani approached, made a quiet grunt, Amahle perked up, looked at her, and moved toward her. Funani inched away, then vocalized. Again, Amahle got up and walked towards her. These approximations continued until Amahle was back in an area where Funani had complete control of her safety! I breathed a sigh of relief and thought that lesson was over, but it wasn't.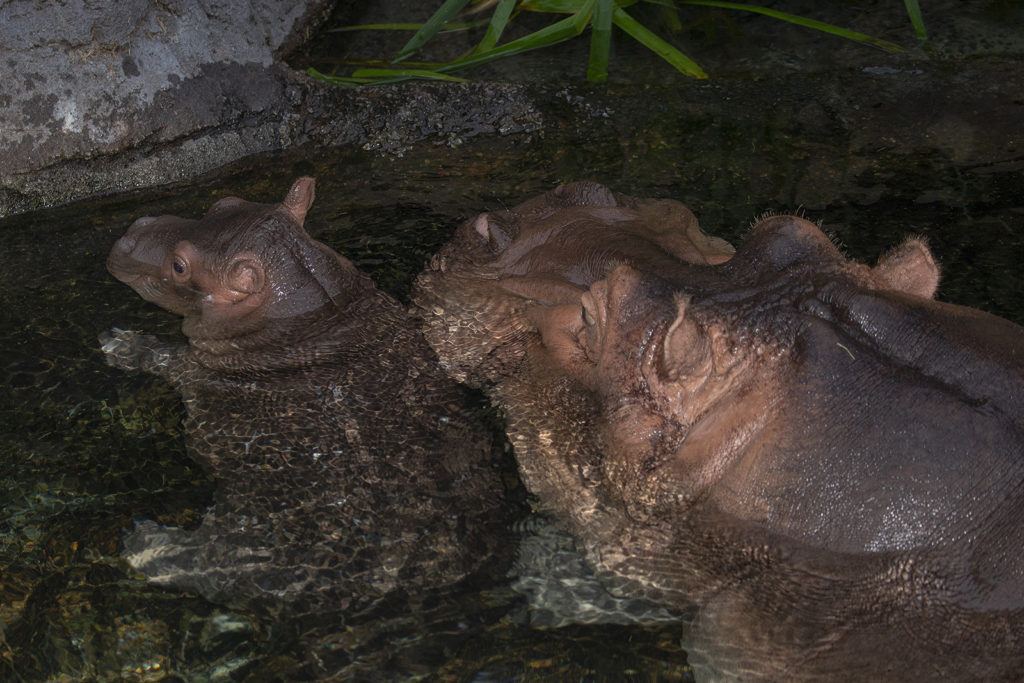 Next, I observed Funani putting Amahle back into the same spot she just "rescued" her from. Why? To repeat the training session—practice makes perfect! Funani repeated the same training session but with more space between her and Amahle, and with fewer approximations, so the reunion was done in record time. It was at that moment I knew Amahle and Funani were going to be fine without my presence for the night. After all, I would get up bright and early to start my shift to care for them and the other wildlife in the area.
I do have to admit my sleep that night was restless with the excitement of the new arrival. Arriving to the hippo habitat the next morning, I was anxious and that quickly released in the form of tears as I spotted Amahle's little ear wiggles where she was resting in the shallow of the pool by Funani.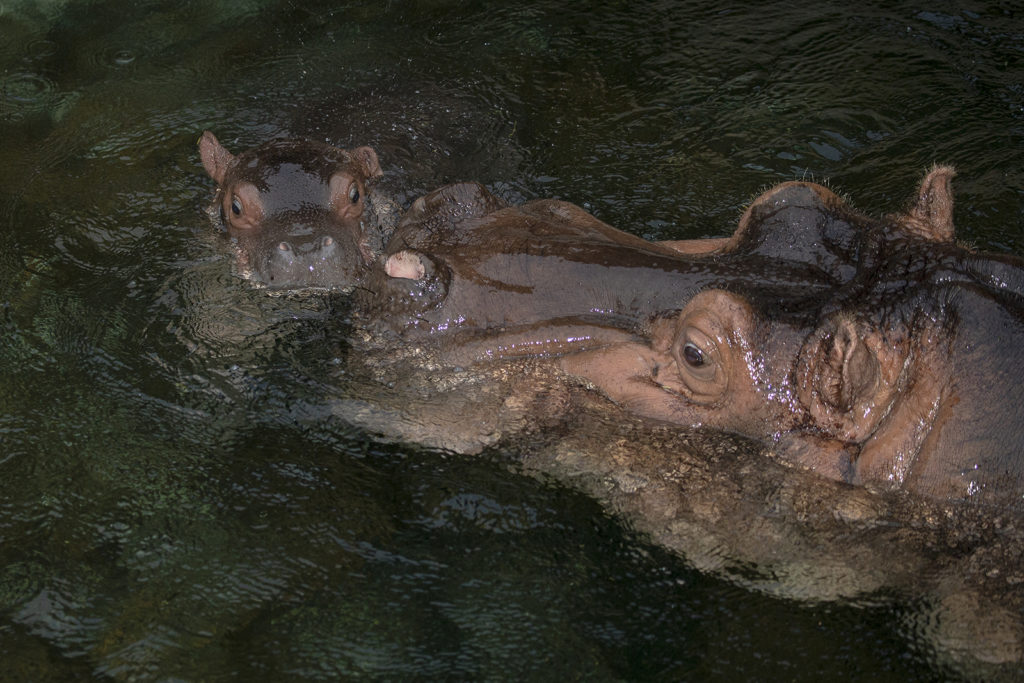 Amahle has continued to push the boundaries with her mom. But trusting Funani and her impeccable calf-rearing skills, I have no doubt she can handle this precocious, mischievous girl. We can all enjoy observing the antics of this "beautiful one" as she continues to grow and learn about life from the best teacher she could have, "Full Moon Fu."
Hippo Cam tip: Funani and Amahle alternate use of the front habitat with male Otis. If you only see one hippo, that's likely Otis, and Fu and her calf will be in the pool the next day.
Jennifer Chapman is a senior wildlife care specialist at the San Diego Zoo.