March 8, 2020 is Ocelot Conservation Day! Some wild cats are spotted, others are striped, and then there's the ocelot, that has both! Measuring about one yard long from nose tip to tail, these small wild cats range from southern Texas to northern Argentina. They like the thick brush of a forest where there are plenty of spots for a small predator to wait and watch for prey, especially at night, an ocelot's 'prime time' for activity.
Although they weigh a mere 35 pounds when full grown, ocelots are highly skilled hunters. Their prey includes small mammals, crabs, snakes and other reptiles, insects, and sometimes birds. These rare beauties are solitary, secretive, and endangered. As forest and brush are cleared for human endeavors, ocelots are pushed into smaller areas, that can't support large numbers of these predators. As the habitats vanish, so do ocelots.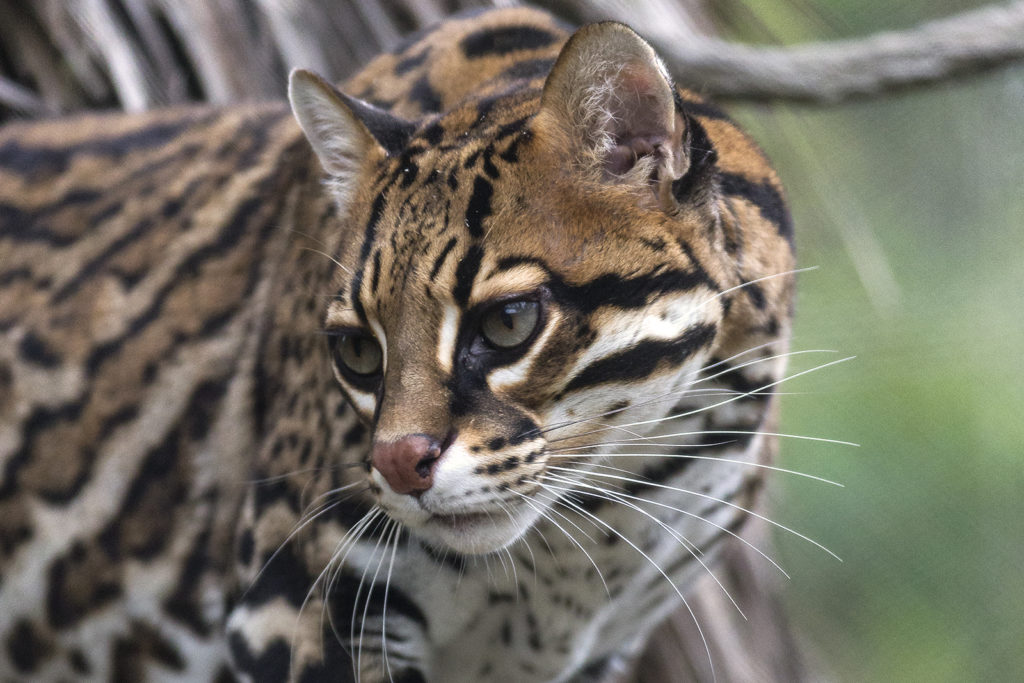 At San Diego Zoo Global (SDZG), our appreciation of these small-but-mighty hunters is reflected in the name of a special group of volunteers, the Ocelots.
Ocelot volunteers gather support for SDZG. Committed to education and fundraising, the Ocelots Grants Program donates funds to departmental recipients to purchase special pieces of equipment, as well as items to create unique behavioral opportunities in our animals' habitats. For example, the Ocelots helped animal care specialists buy 'snack shacks', which lemurs and many smaller animals love to sit in as they enjoy special food items. The group also made it possible for the Zoo and Safari Park hospitals to purchase new medical equipment to further enhance their amazing animal care.
As they give to SDZG, the Ocelots' efforts give them an insider's view of the Zoo, Safari Park and Institute for Conservation Research through meetings with staff, bimonthly educational dinners, and close-up visits with some of the rare and endangered animals their work benefits. It's a rewarding experience in so many ways!
The only requirements to join Ocelots are that you are 21 years or older, have a love and passion for animals, and are either a SDZG member, volunteer, or employee.
If you are interested in becoming an Ocelot, Email us at sdzgocelots@gmail.com or visit us at https://zoo.sandiegozoo.org/support-us/ocelots to learn more. The group's April dinner will be held at the Safari Park, where animal care specialist Luis Ochoa will talk to us about the platypus. If that is not thrilling enough, Ocelots will host a member-only early morning event at the Park's platypus habitat in May!
Why not celebrate Ocelot Conservation Day by becoming an Ocelot Volunteer to make a difference in animal's lives, expand your knowledge, and have fun at the same time? Grab a 'spot' and earn your 'stripes'!
Ocelot Volunteer Tabby Reed contributed to this story.