A peek inside the pouch of an endangered Matschie's tree kangaroo at the San Diego Zoo Safari Park this week provided a glimpse of her growing, 6-month-old joey. The joey, gender still to be determined, was born to mother Polly and father Spike at the end of March at the Safari Park's Walkabout Australia habitat. This is the first time a Matschie's tree kangaroo has been born at the Safari Park.
"We are thrilled with the birth of this Matschie's tree kangaroo joey," said Breanne Barney, keeper, San Diego Zoo Safari Park. "Due to the small population of Matschie's tree kangaroos, this joey provides hope for the future of this species.
"Polly is an excellent mother, consistently grooming her little one," Barney added. "We are really looking forward to the joey fully emerging soon."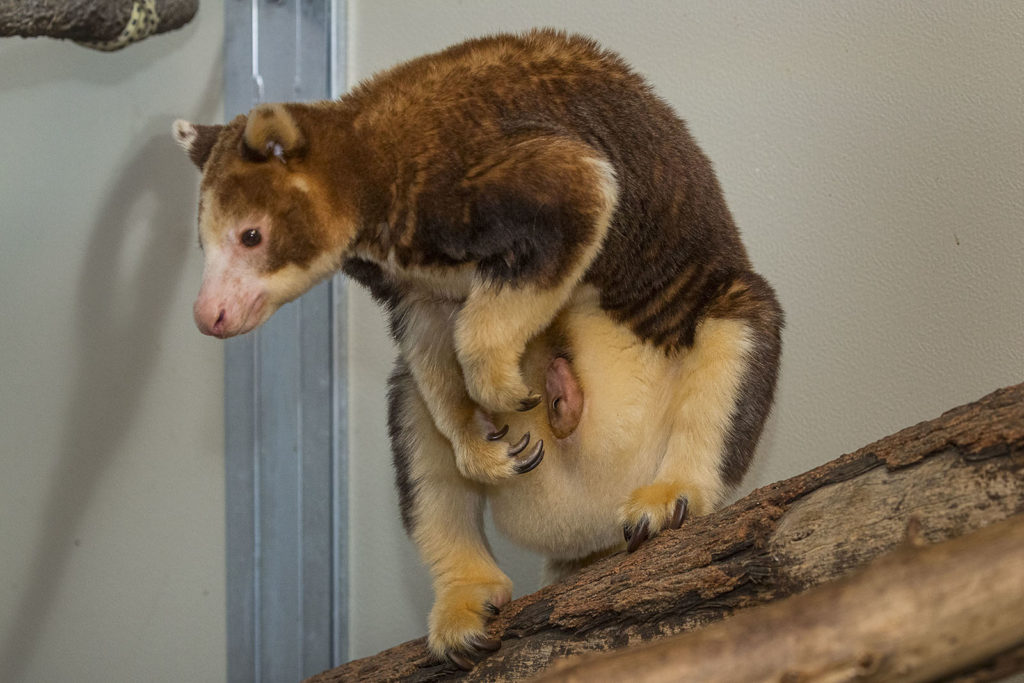 Matschie's tree kangaroos are about the size of a jelly bean at birth, after an estimated 45-day gestation. Once born, the joey crawls into its mother's pouch, where it attaches to a nipple and begins to develop as it gains nourishment. Polly began allowing keepers, working with positive reinforcement training, to look inside her pouch to check on the joey early in the pregnancy.
The tiny marsupial has more than doubled in size since birth. The joey is still developing, but its eyes are wide open and it is considerably more active—and movement is often seen from outside the pouch. Frequently, its face, its tail or a foot can be seen protruding from Polly's pouch. By 7 months of age, the joey's head should be fully visible.
The joey will remain in its mother's pouch for about eight to 10 months, exiting the pouch for extended periods and returning to nurse. Polly will wean her joey when it is about a year old, but the joey will stay close to mom for about a year and a half.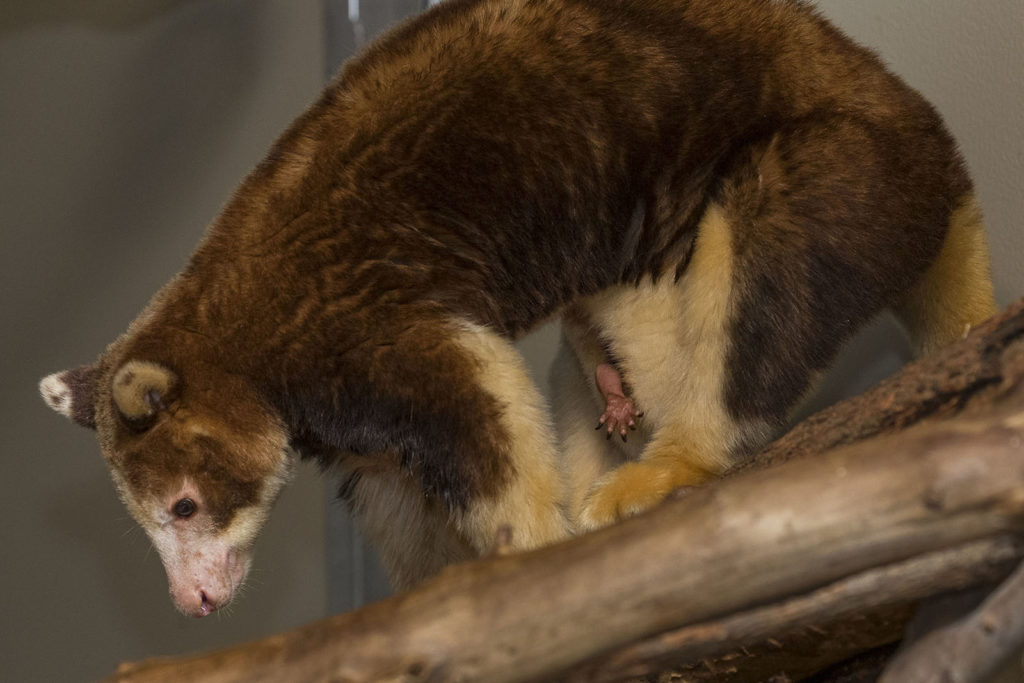 Matschie's tree kangaroos arrived at the Safari Park in 2018 as part of a Species Survival Plan (SSP) breeding program, designed to help save this species from the brink of extinction. Native to Papua New Guinea and endemic to the Huon Peninsula, Matschie's tree kangaroos live in elevations of up to 11,000 feet and spend most of their time in trees, eating leaves from a variety of forest trees, along with vines, ferns, orchids, shrubs and herbs. Little is known about Matschie's tree kangaroos in their native habitat, but they are believed to be solitary animals except when a mother is raising offspring. Matschie's tree kangaroos are listed as Endangered on the International Union for Conservation of Nature (IUCN) Red List of Threatened Species. It is estimated that there are fewer than 2,500 adult Matschie's tree kangaroos left in the wild, and their population is decreasing. They are hunted by humans for food and trade. Habitat loss due to expanding agriculture further threatens their population. The Safari Park is home to two adult Matschie's tree kangaroos and the new joey.
Walkabout Australia offers a view into the Land Down Under, featuring Australia's interesting and unique species. Walkabout Australia takes guests through four different types of Australian habitats: grassland, rain forest, wetlands and desert. Featured animals besides the Matschie's tree kangaroo include western gray kangaroos, red-necked wallabies, and southern cassowaries.
During a visit, guests also may come nose-to-nose with animals like an echidna, blue-tongued skink or sugar glider. Accompanied by their keepers, these extraordinary animal ambassadors are available for up-close encounters several times throughout the day.
Guests visiting Walkabout Australia may get a glimpse of Polly and her precious joey in their habitat, adjacent to Zuest Station. Walkabout Australia is included with Safari Park admission and membership. To learn more about the Matschie's tree kangaroo and how you can help save this species from the brink of extinction, visit endextinction.org.
At the San Diego Zoo Safari Park, more than 1 million guests each year see animals in herds of mixed species, in expansive habitats. Safari tours offer savanna views of African and Asian animals, trails take visitors on treks to experience Australian and North American habitats—plus, there are opportunities for up-close encounters and unique behind-the-scenes perspectives. Known for its leadership in rhino conservation, the Safari Park is home to the Nikita Kahn Rhino Rescue Center, which is devoted to groundbreaking work to bring back the northern white rhino. As visitors discover the rare and endangered species at the Safari Park, they are directly contributing, through admission and on-grounds sales, to the efforts of San Diego Zoo Global, an international nonprofit conservation organization that works to fight extinction through recovery efforts for plants and animals worldwide. To learn more, visit sdzsafaripark.org, or connect with us on Facebook, Twitter, Instagram orYouTube.