Edward, a 13-day-old southern white rhino calf at the San Diego Zoo Safari Park, got his first chance to experience a true mud wallow this morning (Friday, Aug. 9), under the watchful eye of his mom, Victoria. Rhino keepers decided to create a wallow for the youngster to provide him the opportunity to experience an instinctive behavior for rhinos. Keepers scooped up mud from the area around the Nikita Kahn Rhino Rescue Center, brought it to his yard and added water to create the wallow. After watching mom, the young rhino quickly figured out what to do, and he rolled around just the way mom did. By doing this, rhinos coat themselves with a thick layer of mud that helps act as a sunscreen and bug repellent, and helps to keep them cool. "It's so exciting to see these instinctive behaviors—just days after he entered this world," said Jonnie Capiro, lead keeper, San Diego Zoo Safari Park.
After his mud bath, Edward practiced some chute training. Chute training is an important tool, making it possible for keepers to provide routine care for the rhinos using protected contact. The chute has a scale built into the floor—and when rhinos walk across it, keepers are able to get important information, including routine weights. Edward ran through at top speed, which is typical for southern white rhino calves. It took a few attempts, but he finally walked through the chute on his own, and keepers were able to get a reading on the scale. Edward weighed 148 pounds at birth, and today he weighed in at 215 pounds—a gain of 67 pounds.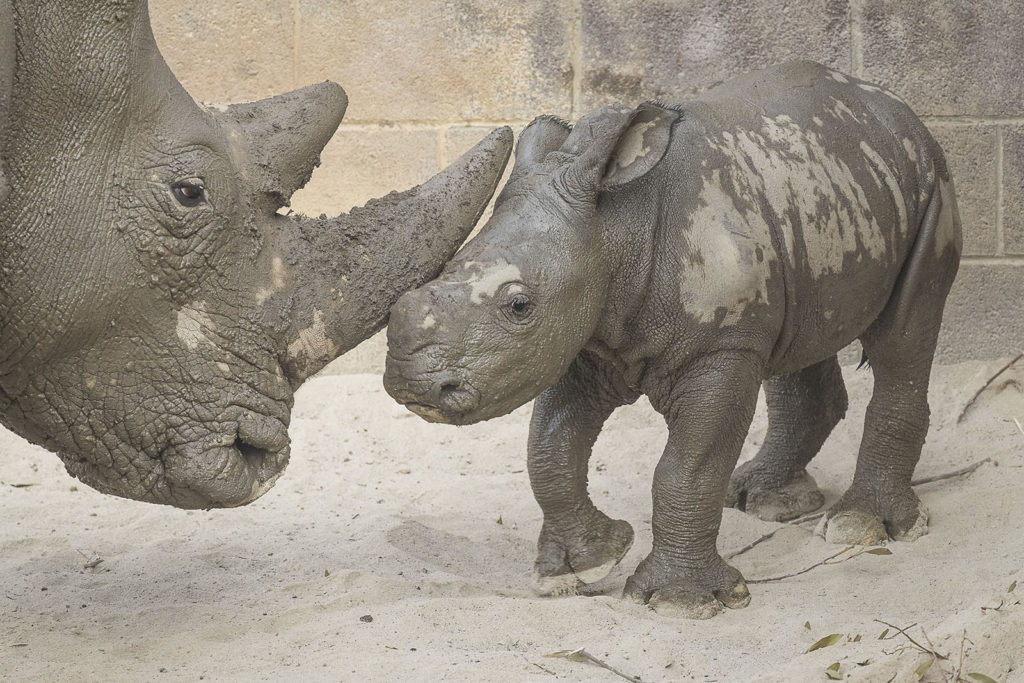 "The significance of this calf is, he's the third calf ever born from artificial insemination (AI), the second born from frozen thawed sperm and the first calf born by AI in North America," said Parker Pennington, Ph.D., post doctorial associate in Reproductive Sciences at the San Diego Zoo Institute for Conservation Research." So, he's very special to us here at San Diego Zoo Global."
Victoria gave birth to Edward on July 28, 2019 at the Nikita Kahn Rhino Rescue Center, following hormone-induced ovulation and artificial insemination. Artificial insemination of rhinos has rarely been attempted, and this is the first successful artificial insemination birth of a southern white rhino in North America.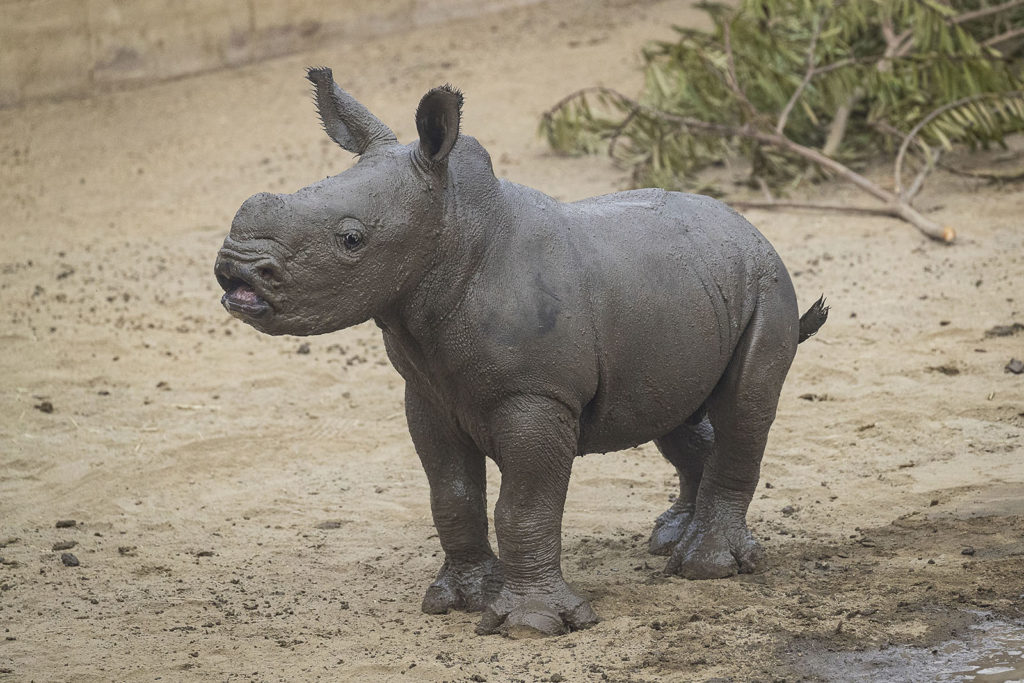 Victoria was artificially inseminated with frozen semen from southern white rhino Maoto on March 22, 2018, following hormone-induced ovulation. White rhino gestation is estimated to be about 485 days, but as with any baby delivery, this can differ. Victoria carried her calf for 493 days.
The artificial insemination and successful birth of this rhino calf is not only a historic event for San Diego Zoo Global, but represents a critical step in the conservation organization's ongoing work to develop the scientific knowledge required to genetically recover the northern white rhino, a distant subspecies of the southern white rhino. Only two northern white rhinos currently remain on Earth and, unfortunately, both are female.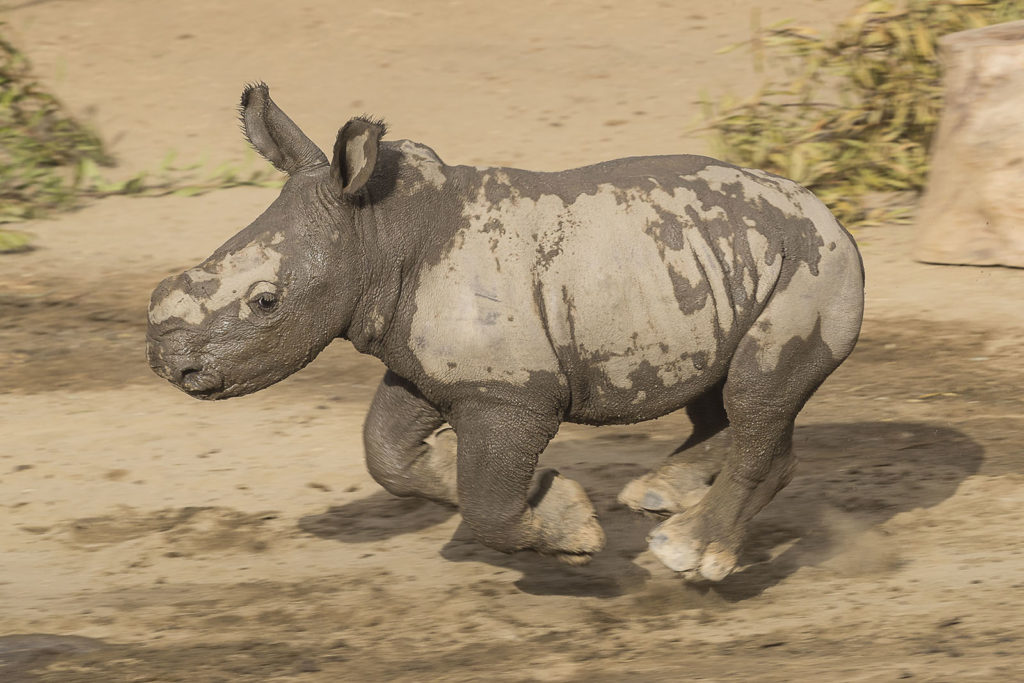 Victoria is one of six female southern white rhinos that reside at the Nikita Kahn Rhino Rescue Center. To increase genetic diversity and the number of reproductively fit individuals in North American zoos, these rhinos were relocated to the Safari Park from private reserves in South Africa in November 2015.
Five keepers are dedicated to the full-time care of the six female rhinos. The keepers spend each day building a relationship with and gaining the trust of the animals. The rhinos are trained, through positive reinforcement, to receive any needed medical procedures, as they could potentially serve as future surrogate mothers for a northern white rhino.
There are an estimated 18,000 southern white rhinos remaining in the wild. The southern white rhino is classified as Near Threatened on the International Union for Conservation of Nature Red List of Threatened Species, due to poaching threats and illegal trafficking of rhino horn. Currently, a rhino dies every eight hours in South Africa as a result of poaching.
The public can help support San Diego Zoo Global's rhino conservation efforts through the San Diego Zoo Global Wildlife Conservancy at endextinction.org/rhino or endextinction.org/Victoria.