San Diego Zoo Global (SDZG) is world famous for its work with many different animal species: pandas, koalas, rhinos, elephants… you know the headlines. But did you realize that SDZG also has an illustrious and storied past with vultures? The San Diego Zoo received its first vulture on May 5, 1923—a Lappet-faced vulture from Africa—igniting SDZG's long and successful history with these birds. Since that day 96 years ago, between the San Diego Zoo and the San Diego Zoo Safari Park, we have cared for 19 of the world's 23 species of vultures.

Nine species have successfully bred in San Diego; the first being an Andean condor who hatched at the Zoo on July 8, 1942. This was the first time this species had bred in North America. San Diego Zoo Curator of Birds K.C. Lint pioneered breeding and rearing strategies for Andean condors in the 1940s and 1950s.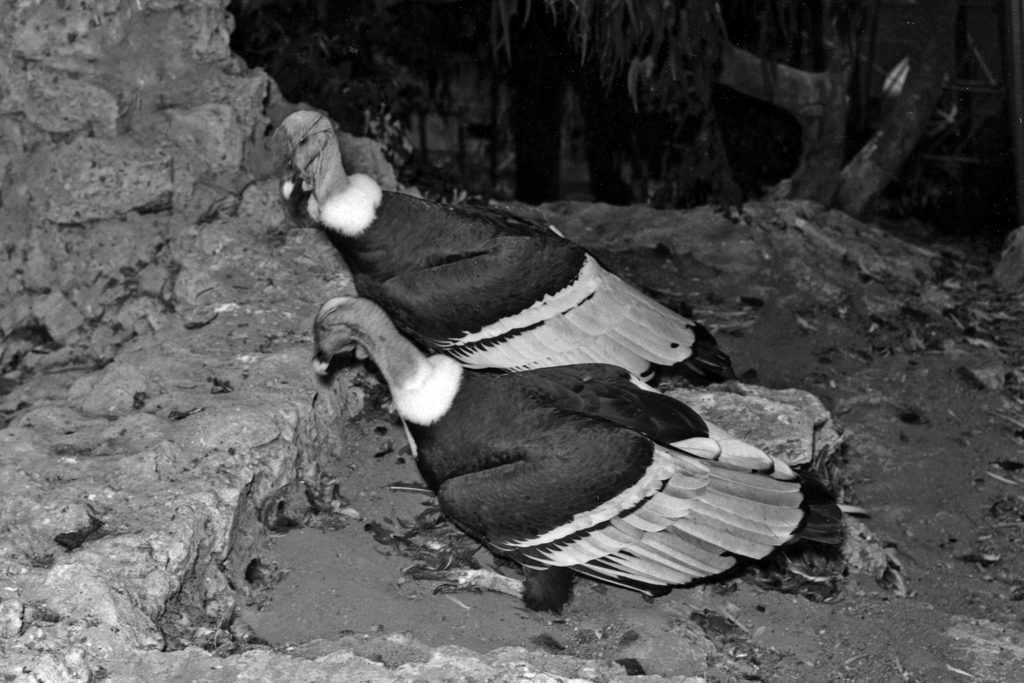 At the time, the Bird of Prey Aviary at the Zoo (now known as Owens Aviary) was the largest aviary in the world. This is where the Andean condors lived, and they produced 9 chicks over 10 years. Overall, SDZG has hatched 73 Andean condors, several of which have been released to the wild in the mountains of Colombia and Venezuela. Today, Andean condors can be seen along Eagle Trail at the Zoo and in the Frequent Flyers Bird Show at the Safari Park.
In 1982, when the world's population of California condors numbered a mere 22, the San Diego Zoo was called upon to incubate and hatch wild-collected condor eggs—something that had never been done before. Thirteen of the eggs hatched at the Zoo, while two hatched at the Safari Park. Later, in 1988, the first California condor to be bred in a zoo hatched at the Safari Park, proving to the world that captive breeding was a viable conservation option for this species.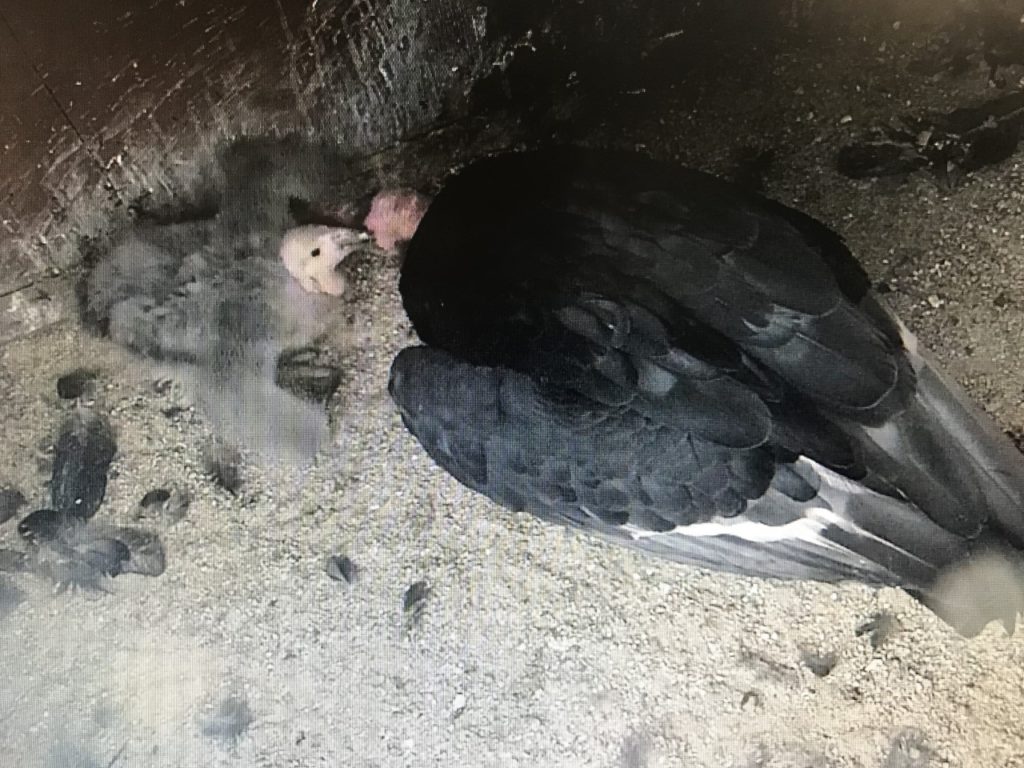 To date, 217 California condors have hatched at the Safari Park, with 155 being released to the wild in California, Arizona, and Baja California, Mexico. Although most of them are off-exhibit in our breeding facility, visitors can see California condors for themselves at the Safari Park's Condor Ridge, as well as Elephant Odyssey at the Zoo.
Two other New World vulture species—relatives of the condors—have also had breeding success in San Diego. The American black vulture, which can be seen in our animal ambassador presentations at the Safari Park, has hatched at both the Zoo and the Park. Also, the strikingly beautiful king vulture, worshipped in Mayan culture, has had 23 hatches while under SDZG's care.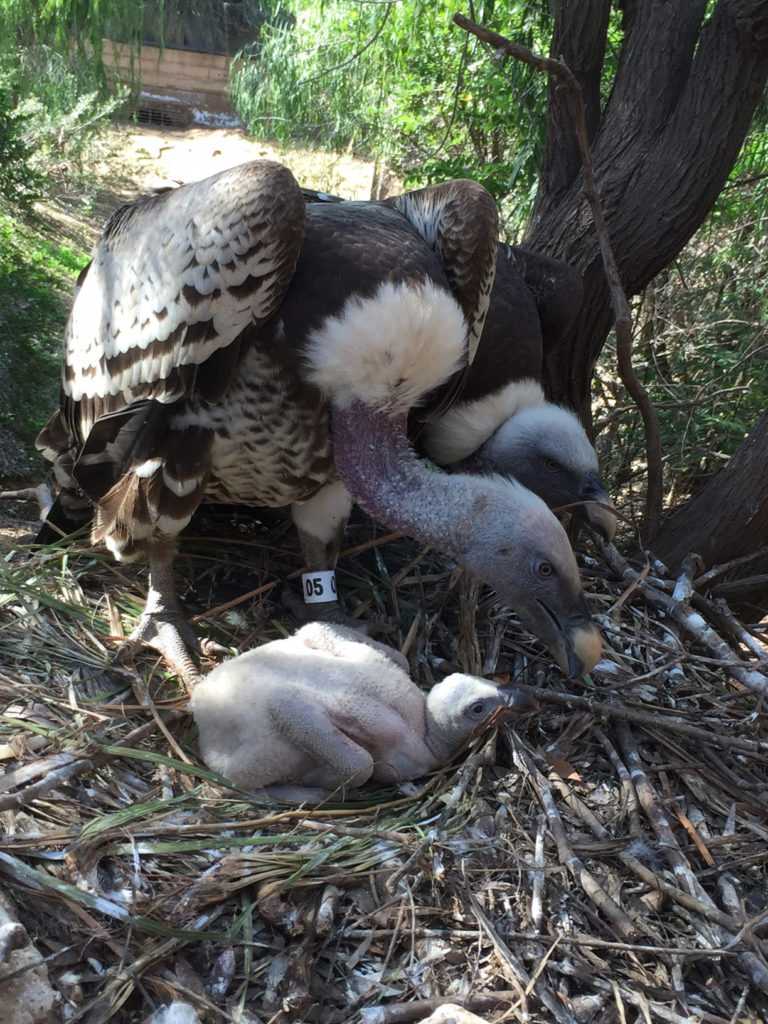 The first Old World vulture species that hatched in San Diego was a griffon vulture from Europe in 1954, at the Zoo. Since then, the Safari Park has been very successful in establishing breeding programs for Rüppell's vultures and hooded vultures, both critically endangered and both from Africa. Thirty Rüppell's vultures have hatched here, as well as 16 hooded vultures. We also had a couple of first hatchings at the Safari Park in 2019, of which we are very proud—an endangered cape vulture, as well as our first palm-nut vulture chick!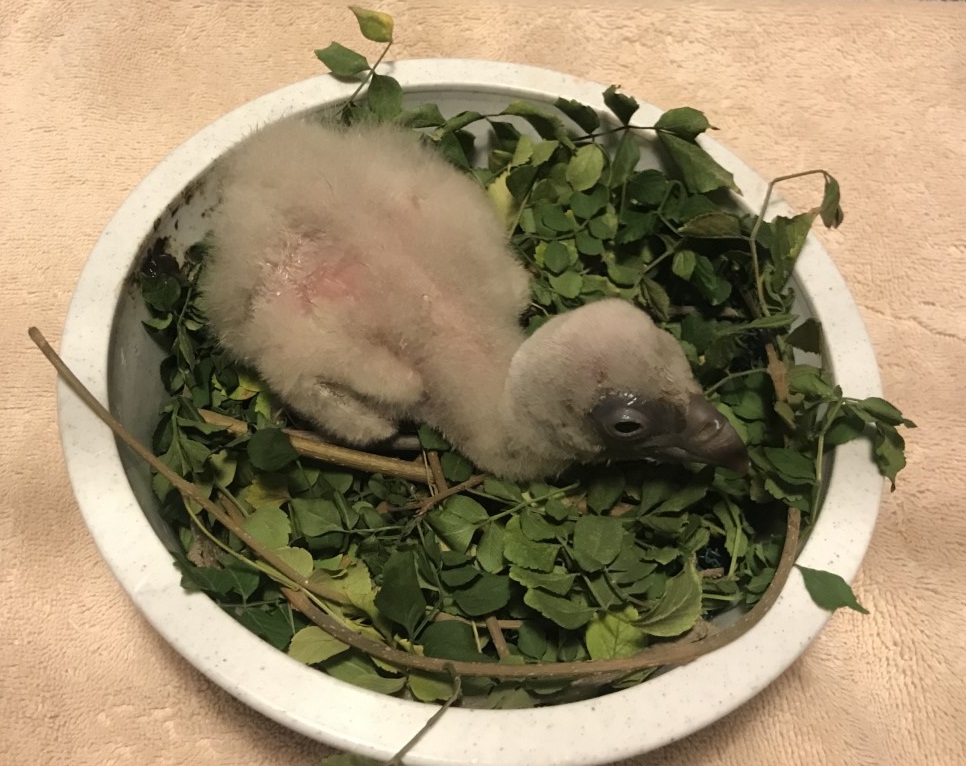 All of these species' breeding groups can be visited at the Safari Park. The Rüppell's vulture flock is a highlight of the Africa Tram Safari; you can also see the pair of cape vultures living with them. Stop by the African Woods to see the hooded vultures, who live with a very charismatic Egyptian vulture. A little farther down the trail, in the African Outpost, you can see a majestic pair of endangered lappet-faced vultures—the largest vultures in Africa. For a very unique kind of vulture, check out the palm-nut vulture habitat in Nairobi Village.
We understand that at first glance, vultures may not be as cute and cuddly as a koala or a baby elephant—but if you spend enough time watching and learning about them, you will realize that they are more than worthy of our respect, admiration, and protection. They control the spread of disease in their habitat; they are masters of the air with their impressive wingspans; and they are excellent and caring parents (Not to mention that their chicks are adorable!).
Ron Webb is a senior keeper at the San Diego Zoo Safari Park. Read his previous blog, Luhui's First Health Exam.