Two male African elephants born at the San Diego Zoo Safari Park—Emanti and eMacembe LaLu Hlata, better known as "Mac"—are now residing at the Caldwell Zoo in Tyler, Texas. The 9-year-old bull elephants were recently moved from the Safari Park to the Caldwell Zoo, based on a recommendation from the Association of Zoos and Aquariums (AZA) Species Survival Plan (SSP), which is designed to maintain healthy, self-sustaining and genetically diverse populations of selected species, most of which are threatened or endangered. All AZA- accredited facilities work together to manage populations, participate in breeding programs, and promote conservation and education goals.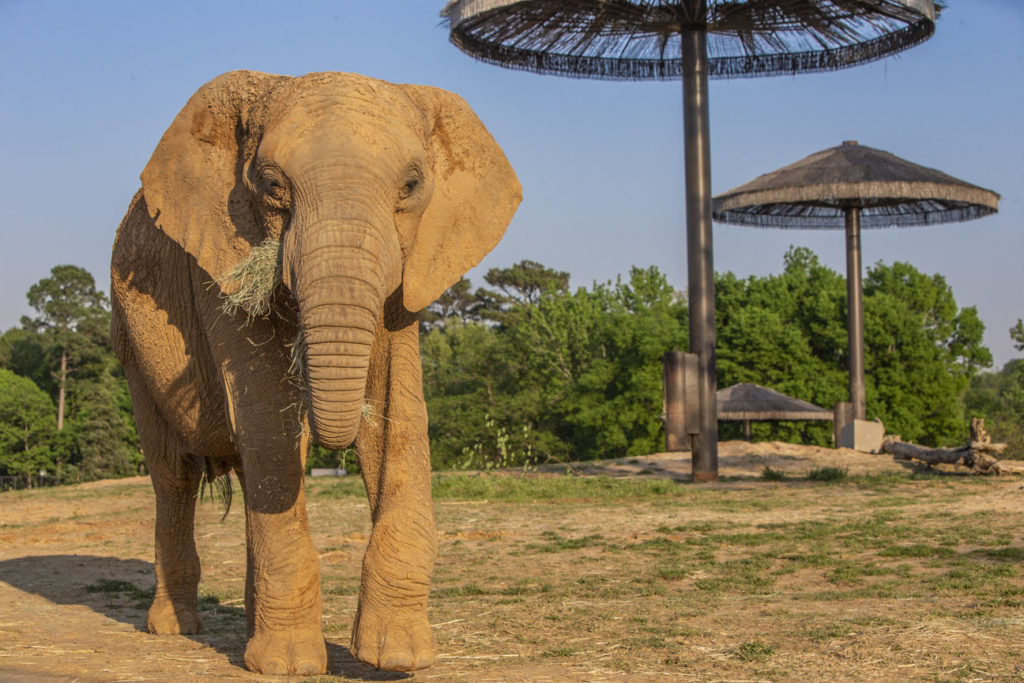 African elephants are listed as Vulnerable on the International Union for Conservation of Nature (IUCN) Red List of Threatened Species. Once plentiful on the African continent, decades of elephant poaching for the illegal trafficking of ivory, habitat loss and fragmentation, and human-elephant conflict have dramatically reduced their populations. The creation of a male elephant herd at the Caldwell Zoo is part of an important effort by accredited zoos to create a sustainable ark of elephants under human care.
"In the last few years, thousands of elephants have disappeared from Africa, killed for their ivory," said Randy Rieches, director of Collections Husbandry Science, San Diego Zoo Safari Park. "When we rescued a family group from Swaziland (now eSwatini) in 2003, we took the first step to ensuring the survival of this species. By creating a bachelor herd of elephants, the Caldwell Zoo is joining us in this important leadership effort to save this species."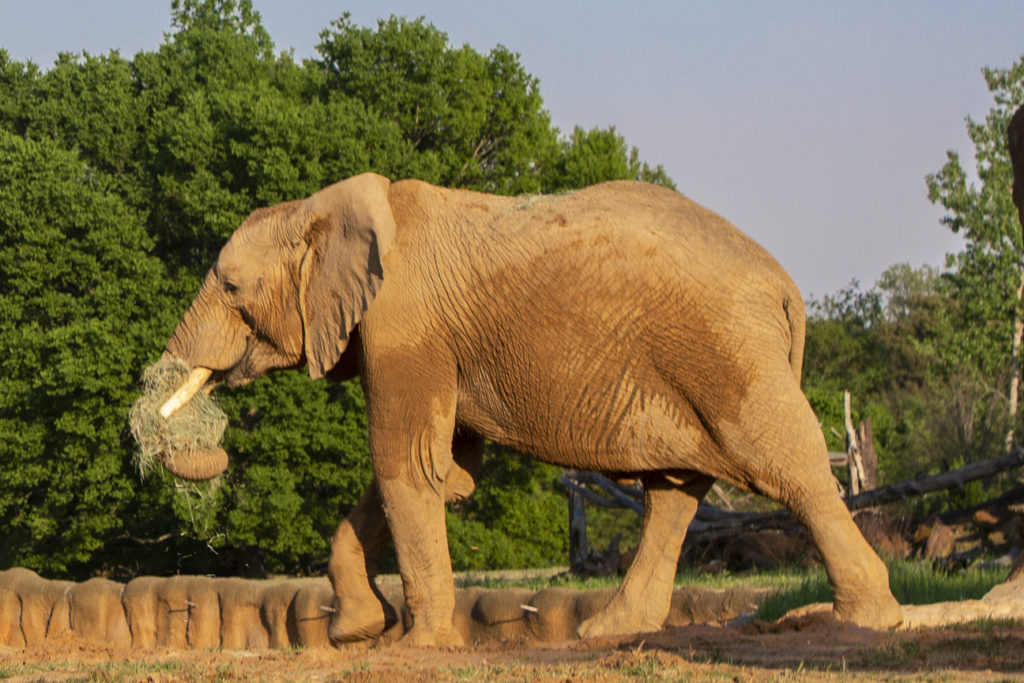 Male African elephants typically form bachelor herds consisting of young males, separate from matriarchal elephant groups. The Caldwell Zoo's newly remodeled, expansive elephant habitat offers an ideal home for these two young males as they enter this next stage of their lives. Upon their arrival at the Caldwell Zoo, the elephants were placed in a temporary quarantine, but they quickly acclimated well enough to explore their new home—the 3-acre African Overlook habitat, with a new 100,000-gallon pond.
The elephants' area has a unique design with complete open viewing to multiple species, with their closest neighbors being a crèche of reticulated giraffes. The habitat connects with sweeping plains where zebras, greater kudu, impalas, warthogs and ostriches roam. Guests will be able to see the elephants explore their habitat and interact with keepers during enrichment programs.
"Elephants have always been a cornerstone species for the Caldwell Zoo," said Hayes Caldwell, director, Caldwell Zoo. "We have never wavered in our commitment to help these great animals. That is why we have expanded this area and built the new elephant barn. We want to be able to give the best care to our ambassador animals and play an active role in helping the species now and long into the future."
The two young bulls were moved together, as they are well bonded and enjoy each other's company. As males approach puberty, they spend less time with the herd, and mothers typically push males out of the herd at this stage in their lives. In the case of Emanti and Mac, the Safari Park's female elephants were beginning to show less tolerance for the boys—especially following the recent births of two calves: 6-month-old Mkhaya, better known as "Kaia", and 7-month-old Umzula-zuli, or "Zuli."
With the departure of Emanti and Mac, the Safari Park is now home to 12 elephants—seven females and five males. The adults were rescued in 2003 from the Kingdom of Swaziland (now eSwatini), where they had faced being culled. A lack of space and long periods of drought had created unsuitable habitat for a large elephant population in the small southern African country. At the San Diego Zoo and the San Diego Zoo Safari Park, elephant studies are underway on nutrition, daily walking distance, growth and development, and bioacoustic communication. Since 2004, San Diego Zoo Global has contributed $30,000 yearly to eSwatini's Big Game Parks to fund programs that include anti-poaching patrols, infrastructure improvements and purchases of additional acreage for the Big Game Parks. San Diego Zoo Global is a conservation partner with the International Elephant Foundation, supporting conservation projects in every country where elephants are found in native habitat.