A Zoo team is collaborating to solve a problem for penguins
The African penguin is an endangered animal, and is listed by the Association of Zoos and Aquariums (AZA) as a species at risk of extinction. At the current rate of decline, experts estimate that the species will become extinct in the wild within the next 15 years. These precious birds are clearly in need of help, and here at the San Diego Zoo Jennings Medical Center, we are doing just that.
San Diego Zoo Global is helping create a brighter future for African penguins through a new, dynamic conservation-breeding program on grounds at the Zoo, while also tackling threats to wild bird survival in South Africa. Working with the South African National Foundation for the Conservation of Coastal Birds (SANCCOB), we are testing, monitoring, and treating African penguins for bloodborne parasites—most specifically, avian malaria.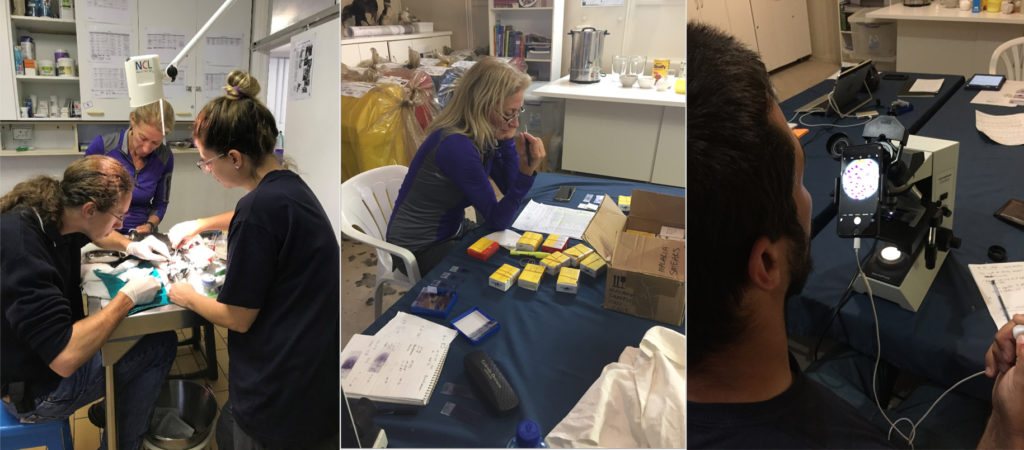 Human contact, environmental pollution, oil spills, competition by fisheries, and climate change are all known factors contributing to the declining population of African penguins. Moreover, current African penguin numbers are plummeting due to food shortages, resulting from shifting prey distribution, competition with commercial fishing, and environmental changes. These stresses on African penguin populations have contributed to a decrease in their natural immunities to diseases and blood-borne parasites. A threat to the survival of African penguins in the wild and in managed care, the incidence of bloodborne parasite infection in wild penguins is probably underrepresented.
I am part of a three-person team from the Zoo, which also includes Dr. Ben Nevitt, DVM, DACZM and Beth Jezier, RVT, that is applying cutting-edge technology to establish new and more accurate testing protocols. Being able to identify the blood parasites, both through visual identification and DNA analysis, will open the door to better understanding of the parasites themselves, leading us to the knowledge of how we can better save African penguin lives from this deadly disease.
Our team first traveled to SANCCOB in 2017 to meet with their research and medical staff and share our expertise. Dr. Ben Nevitt shared his presentation on Advanced Imaging of Penguins, Beth Jezier shared Laboratory Procedures and Protocols, and I shared a presentation on Avian Anesthesia. At that time, the busy SANCCOB care center had limited lab space, so lab work was performed in several locations throughout the center. We performed much of our lab work during this visit in their conference room, where we set up microscopes and supplies, but because it was a shared space, there were many times we needed to move our "lab" to make room for meetings and other staff use. In spite of the challenge this posed, we sorted through many, many blood samples for our study, and applied for the needed permits to import the samples back to the US.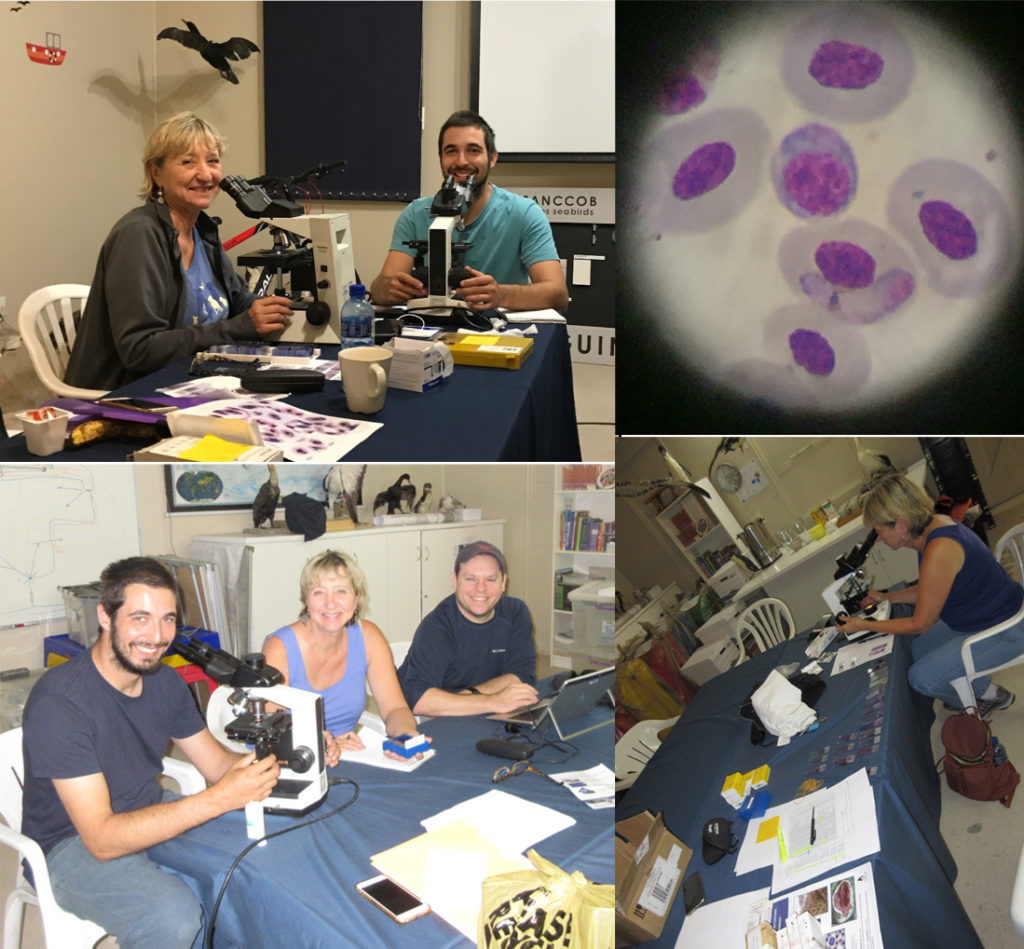 We returned to SANCCOB earlier this year, bringing much-needed supplies and medical monitoring equipment for their new hospital, where there is dedicated space just for laboratory work and analysis. We worked with their veterinary staff to collect additional samples for our research project, finalized all the necessary permits, and imported the study samples back home with us. Zoo animal care manager Joop Kuhn will be bringing us another set of blood samples when he returns from SANCCOB later this month.
The next steps of the project have just begun, and that is to analyze all the samples we collected. This is the exciting part! Once that is complete, we hope to put all the pieces of the puzzle together, and we will be that much closer to winning the battle against the blood parasites that are affecting African penguins—and saving more penguin lives.
SANCCOB is the largest seabird rehabilitation organization in South Africa. They rescue and rehabilitate between 900 and 1,500 African penguins every year. Learn more in this ZOONOOZ article.
By Marianne Zeitz, RVT, VTS