A lynx, three Amur leopards and two snow leopards received a cool experience earlier today (Friday, Dec. 14, 2018) when fresh, powdery snow was placed in their exhibits at the San Diego Zoo. While all three species of felines appeared to thoroughly enjoy the icy substance in their habitats, the snow leopards especially lived up to their name, as they spent hours pouncing, playing and rolling in the snow.
The snow was part of a special enrichment activity for these three cat species. Enrichment is part of the 24-hour experience that keeps the animals stimulated and active, allowing them to use their natural behaviors. The snow was made possible by many generous donors who contributed to the Zoo's online Animal Care Wish List. The Wish List is similar to an online gift registry for animals at the San Diego Zoo and San Diego Zoo Safari Park. It is updated monthly and can be found at sandiegozoo.org/wishlist.
The San Diego Zoo is home to three 8-month-old lynx kittens: Juneau (featured in the video) at the Children's Zoo, and Cheyenne and Annie at Wegeforth Bowl; three Amur leopards: mother Satka and her two 7-month-old cubs Dorothy and Maryanne, at the Zoo's Barlin-Kahn Family Panda Trek; and two snow leopards: 5-year-old Penny and 6-year-old Ramil, residing in the Zoo's Asian Passage.
The Canadian lynx species is native to North America. It ranges across Canada and into Alaska and other parts of the northern United States, extending down the Rocky Mountains to Colorado, where they were reintroduced in the 1990s. It is listed as species of least concern on the International Union for Conservation of Nature (IUCN) Red List of Threatened Species.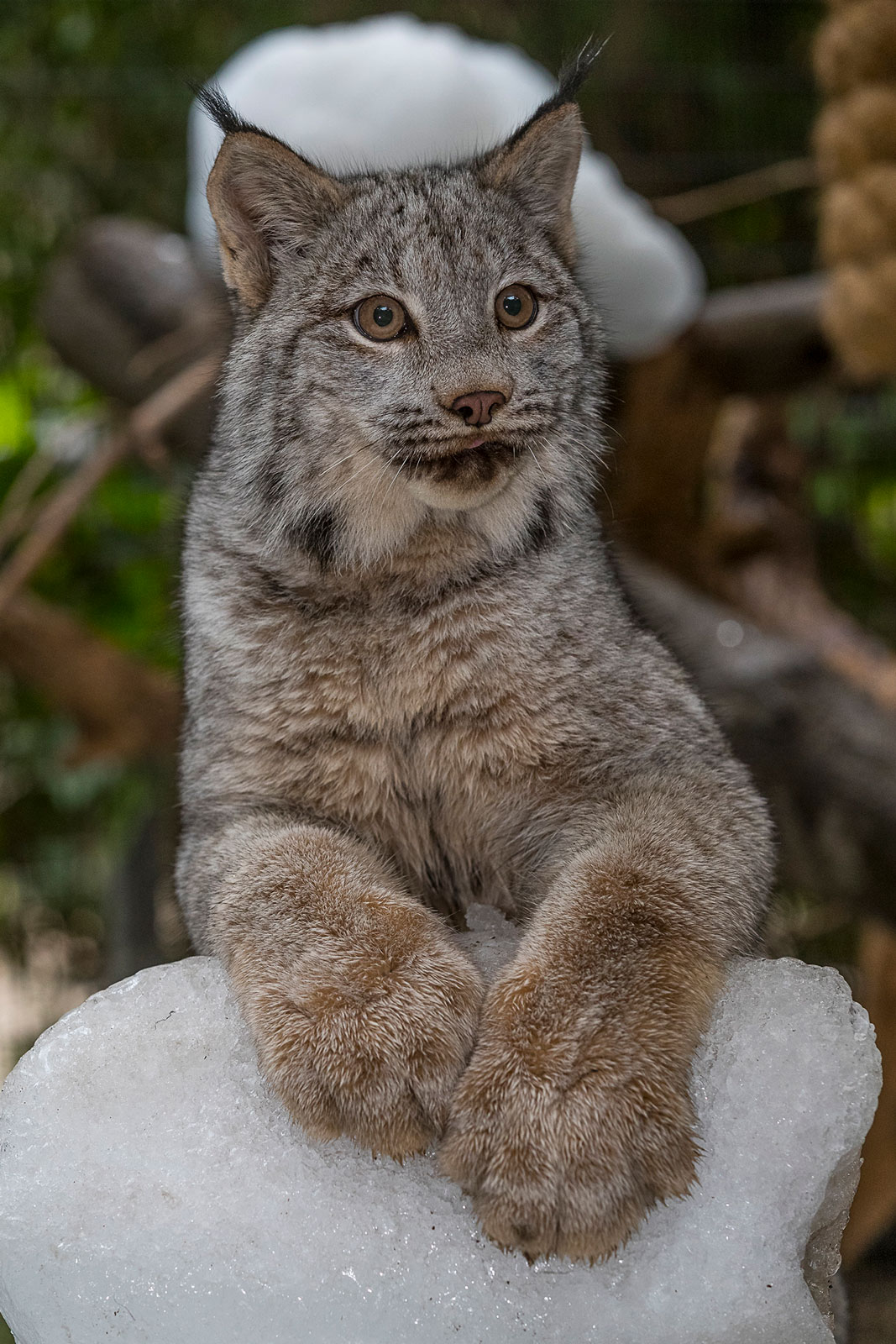 The Amur leopard is listed as critically endangered on the IUCN Red List. Fewer than 70 Amur leopards have been documented in their native habitat, the Primorye region of the Russian Far East, making them the rarest big cat species on the planet. These mostly solitary animals were once found in northeastern China, Russia and the Korean Peninsula, but those populations have been decimated, due to loss of habitat and poaching for their thick, spotted coats. San Diego Zoo Global and other zoological organizations around the world have joined together with the hope of conserving this species. More than 94 institutions, caring for over 220 leopards, take part in the Global Species Management Program (GSMP)—an international conservation effort in which scientists work to increase regional animal populations.
Snow leopards are native to the cold, rugged mountains of central Asia. They are listed as vulnerable on the IUCN Red List, primarily due to habitat loss and poaching. It is estimated that fewer than 7,000 snow leopards exist in the wild. San Diego Zoo Global supports the Snow Leopard Trust and the Amur Leopard and Tiger Alliance, two organizations working to conserve these animals in their native habitats.
Guests can see these cat species and hundreds of other fascinating animals at the Zoo during Jungle Bells presented by California Coast Credit Union—now through Dec. 23, and Dec. 25 through Jan. 6, 2019. During each day of this special holiday season event, the Zoo is open until 8 p.m.; however, the Zoo closes at 5 p.m. Dec. 24. Jungle Bells allows guests to experience exotic animals after dark and enjoy seasonal treats, entertainment, festive light displays and more. For a schedule of activities and more information, visit sandiegozoo.org/junglebells.