Giveaway—for Zoo Guests Only—Set for July 16–18, 2018, While Supplies Last
As thousands begin to pour into San Diego for the 2018 Comic-Con International: San Diego (July 19–22), San Diego Zoo and DC Entertainment are offering a super-heroic surprise for superhero fans and comic book lovers. In collaboration with San Diego Zoo Global, DC Entertainment has created a brand-new, limited-edition comic book, Vixen and the Justice League: Wildlife Heroes, which focuses on saving species from extinction. Guests who visit the San Diego Zoo on July 16, 17 or 18 starting at 9 a.m. can get a free copy of this unique comic featuring Vixen and her friends from the Justice League—but only while supplies last and with Zoo admission. Only a limited number will be given out to Zoo visitors on each of the three days. As a bonus, San Diego Zoo guests can save 20 percent off Zoo admission at the gate if they wear DC Comics branded apparel (shirts, caps, jackets, etc.) during those three days (but no costumes, please).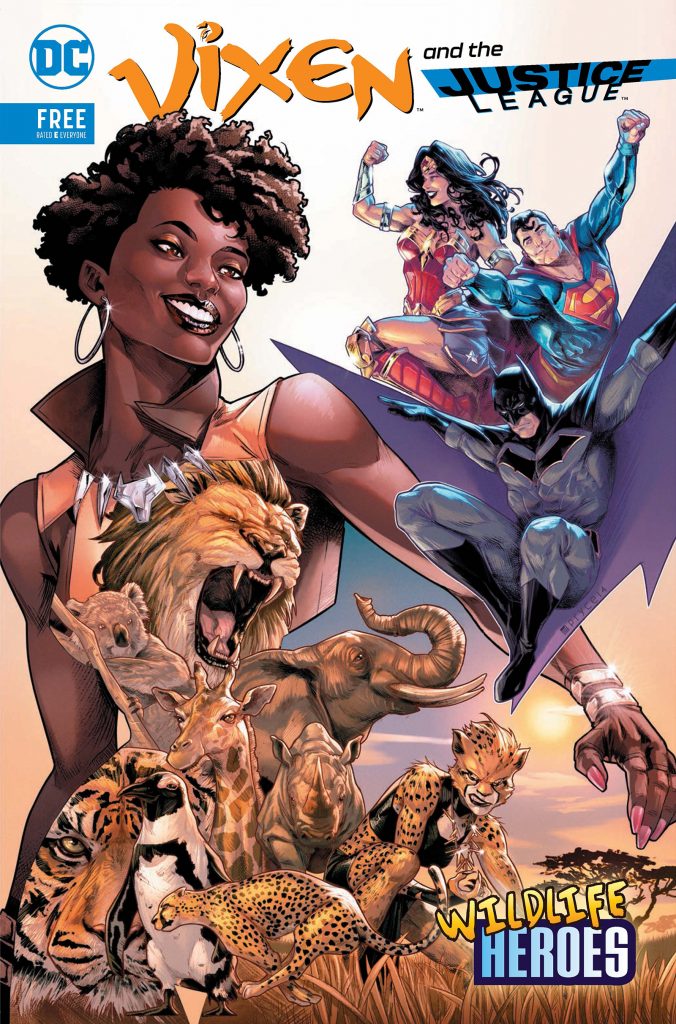 In Wildlife Heroes, Vixen and the Justice League must come to the rescue of imperiled wildlife around the globe, and Vixen must battle villainous forces and dangerous poachers. Fans of the DC Universe will be familiar with the heroine of this story. Born in the fictional village of Zambesi, Mari Jiwe McCabe was raised by her father after her mother was killed by poachers. She later acquired the "Tantu Totem," an object that grants those who wear it the amazing powers of the Animal Kingdom. Mari uses this totem to become the superhero Vixen—fighting crime and eventually joining the famous Justice League alongside Superman, Batman, Wonder Woman and Aquaman, who also appear in Wildlife Heroes.
Wildlife Heroes shines a spotlight on the current extinction crisis taking place in the real world—and the importance of supporting conservation efforts now, to save species and end extinction worldwide. Many scientists believe the planet is in the midst of a sixth mass extinction of animals and plants—with decreasing animal populations and losses of entire species occurring thousands of times faster than in recent history. San Diego Zoo Global and many other conservation organizations—including accredited zoos in the United States and other zoos around the world—are working on scientific approaches aimed at combating the crisis. Through conservation field projects, species recovery programs, genetics and reproductive technology expertise and public education, San Diego Zoo Global and other organizations hope to turn the tide. Like Vixen and the Justice League, it will take each of us using our own powers and working together to make a difference.