A crowd gathered outside the window of the San Diego Zoo Safari Park's Ione and Paul Harter Animal Care Center nursery earlier today hoping to get a glimpse of three cheetah cubs. The three cheetah siblings—one male and two females—did not disappoint, as they curiously watched the people, explored their surroundings, played with each other and, typical of any infant, after one of their five daily feedings, settled in for a long nap.

The almost 7-week-old cheetahs were born Jan. 6 at San Diego Zoo Global's off-site Cheetah Breeding Center to an inexperienced mom named Malana. In an effort to care for her cubs, Malana inadvertently caused minor injuries to them. After being with their mother for five weeks, the cubs were taken to the Animal Care Center to be monitored for medical issues. Keepers will keep close watch over them, feeding them a special diet of soft carnivore food and formula, and weighing them to monitor their health. After they turn 12 weeks old and receive their three-month immunization, they will be returned to their home at the Cheetah Breeding Center.
The cheetah siblings don't have names yet, but keepers call them "Purple", "Yellow" and "Blue" because of the colors of temporary ID markings placed on their tails. Purple is the smallest of the two sisters, and keepers describe her as feisty and very playful—and she has a big appetite. Yellow is also very playful and loves cuddling with her siblings; and Blue, the only male, loves to play and take extra-long naps.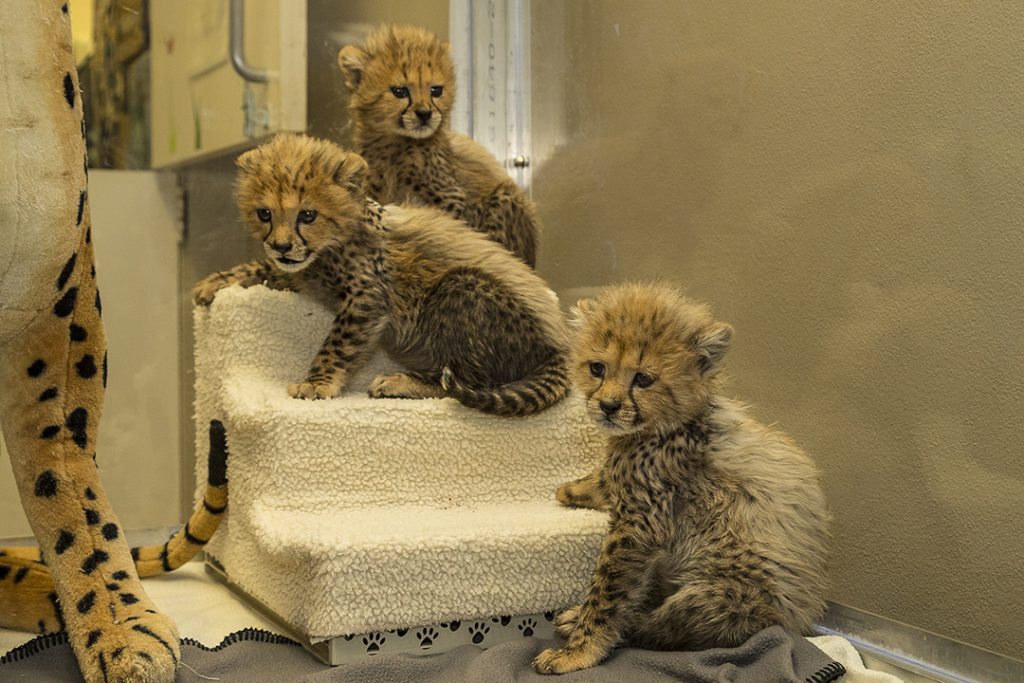 Cheetahs are found in Africa and a small part of Iran. They are classified as Vulnerable on the International Union for Conservation of Nature (IUCN) Red List of Threatened Species. It is estimated that the worldwide population of cheetahs has dropped from 100,000 in 1900 to just 7,000 today, with about 10 percent living in zoos or wildlife parks.
The San Diego Zoo Safari Park is one of nine breeding facilities that are part of the Cheetah Breeding Center Coalition (CBCC). The goal of the coalition is to create a sustainable cheetah population that will prevent extinction of the world's fastest land animal. San Diego Zoo Global has been breeding cheetahs for more than 40 years, with more than 160 cubs born to date.
Guests visiting the Safari Park over the next five weeks may see the cheetahs in their nursery at Nairobi Station between 9 a.m. and 5 p.m. daily.