Today, December 4, is International Cheetah Day. So we're putting the spotlight on our newest cub at the Safari Park.
Sibling rivalry can be fierce. Just ask the four-pound bundle of feline preciousness that arrived at the San Diego Zoo Safari Park's Ione and Paul Harter Animal Care Center (ACC) on November 13, 2017. The female African cheetah cub, born at a wildlife center in Texas, was the runt of a litter of six—and odd cub out when it came to competing at nursing time. Animal care staff decided she would have the best chance if hand-raised, and once she had bottles all to herself, she began gaining weight and thriving.
The cub, whose name "Roketi" (Swahili for rocket) is a nod to her species' notable speed, settled in nicely at the ACC.  At first, keepers bottle-fed her formula four times a day. As she grew, meat was added to the milk, making a yummy slurry that she eagerly lapped up.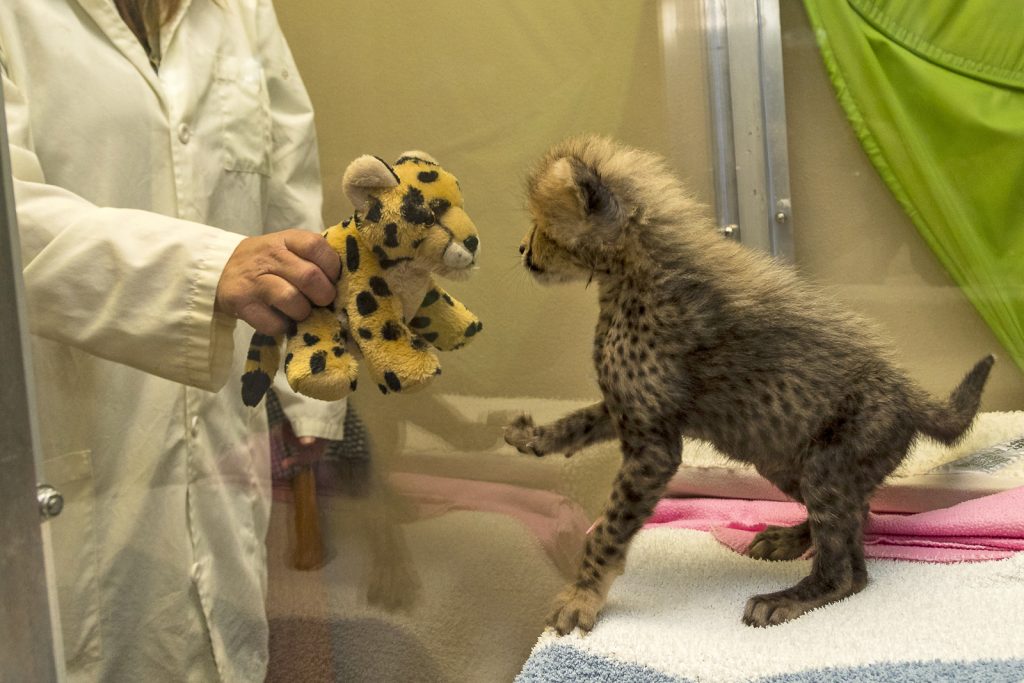 Along with food, Roketi's favorite pastimes include interaction and attention from keepers. She engages her already-busy caregivers in frequent, spirited games of tug-of-war with her plush toys (the rhino's horn is particularly attractive). Her spotted coat and baby fluff, combined with her sweet personality, make this now six-pound cat (as of December 1) the queen of cuteness.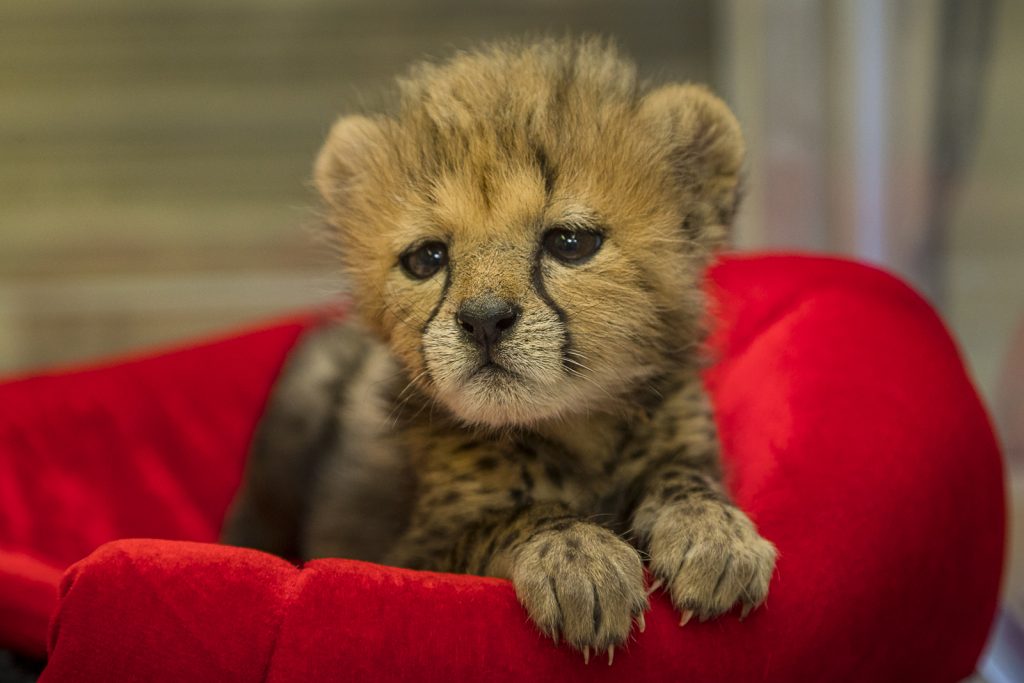 As one might expect, Roketi and her antics have amassed quite the adoring public at the ACC. Her room, where she is currently viewable daily (the blinds are closed periodically for catnaps), often becomes a cheetah cub speedway as she runs laps, chirping excitedly. "She sees her reflection in the window and is racing that other cheetah," explains Ian Chatfield, a keeper at the ACC. The real winner appears to be her audience, although these play sessions are also natural behavior for a growing cheetah cub as she learns balance and practices her coordination. Each day finds her a little stronger and more agile.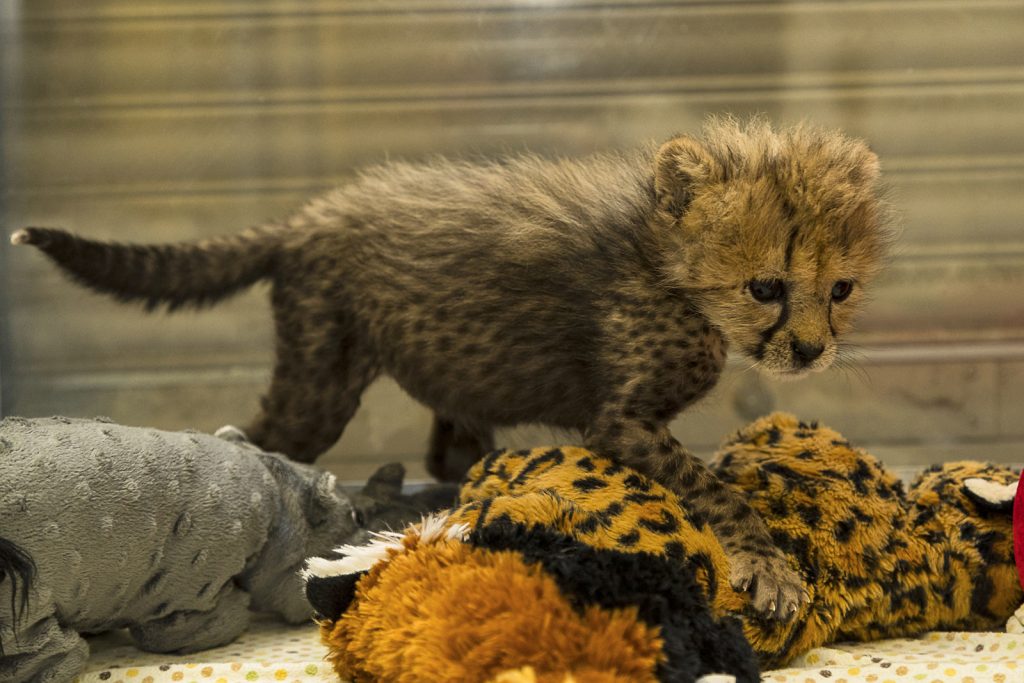 As a hand-raised cheetah, confident Roketi is a perfect candidate for a role as an animal ambassador. Trainers from the San Diego Zoo, where Roketi will live, began visiting her when she was only about eight weeks of age, getting to know the youngster and letting her become familiar with them. Honey, one of the Zoo's dog animal ambassadors, will tag along on a visit soon, to see if she and Roketi would enjoy a playdate. If things go according to plan, Roketi will be heading to the Zoo in early January, 2018. And as is the case with some female cheetahs, she may just prefer to fly solo as an ambassador (with human escorts, of course!), rather than as part of the dog-and-cheetah duos that visitors are used to seeing around the Zoo and on TV news segments. Roketi will be joining Animals in Action at the Zoo, and early next year should be making regular appearances in Urban Jungle in the ambassador exercise yard. Who knows? Future guests could come upon Roketi making her way across Zoo grounds. Here's hoping they can keep up!
Peggy Scott is an associate editor with San Diego Zoo Global. Read her previous blog, "Green" and "Bear" It: Plants with Animal Names.