A small male Bengal tiger cub was brought to the Paul Harter Veterinary Hospital at the San Diego Zoo Safari Park on Wednesday (Aug. 23, 2017) by U.S. Fish and Wildlife Service officers, and was placed in the care of veterinary staff. The young tiger had been rescued earlier that day by U.S. Customs and Border Protection officers, who found the cub while inspecting a vehicle that was entering the U.S. from Mexico.
Veterinary staff at the hospital performed a thorough health exam on the tiger cub and determined that he was in good health, overall. "His heart and lungs sound good, his blood work looked great and, since he took a bottle from us, it's a good sign he'll continue to thrive," said Dr. Jim Oosterhuis, principal veterinarian.
"I estimate the cub to be between 5 and 6 weeks old, and he weighs in at a little over 6 pounds," Dr. Oosterhuis said. "He has teeth coming in, so he'll be teething in the next week or two—so, animal care staff will have a little chore getting him through that."
After spending a couple of hours at the hospital, the cub was transferred to the Ione and Paul Harter Animal Care Center at the Safari Park, where experienced keepers are caring for him around the clock. The cub is housed in an isolated area, away from other animals, in accordance with San Diego Zoo Global's protocols for new arrivals.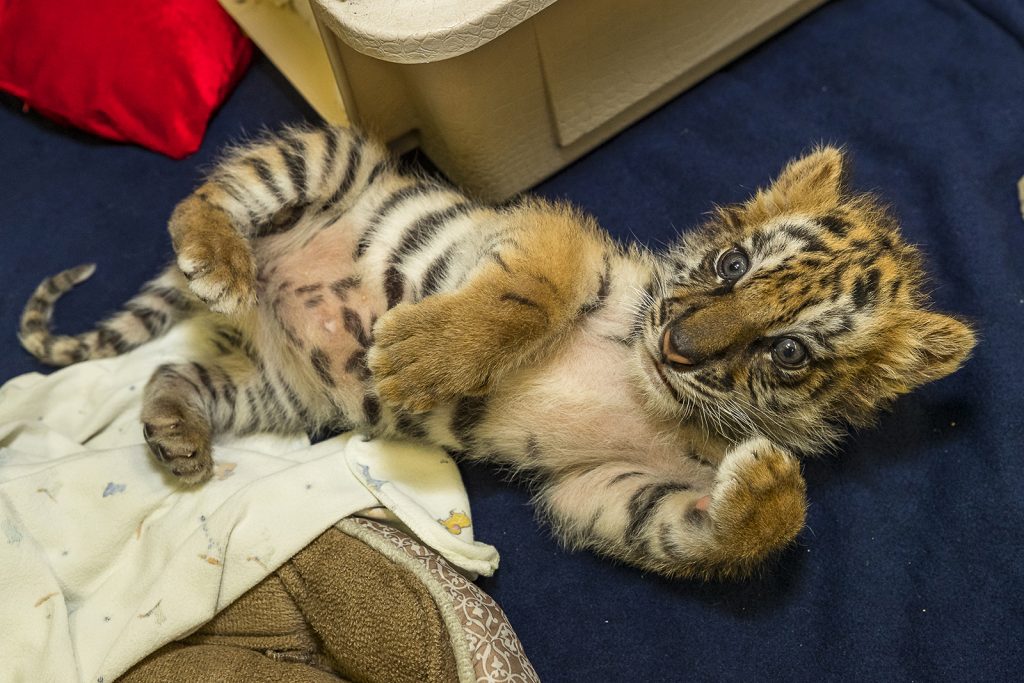 Guests at the Safari Park will be able to view the tiger cub at the Animal Care Center's nursery window, at various times throughout the day. San Diego Zoo Global will continue to provide care and sanctuary for the cub until U.S. Fish and Wildlife Service officials determine his permanent home.
The U.S. is a party in the Convention on International Trade in Endangered Species of Wild Fauna and Flora, an international agreement commonly known as CITES. This treaty regulates trade in endangered species of wildlife, plants and their products.
International trade in species listed by CITES is illegal unless authorized by permit. Additional information on importing and exporting endangered species is available at cbp.gov.