Leopard Sharks Join Penguins at the All-new Conrad Prebys Africa Rocks
The San Diego Zoo has been home to hundreds of species of animals in its 101-year history. However, when 12 leopard sharks began moving into the all-new Conrad Prebys Africa Rocks (Wednesday, June 28, 2017), it marked the first time the Zoo has ever displayed sharks.
"We are very excited to have sharks on display in this new, beautiful aquatic habitat at Africa Rocks," said Kim Lovich, curator of herpetology and ichthyology, San Diego Zoo. "We think our guests are going to enjoy seeing and learning about these fascinating animals. Our reptile team has been training for over a year to learn the skills necessary to care for the shark, and the saltwater pool in which they reside," Lovich added. "We are grateful to SeaWorld San Diego for lending their expertise to our team, on the care of these animals."
SeaWorld San Diego donated the leopard sharks to the Zoo and delivered them to the new Cape Fynbos habitat at Africa Rocks on Friday, June 23. Upon arrival, animal care specialists from both facilities carefully moved the sharks from their traveling containers into holding pools behind the scenes at the new habitat. To provide the sharks with the optimal opportunity to thrive, a keeper was with them in the pool initially, to ensure they were swimming properly and acclimating well to their new surroundings.
After being closely monitored for a few days, the sharks underwent thorough medical exams Monday, June 26. On Wednesday, June 28, animal care staff begin introducing the sharks into the 200,000-gallon seawater main pool, where they met their new pool mates: 20 African penguins.
"So far we have released ten shark into the exhibit pool. They appear to be doing very well, showing nice swim patterns and swimming in both the shallow and deep ends," said Ben Nevitt, DVM, Associate Veterinarian, San Diego Zoo. "The penguins are showing a slight interest in the shark but both the penguins and shark appear to be settling in nicely together in their exhibit."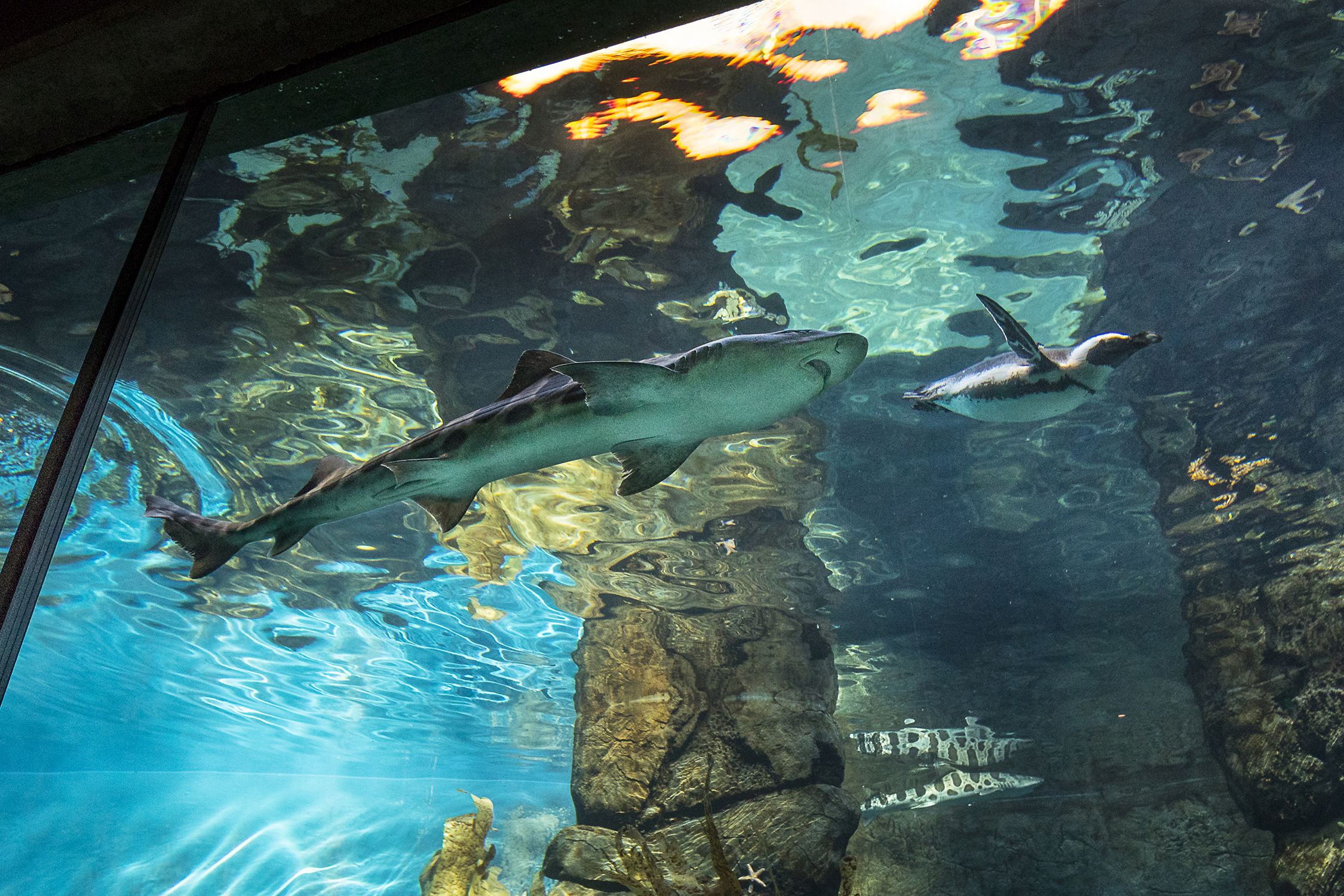 Having penguins and sharks in the same habitat is an opportunity for Zoo guests to learn about the diversity of aquatic life, and that not all sharks are scary. Leopard sharks do not see penguins as a food source. They live in shallow waters and primarily feed on invertebrates at the bottom of the ocean—including crabs, shrimp, clams, and anchovies. There are many species of birds, sharks and mammals that share our oceans harmoniously.
Leopard sharks are not native to Africa, but are similar to species found in the waters where African penguins live. Leopard sharks are one of the most common sharks along the coast of California, and the International Union for Conservation of Nature (IUCN) Red List of Threatened Species lists the leopard shark as a species of Least Concern. The 12 sharks in the Cape Fynbos penguin habitat range in age from 5 to 20 years, and they average between 3 and 5 feet in length.
The Cape Fynbos penguin habitat in Africa Rocks features a cobblestone beach surface, penguin nesting areas and rockwork that mimics the granite boulders found at Boulders Beach in South Africa. The 70-foot-long and 10-foot-wide habitat includes a 200,000-gallon pool that stretches 170 feet, with depths up to 13 feet.
Visitors to the San Diego Zoo can see the leopard sharks swimming alongside the Zoo's colony of endangered African penguins when the Cape Fynbos habitat at Conrad Prebys Africa Rocks opens July 1.