Construction Crews Connect Last Section of Bridge Superstructure
Navigating the hills and canyons at the San Diego Zoo can be quite a workout for visitors, but soon guests will have a new way to get around the lush 100-acre property. Today (Thursday, March 23, 2017), construction crews using a 550-ton crane lifted into place the last section of a new bridge that is expected to make walking around the Zoo not only easier, but also much faster. The new 450-foot bridge, currently known as the Mesa Bridge, will connect Benchley Plaza, located in Lost Forest on the east side of the Zoo, to Elephant Odyssey on the west side—meaning guests will soon have the opportunity to walk from the front entrance to the other end of the Zoo in mere minutes. Zoo officials said they are excited about the potential for the bridge to improve traffic flow throughout the Zoo.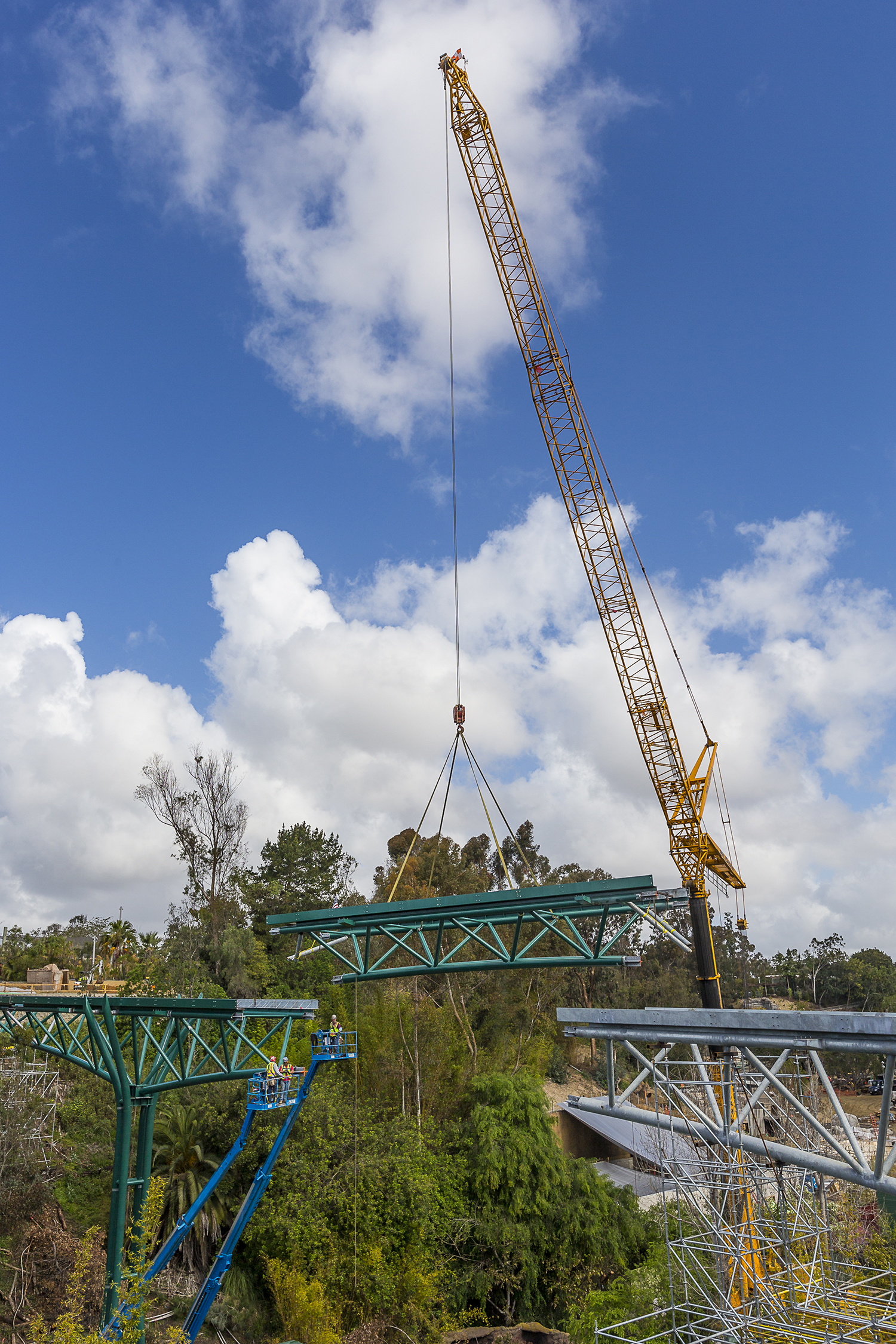 "This is a really thrilling project that will effectively change the traffic patterns throughout the Zoo, "said David Rice, corporate director of architecture for San Diego Zoo Global. "The bridge will make navigating the Zoo much easier for both guests and employees, especially children, senior citizens, parents with strollers, and the disabled."
Crews still have a lot of work to do to get the bridge ready for visitors. Much of the bridge needs to be painted, and construction crews are still working on the three large passenger elevators and looping staircases that will help guests get from Panda Canyon to the bridge proper.
Mesa Bridge is expected to open this summer along with Conrad Prebys Africa Rocks—the largest expansion in the Zoo's history. The Africa Rocks exhibit is a $68 million project that will transform eight acres of the Zoo, replacing 1930s-era grottos and enclosures (formerly known as Cat and Dog Canyon),with new habitats for African plant and animal species. Africa Rocks will feature six distinct animal habitats, including Cape Fynbos (where African penguins will reside), West African Forest, Acacia Woodland, Ethiopian Highlands, Kopje, and Madagascar Forest. Also, the African Garden will feature plants native to Africa. Africa Rocks will be home to birds, reptiles, plants, and mammals native to Africa, including Hamadryas baboons, gelada, West African dwarf crocodiles, vervet monkeys and lemurs.
Zoo guests will be able to walk along the new bridge and experience their first taste of Africa Rocks when both open in June.