Geriatric Care Expands in Zoological Settings
Vila, the world's second oldest gorilla in a zoological setting, is back with her troop today at the San Diego Zoo Safari Park, after veterinary staff performed a challenging medical exam to determine why the great ape was retaining water. Animal care staff said Vila did very well during the procedure, and she was monitored closely before returning to her troop. Veterinary staff will now analyze the data, to determine whether additional treatment options are needed.
Vila (pronounced VEE-la), a critically endangered western lowland gorilla, has been undergoing medical treatment for fluid retention in her limbs and face since last November. As with humans, there are many conditions that can cause fluid retention in apes, several of which can lead to life-threatening illnesses. In order to determine the cause of Vila's symptoms, veterinarians performed a full diagnostic exam, requiring Vila to be placed under general anesthesia for the procedure. Putting any animal under anesthesia involves risk, and for an aging ape such as Vila, the risks are magnified. However, veterinary staff said the exam was successful, and they are pleased with the information they received.
Vila's heart appears to be functioning normally," said Lauren Howard, DVM, associate director of veterinary services at the San Diego Zoo Safari Park. "We'll have a confirmation of this after her results are evaluated by the Great Ape Heart Project. This is a very pleasant surprise for such an old gorilla."
Zoos have long been honored for offering excellent medical care, but their exemplary work has helped animals to live much longer than they might in their native habitats, – posing new challenges for animal care professionals who are caring for them throughout their increased life spans.
"Just as people get older, when animals get older, they can have multiple problems," said Howard. "It's hard sometimes to know exactly which problem is the main problem—and you have to manage multiple conditions at once."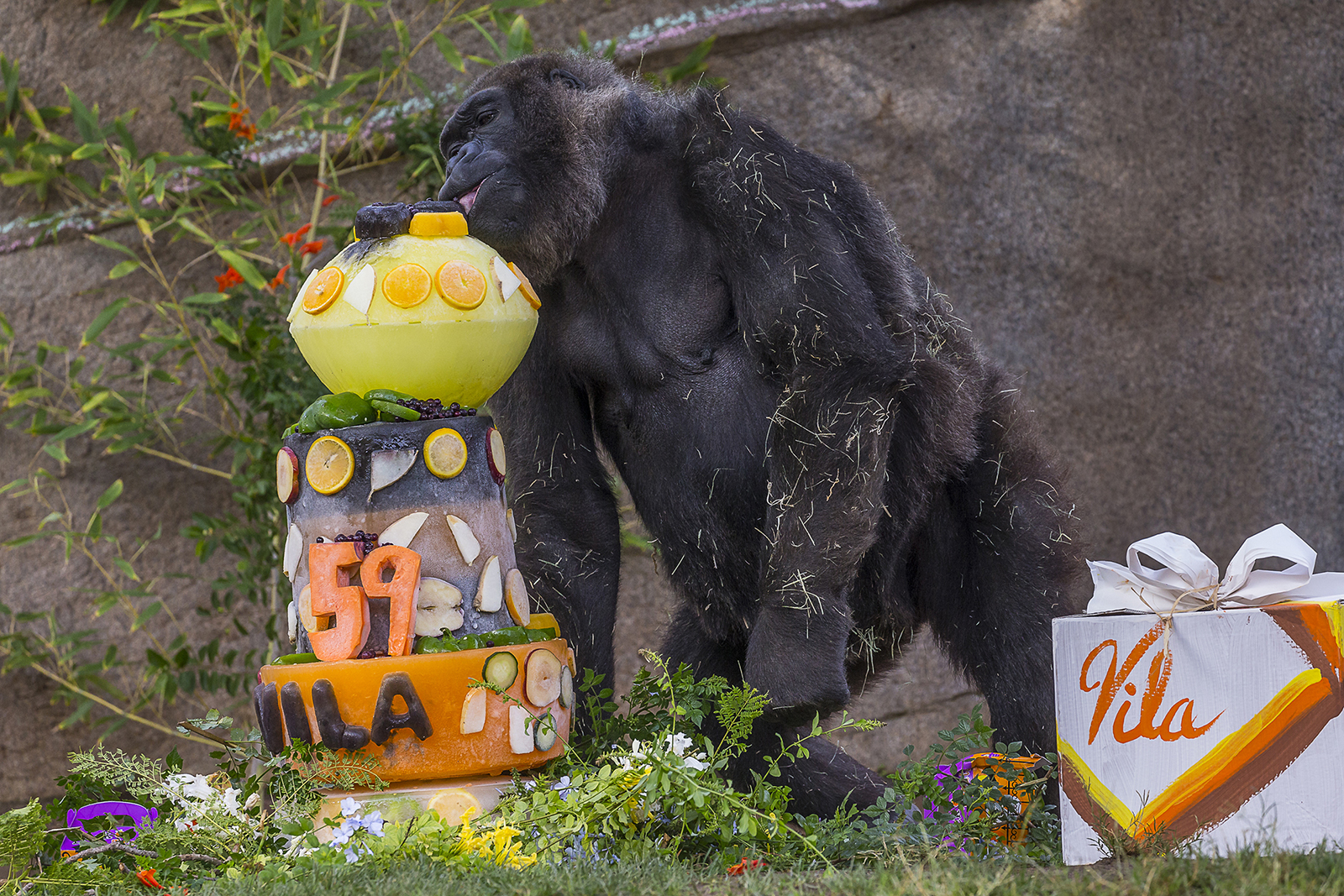 Vila is estimated to have been born in the Congo in 1957, and she is scheduled to celebrate her 60th birthday this year. She is much older than gorillas living in their native habitat, which have a life expectancy of 35 to 40 years. After arriving in the United States, Vila was hand raised at the San Diego Zoo and later moved to the Safari Park, where she has lived since 1975. There are two other western lowland gorillas that are close in age to Vila: one at the Little Rock Zoo in Arkansas (estimated to have been born in 1957, arriving in the U.S. in June 1958) and one at Zoo Berlin in Germany (estimated to have been born in 1957, arriving at the zoo in May 1959).
The Safari Park's Gorilla Forest is home to a troop of nine western lowland gorillas—an adult male silverback, four adult females, two young males, one young female and the newest addition, a female baby born last October.