Two Australian Zoos Awarded for Work to End Extinction
San Diego Zoo Global is honoring the work of two prominent Australia zoos for their significant efforts in wildlife conservation worldwide. During a ceremony, Monday, Aug. 8, 2016 with San Diego Zoo Global staff, representatives from Zoos Victoria in Melbourne and the Taronga Conservation Society Australia in Sydney were presented with the San Diego Zoo Global 2016 Conservation Partners Medal, shining a light on their efforts in wildlife conservation research projects, public education and strict animal welfare standards.
During the event, organizers shared information on Zoos Victoria's immense contribution to wildlife conservation. Zoos Victoria—an organization that includes the Melbourne Zoo, the Healesville Sanctuary and the Werribee Open Range Zoo—has made saving species its focus, while encouraging other zoos to do the same. Among Zoos Victoria's many international efforts was the organization's most popular and effective program, the "Don't Palm Us Off" campaign—an initiative to help save orangutan populations and their habitats by advocating for protecting rain forests that are being cut down to make way for palm oil plantations.
Jenny Gray, Ph.D., CEO of Zoos Victoria, accepted the award with gratitude, but stated Zoos Victoria will continue in its role as a leader in the fight to save species worldwide. "At Zoos Victoria, we have witnessed the extinction of native species in the wild and we believe it is unacceptable to allow species to decline without stepping in. Receiving this award is an honor and only encourages us to continue the fight against wildlife extinction."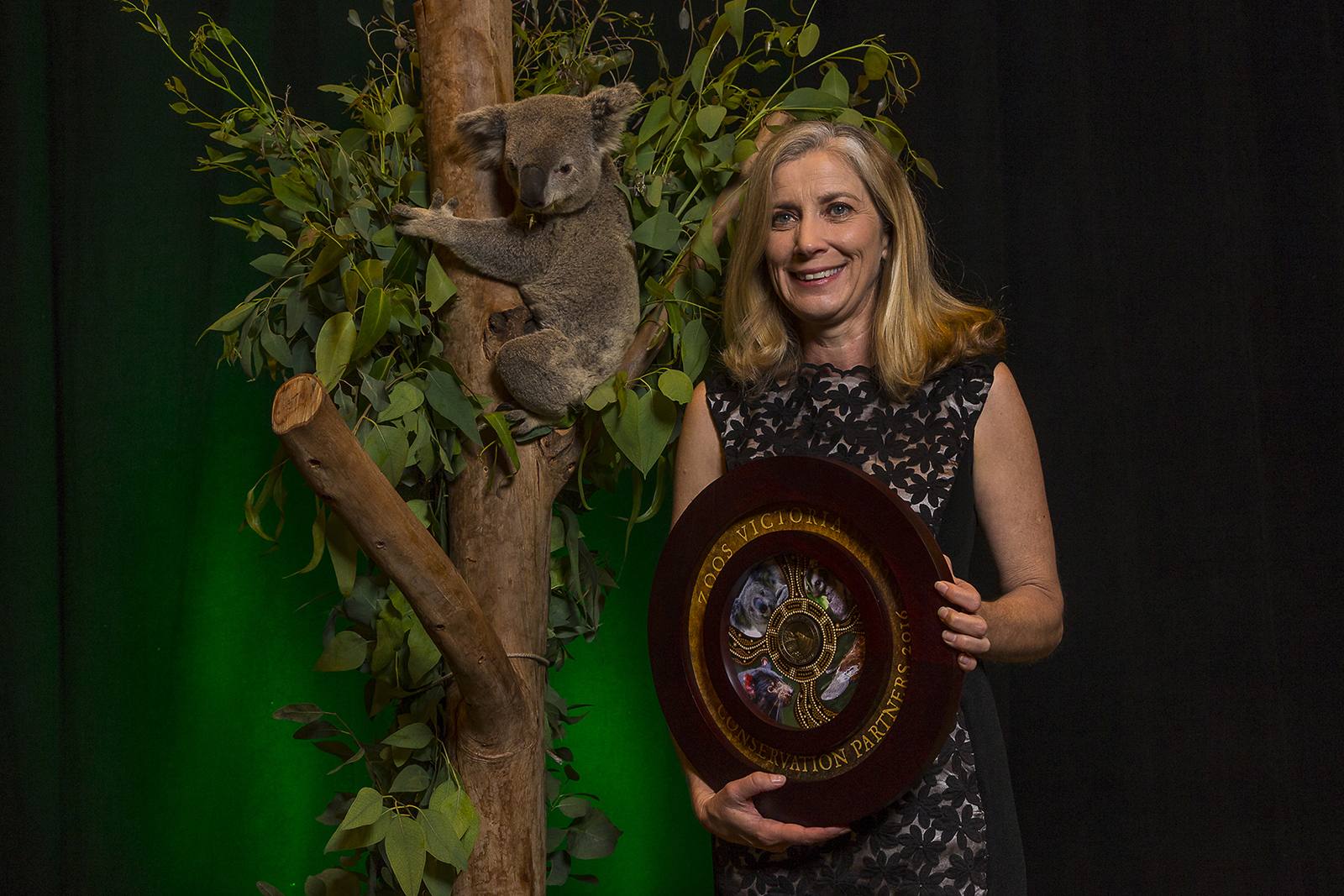 Currently, Zoos Victoria is working with communities, governments and nonprofit organizations to shine a light on the importance of native species conservation in their own backyard of Australia, more specifically Victoria. They're breeding 20 threatened native species—including frogs, lizards, parrots, and marsupials—in an attempt to promote population recovery.
Taronga Zoo in Sydney—which, like the San Diego Zoo, is celebrating its centennial this year—is a wildlife sanctuary for over 4,000 animals from more than 350 species, many of which are endangered. As part of its many conservation efforts, Taronga helped initiate a national strategy to save the Tasmanian devil and took the lead on breed-and-release programs for endangered regent honeyeaters and corroboree frogs.
Last year, the Zoo had more than 76 joint research and conservation projects underway, including whole-genome sequencing of the platypus and developing a tetanus vaccine for Asian elephants. Recently, Taronga developed a smartphone app to combat wildlife trafficking, and is partnering with San Diego Zoo Global to bring the app to the U.S. Cameron Kerr, director and CEO of the Taronga Conservation Society Australia, accepted the award for Taronga Zoo, highlighting the zoo's indigenous education programs and other premier environmental education programs for guests.
"We are at a significant juncture in the history of the Taronga Conservation Society Australia," said Kerr. "We are developing our capacity to deliver vitally important community education programs, as well as continuing our commitment to wildlife conservation."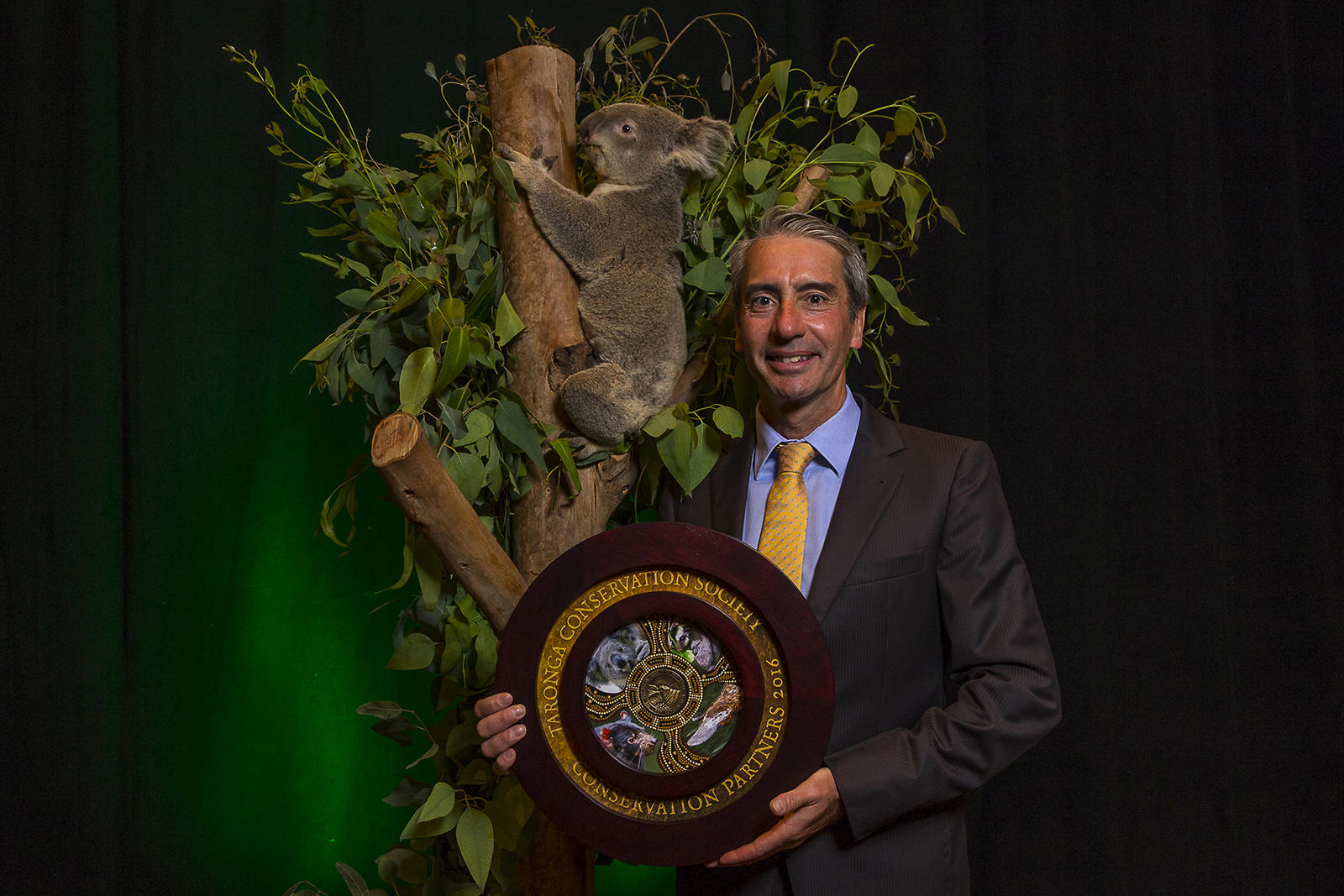 Since 1966, the Conservation Medal awards program has recognized world leaders and organizations who share San Diego Zoo Global's vision to end extinction. The recipients exhibit active and important contributions to the conservation and recovery of endangered species, habitats or ecosystems in the field through applied research, breeding and reintroduction programs, community education or the establishment of protected areas.
ABOUT SAN DIEGO ZOO GLOBAL
Bringing species back from the brink of extinction is the goal of San Diego Zoo Global. As a leader in conservation, the work of San Diego Zoo Global includes on-site wildlife conservation efforts (representing both plants and animals) at the San Diego Zoo, San Diego Zoo Safari Park, and San Diego Zoo Institute for Conservation Research, as well as international field programs on six continents. The work of these entities is inspiring children through the San Diego Zoo Kids network, reaching out through the internet and in children's hospitals nationwide. The work of San Diego Zoo Global is made possible by the San Diego Zoo Global Wildlife Conservancy and is supported in part by the Foundation of San Diego Zoo Global.
ABOUT TARONGA
Taronga Conservation Society Australia is a non-profit organization that operates Taronga Zoo in Sydney and Taronga Western Plains Zoo in Dubbo. Taronga is a leader in the fields of conservation, research and environmental education. Taronga is working tirelessly to achieve a shared future for wildlife and people, helping threatened species to breed, protecting their genetic diversity and even re-introducing them to the wild. The Zoos' conservation breeding programs for threatened wildlife help a myriad of species, from tiny vibrant Corroboree Frogs to majestic Asian Elephants. Taronga works in partnerships to support more than 35 research and conservation projects across Australia, and a further 35 programs around the globe. For more information visit: taronga.org.au
ABOUT ZOOS VICTORIA
Zoos Victoria is a zoo-based conservation organization that aims to secure a future rich in wildlife. We do this through innovative, scientifically sound breeding and recovery programs to support endangered Victorian species, partnering with the Victorian community to create the world's most wildlife-friendly society, providing profound zoo-based animal encounters to connect people with wildlife and through strong commercial approaches to secure financial sustainability. Visit zoo.org.au to learn more.