An enthusiastic crowd of more than 550 people gathered at the Spreckels Organ Pavilion May 14, 2016, donned hand puppets and acted out a story about Dr. Harry Wegeforth and the founding of the San Diego Zoo in 1916. The record-setting performance, which was officially achieved by 508 participants, was part of the Centennial Community Celebration hosted by San Diego Zoo Global in Balboa Park as a thank you to the San Diego community for their years of support.
Each participant was counted and given a hand puppet crafted by San Diego Zoo volunteers as they entered the seating area designated for the GUINNESS WORLD RECORDS attempt. San Diego Zoo entertainer "Dr. Zoolittle" led the crowd of more than 500 people in the performance that lasted a little more than two minutes and had the puppeteers make their puppets sleep, climb rocks and roar.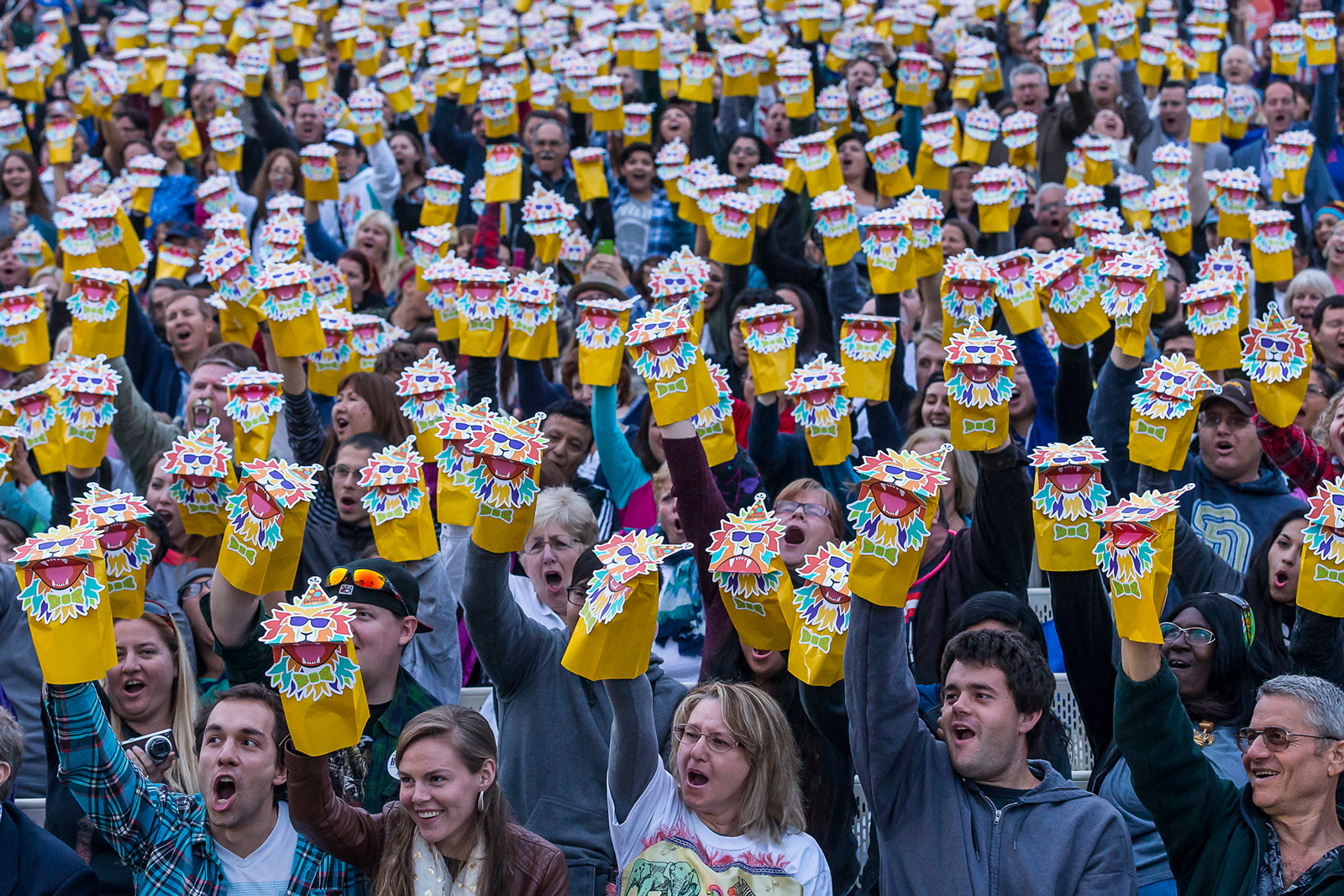 The hand puppet performers were overseen by GUINNESS WORLD RECORD Adjudicator Kimberly Patrick. Following a conference with the 12 volunteer stewards who assisted in making sure participants adhered to the guidelines, Patrick presented a certificate to "Dr. Zoolittle" stating "The largest gathering of people wearing hand puppets was achieved by San Diego Zoo Global (USA), in celebration of the organization's centennial year during the Centennial Community Celebration at Balboa Park in San Diego, California, USA, on 14 May 2016."
The hand puppets depicted a lion with a colorful mane, featured in the logo created for the Zoo's centennial. The puppets were designed with a "roaring" mouth, and each puppet was embellished with glued-on accessories that included a birthday party hat, sunglasses, or a bow tie.
The GUINNESS WORLD RECORD achievement was just one of many activities that took place during the Zoo's Centennial Community Celebration. Larger-than-life puppets were featured in the signature performance of the night—a 30-minute theatrical production commissioned by San Diego Zoo Global that featured the extraordinary pageantry of 31 puppeteers, performing with 24 puppets: an African lion, two orangutans, a Northern white rhino, seven giraffes, a California condor, an Asian elephant and a flamboyance of 11 flamingos.
A 50-piece orchestra, accompanied in parts by a 130-person choir, played an all-original musical score composed to represent each animal species featured in the show. Ten different habitat scenes were projected onto the walls of the pavilion during the performance, providing a stunning backdrop for the featured animal puppets.
The musical headliner of the show, Tony- and Grammy-winner Heather Headley, wowed the crowd with a song whose lyrics encourage everyone to help make the world a better place and echoes San Diego Zoo Global's goal of saving endangered species around the world from extinction, one species at a time. Headley is currently performing in The Color Purple at the Bernard B. Jacobs Theater in New York City.