A larger-than-life African lion roared from the Spreckels Organ Pavilion stage Saturday evening (May 14, 2016) — and the crowd of thousands roared back! The 11-foot-tall, 15-foot-long lion, operated by 4 puppeteers, was the king of the 30-minute theatrical production commissioned by San Diego Zoo Global for its Centennial Community Celebration, held at Balboa Park's Plaza de Panama and open to all San Diegans. The spectacular performance paid tribute to the lion that Dr. Harry Wegeforth heard roaring in Balboa Park 100 years ago, which inspired him to found the Zoological Society of San Diego in 1916. Today, the "roar" symbolizes the conservation work of the 100-year-old organization, as San Diego Zoo Global continues to call for everyone to join its fight to end the extinction of animals, plants and habitats.
The production on Saturday night opened with a dramatic visual display and San Diego Mayor Kevin Faulconer, San Diego City Councilmember Todd Gloria and San Diego Zoo conservation ambassador Joan Embery honoring the San Diego Zoo and the San Diego community for their support throughout the years. The speakers shared the stage with three large gift boxes that were delivered earlier in the week to Balboa Park. When the gifts were opened, they revealed an Asian elephant, a California condor and an African lion. The extraordinary pageantry puppets also included two orangutans, a northern white rhino, seven giraffes and a flamboyance of 11 flamingos, which were brought to life before the audience's eyes. The puppets represent species that San Diego Zoo Global has worked with for much of its history — including the California condor, which once numbered only 22 birds and now has a population of more than 400, with more than half living once again in their native habitat.
The 24 puppets were created by Puppet Kitchen Productions, and they performed with 30 dancers, who moved to original choreography created by show director Gregg Birkhimer and choreographer Greg Sample. With more than 50 years of experience in productions, Puppet Kitchen Chefs Eric Wright, Emily DeCola, and Michael Schupbach, along with 15 other artisans, built these puppet creatures from hundreds of different types of materials, including hand-painted fabrics and foams, wood, plastics, metal and Tyvek house wrap.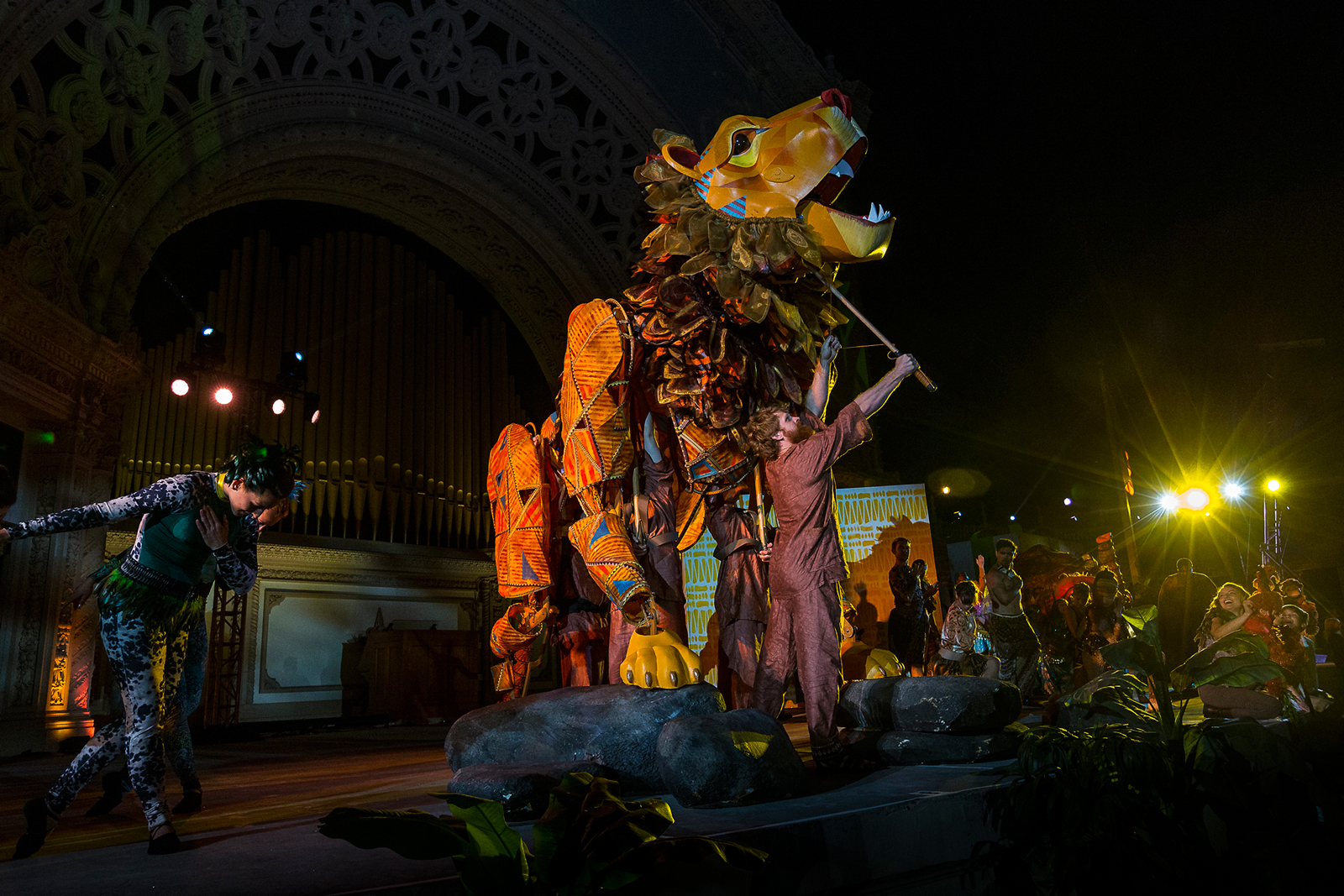 "We've loved the collaboration of creating these puppets for the San Diego Zoo Centennial Community Celebration," said Emily DeCola, principal designer, Puppet Kitchen Productions. "As puppet designers, we were first inspired by these endangered animals' own dynamic movement, and then looked to their human neighbors for exciting patterns and motifs. Bringing such detailed and huge animals to life is a big group effort, and we're thrilled to collaborate with the hundreds of talented individuals who have put together this tremendous event."
A 53-piece orchestra, accompanied in parts by a 130-person choir, played the all-original musical score composed to represent each animal species featured in the show. Ten different habitat scenes were projected onto the walls of the pavilion during the performance, providing a stunning backdrop for the featured animal puppets.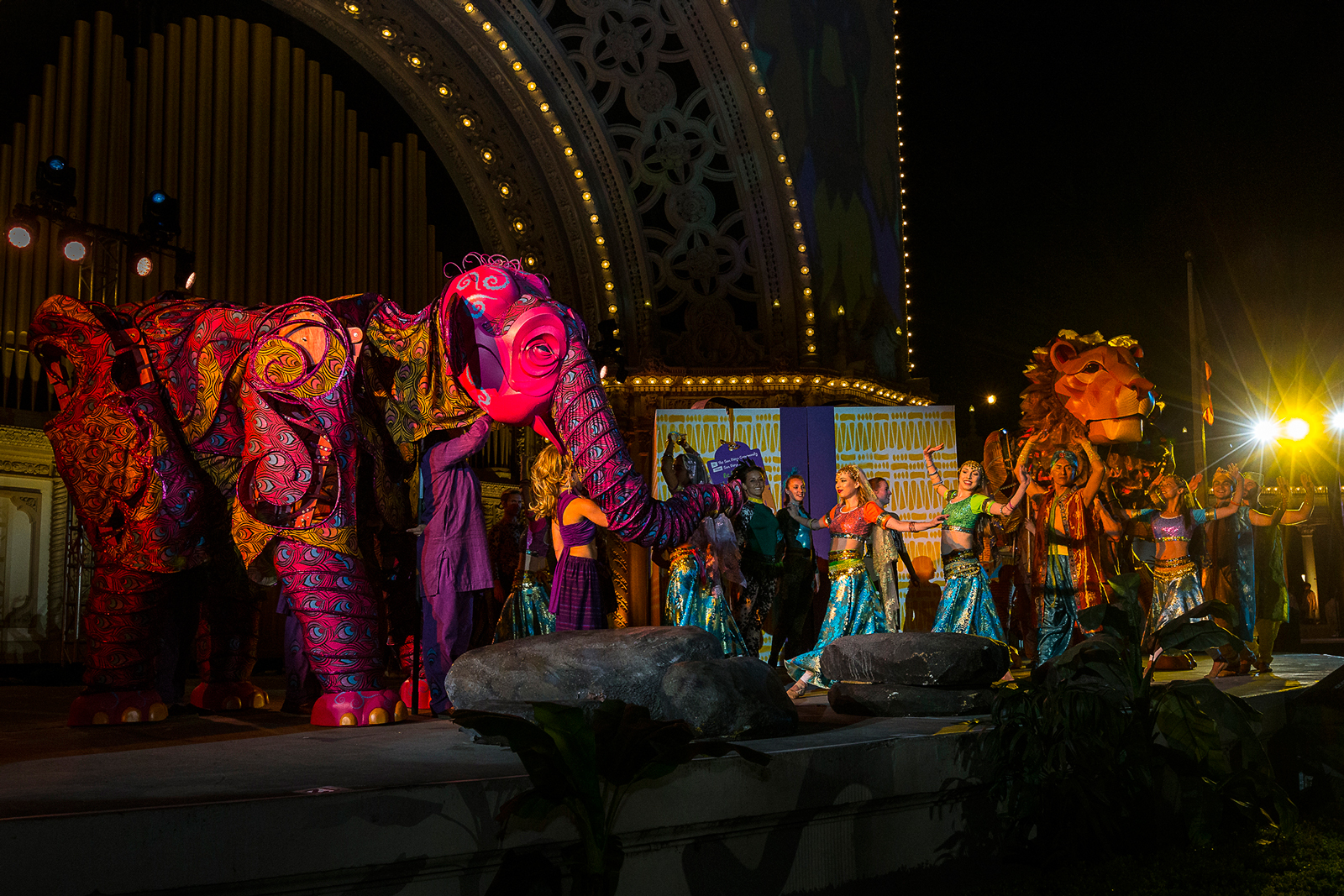 The musical headliner of the show, Tony- and Grammy-winner Heather Headley, wowed the crowd with a song that encouraged everyone to help make the world a better place, which echoed San Diego Zoo Global's goal of saving endangered species around the world from extinction, one species at a time. Headley is currently performing in The Color Purple at the Bernard B. Jacobs Theater in New York City.
"This spectacular live performance celebrated a century of the San Diego Zoo's passion for life and the courage to defend and protect wildlife," said Mark Howell, president of Mark Joseph Creative and executive producer of the Centennial Celebration. "We are honored to design and produce such a historic event honoring the San Diego Zoo and their efforts toward conservation and education over the past 100 years. Partnering with Brite Ideas and Spangler Event Productions ensured that creating this historic affair was executed beautifully."
Pre-show activities at the Centennial Community Celebration included live music from five different bands, including "The Koalas," "The Chameleons" and "The Kangaroos," as well as performances by the dance group "The Funky Monkeys." San Diego's official civic organist, Carol Williams, also gave a 20-minute concert at the Speckels Organ Pavilion, playing the world's largest outdoor pipe organ.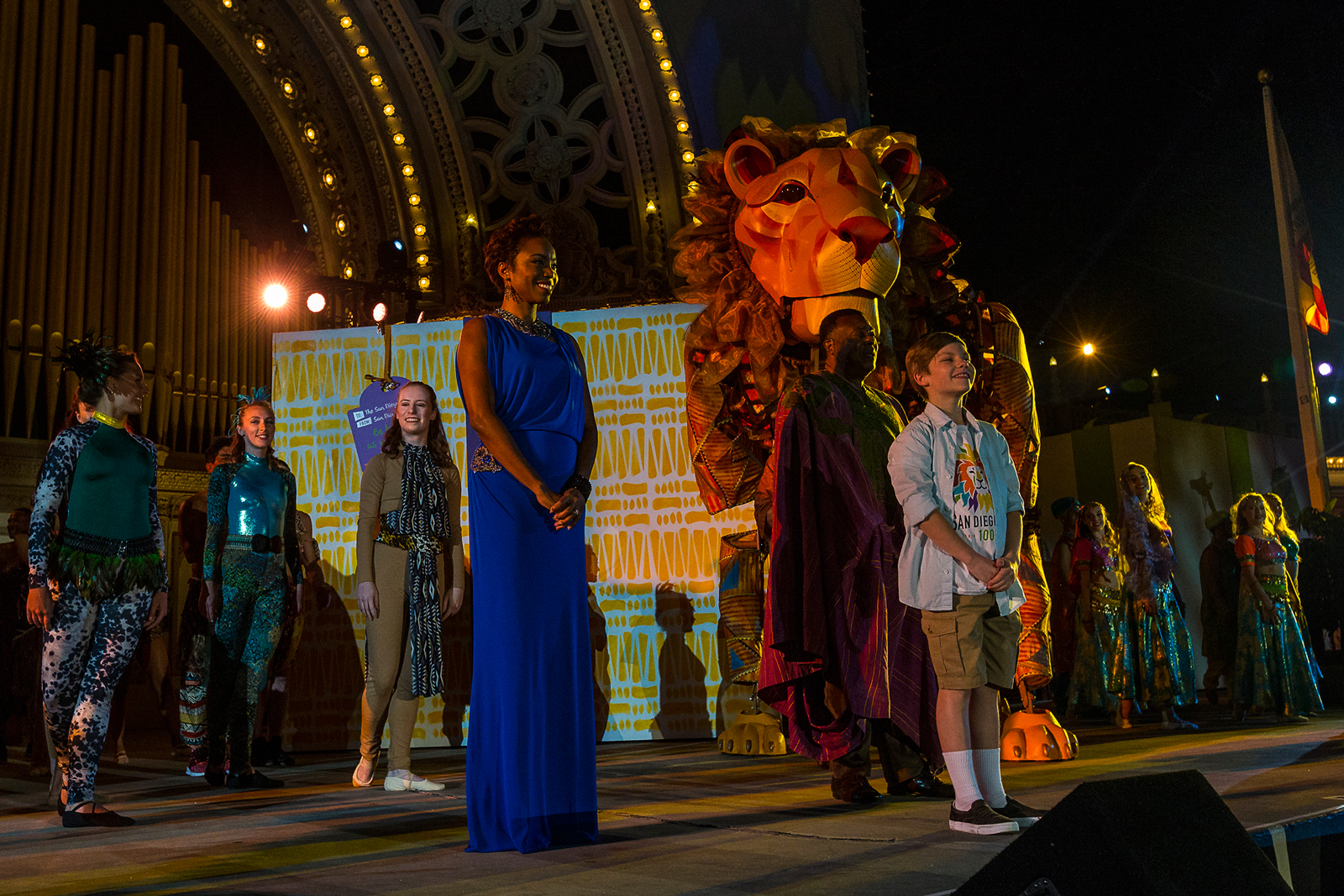 Food trucks served up a variety of different cuisines, and guests explored an array of tents showcasing activities and spotlighting the Zoo's conservation work, both locally and worldwide. Kids and their parents could create a lion hand puppet in one craft booth hosted by the Zoo's Education Department, and learn about the Zoo's accredited botanical collections in another tent. One of the most popular areas was the tent where Rick Schwartz, San Diego Zoo Global ambassador, presented Zoo animal ambassadors, including a three-banded armadillo, a porcupine, a tamandua, and a great-horned owl. Party-goers also took the opportunity to visit the San Diego History Center, the Museum of Photographic Arts and the San Diego Museum of Art, to see their "Part of the Pride" exhibits as they stayed open late for the Zoo's Centennial Community Celebration.