Joanne, a western lowland gorilla, was feted at the Safari Park earlier today in celebration of her second birthday. The little gorilla rode on her mother's back as they entered the gorilla habitat, which had been decorated by her keepers. Mom quickly scooped up tasty treats such as strawberries and popcorn while Joanne took her time getting into the action. While the rest of the troop scattered throughout the exhibit, finding and eating their favorite snacks, the birthday girl was content to climb rocks, swing on ropes, play with a stick of bamboo filled with sunflower seeds, and eat flowers from plant trimmings given to the gorillas by the Safari Park's horticulture team.
For the celebration, the Safari Park's nutritional services team created a colorful birthday cake complete with a number "2" on the top and ice pieces that spelled out "Joanne." The cake was made from flavored ice and decorated with yam paste, grapes, raisins, strawberries and greens. The staff also made cupcakes with low-fat biscuits and gelatin and iced them with yam, and then placed them around the habitat for the gorillas to enjoy. Joanne played and collected lettuce and popcorn, while her father, Winston, claimed her birthday cake as his own, eating all the treats off of it and leaving just the ice formations behind.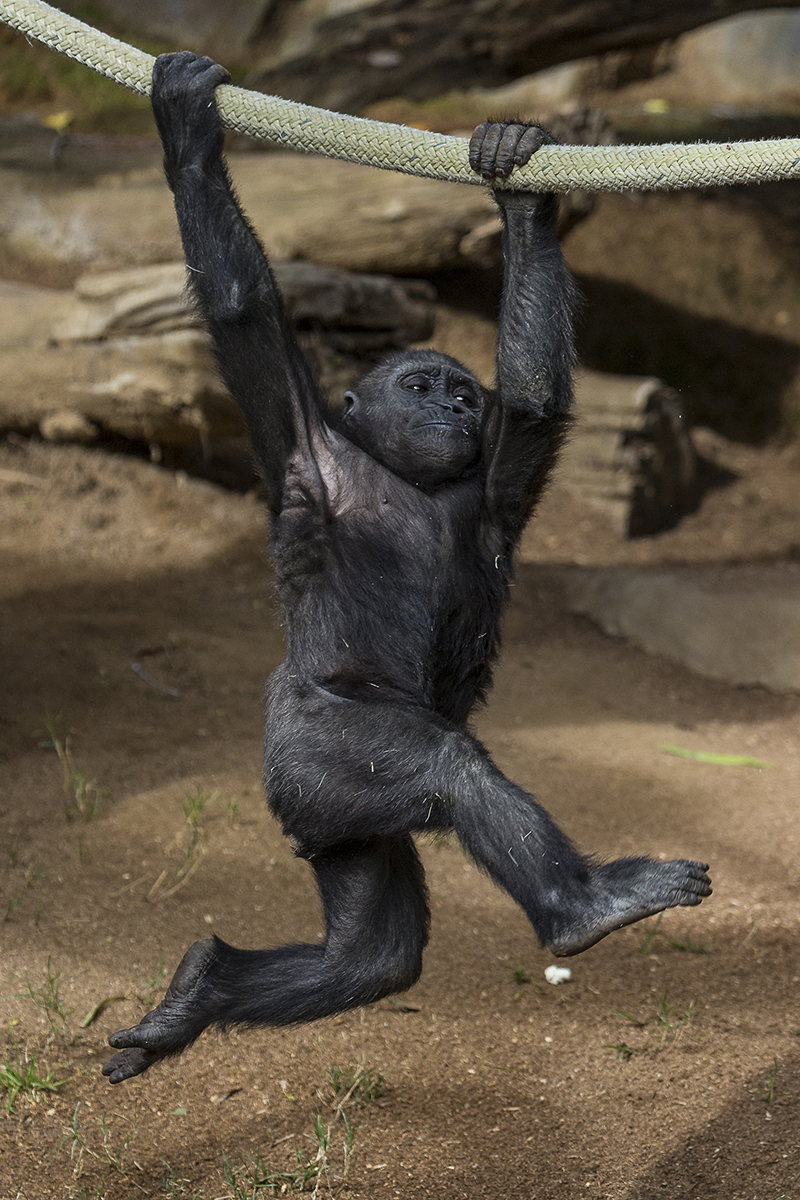 Animal care staff drew birthday messages with chalk on the rock walls of the habitat and decorated with special enrichment items made by Safari Park volunteers. Enrichment is important for the gorillas, as it gives the animals opportunities to stay stimulated and active and allows them to engage in their natural behaviors.
Joanne is a special gorilla— her start in life was not an easy one. She was born on March 12, 2014, at the Harter Veterinary Hospital via a rare emergency C-section, which was needed due to complications during first-time mother Imani's labor. After 11 days of intense medical care, Joanne was strong and healthy enough to travel to the gorilla house to be reunited with her mother.
Now at two years of age, Joanne is healthy and very active. Keepers describe her as "sweet and sassy" and say she is fearless, often wrestling, running and playing with her two favorite male troop mates, 4-year-old Monroe and 7-year-old Frank.
Western lowland gorillas are listed as critically endangered. In the wild, their primary threats include habitat loss due to farming, grazing, and expanding human settlements as well as the illegal bushmeat trade.
Watch this heartwarming playlist following Joanne's story:
Visitors to the Safari Park may see Joanne and her troop in their habitat at Gorilla Forest.