The butterflies are fluttering, the birds are chirping, and the nectar plants are in. This week, the San Diego Zoo Safari Park's Butterfly Jungle opens to the public, and the excitement is palpable. Thousands of butterflies from more than 20 species will flitter around guests as they make their way through the tropical Hidden Jungle aviary. Safari Park visitors will get the chance to see butterflies from Asia, Africa and Central, South and North America—including the electric blue morpho, the exotic giant owl, and the brilliant orange Julia. There may even be a surprise species or two this year.
"We are always pleasantly surprised if we get an unusual species that is on our import permit, and so will our guests be," said Michael Mace, curator of birds at the San Diego Zoo Safari Park. "With 20 species of butterflies, there's every color, shape and size for everyone." Guests will also be mesmerized by the lush greenery and many exotic birds that populate Hidden Jungle, such as red-crested turacos, African pygmy geese and beautiful sunbirds.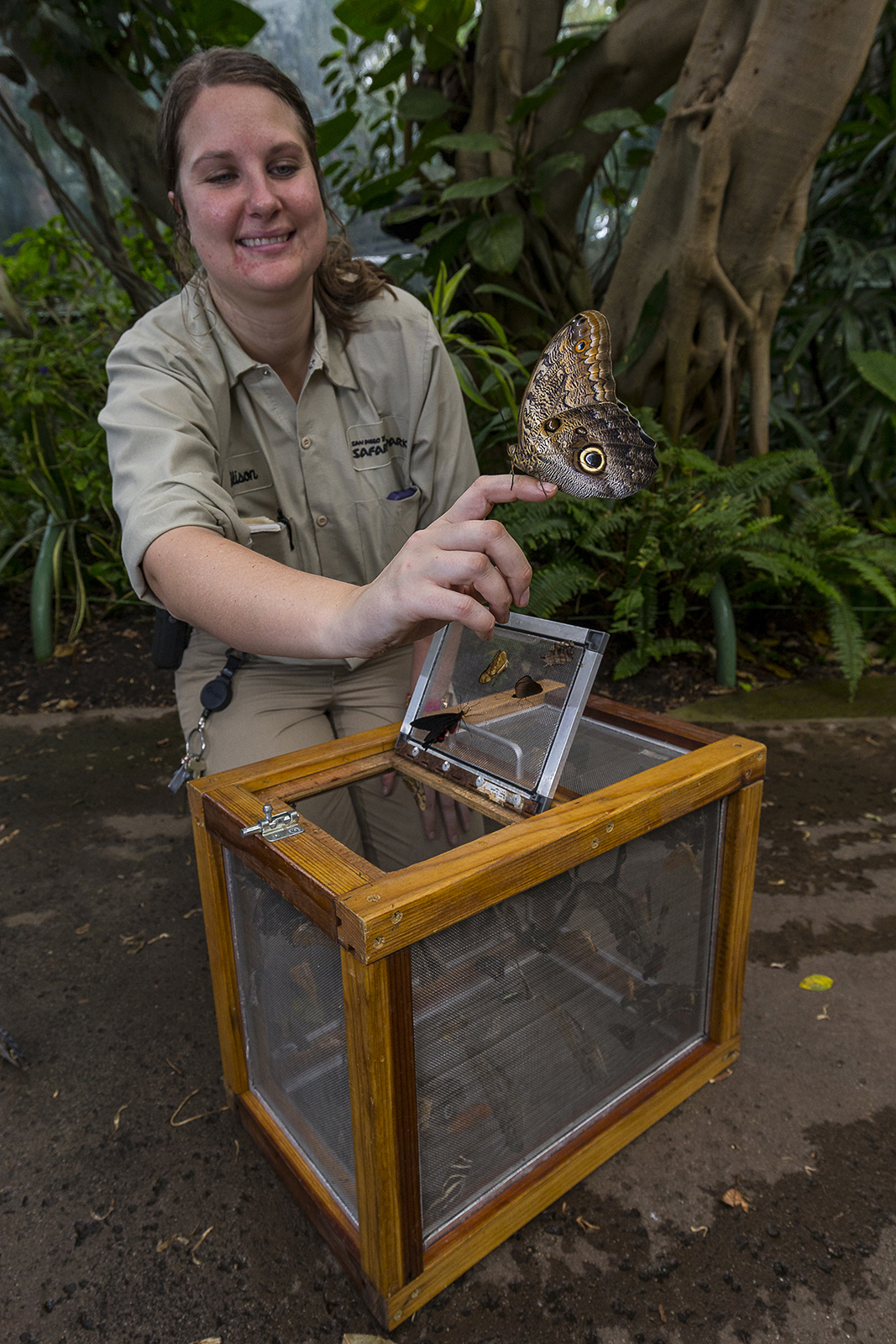 This popular springtime event provides an opportunity to help promote sustainable habitats for butterflies, as farmers in the butterflies' natural range support their families by raising butterfly pupae for zoological exhibits worldwide. Butterfly Jungle presents a one-of-a-kind experience for visitors while supporting a very important cause, explained animal care staff.
"Not only is it a unique guest experience, it's also a good conservation initiative," said Mace. "Families in these range countries need to make a living. They could either clear-cut a forest for ranching, or for agricultural farming, or they could leave the forest intact and raise butterflies instead."
Butterfly Jungle runs for four weeks—March 12 to April 10—with extended Safari Park hours from 8 a.m. to 6 p.m. daily. Butterfly Jungle is included in Safari Park admission. Due to the popularity of this event, priority butterfly viewing is now available, for a nominal fee. Guests are encouraged to wear bright colors and move slowly to attract the butterflies. Butterflies may land on a shoulder, head or anywhere else they desire!